Its been only just under 6 months since Samsung outed the budget Galaxy A20s and now we already have an "s" upgrade. Yes, we are talking about the recently announced Samsung Galaxy A20s smartphone from the Korean giant. With that said, we have 8 Samsung Galaxy A20s stock wallpapers for download in HD+ 720 x 1520 pixels resolution. The aspect ratio is the expected 19.9.
All in all, this new Samsung Galaxy A20s feels like a step back in terms of the display hardware making it hard to justify an "s" upgrade. As in, the company has opted for a TFT display (although 1cm larger!) as opposed to Super AMOLED this time. Also, the resolution is ever so slightly lowered. We prefer the Super AMOLED over the plain TFT. See, if it ain't broken, don't fix it! However, we do like the increased battery capacity (4000mAh Vs earlier 3400mAh). And now there's a triple cam and a Qualcomm SoC over the previously used Exynos chip.
Alright, let's get to the Samsung Galaxy A20s wallpapers and then check out of the specifications of the new Galaxy A20s.
Samsung Galaxy A20s Wallpapers
Ever since Samsung revamped their A-series, they also rethought the way they package the stock wallpapers too. Almost every A-series smartphone stock wallpapers feature somewhat similar theme although different design. Speaking of which, the Samsung Galaxy A20s wallpapers look and feel colorful, playful and vibrant although a bit too tacky in the end.
Again, the 8 wallpapers come in HD+ resolution, to be precise 720 x 1520 pixels. Also, again, 19:9 is the aspect ratio of the wallpapers. You can download the Samsung Galaxy A20s stock wallpapers via the Google Drive link below. Or check out our gallery (click to enlarge a wallpaper and then save it to your phone or PC).
Download Samsung Galaxy A20s Wallpapers
Now let's get to the Samsung Galaxy A20s wallpapers ZIP file. Also, you may check out the stock wallpapers from other Samsung devices via the link below. And also, please feel free to download stock wallpapers from every other maker.
Samsung-Galaxy-A20s-Stock-Wallpapers.zip
Samsung Galaxy A20s: Not really an upgrade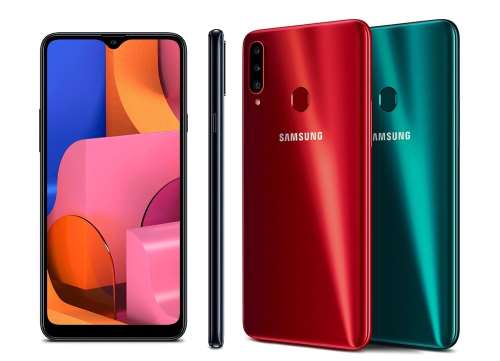 TFT screen, SD 450, 4000 mAh
The display on the Galaxy A20s has grown by 0.1″ over the previous Galaxy A20 bringing it to 6.5″. The display tech, however, has taken a hit the most. As in, Samsung has opted for a TFT over an AMOLED panel this time. Anyways, the screen is of the HD+ variety touting a resolution of 720 x 1550 pixels.
Powering the Samsung Galaxy A20s is a Qualcomm Snapdragon 450 chipset. As far as RAM and storage options are concerned, the Galaxy A20s is equipped with a 3GB of RAM and 32GB of internal storage memory. Of course, there is a MicroSD card for storage expansion.
A fingerprint sits at the back of the Samsung Galaxy A20s.
Triple camera
We have a primary 13MP camera combined to an 8MP ultrawide sensor. The camera setup is concluded by a 5MP depth sensor. Upfront, we do have an 8MP  selfie camera. The cameras at the front and back are able to record videos at a resolution of up to FHD @ 30fps.
Battery, connectivity, and Android version
A 4000mAh unit powers the Samsung Galaxy A20s. Also, fast 15W battery charging is onboard. A USB-C is utilized for charging and data transfers.
As far as connectivity is concerned, the Galaxy A20s comes with Dual-band Wi-Fi a/b/g/n/ac, Bluetooth 5.0 LE along with GPS for navigation and location services. A 3.5mm audio jack is equipped. Android 9.0 Pie-based One UI runs the Galaxy A20s.