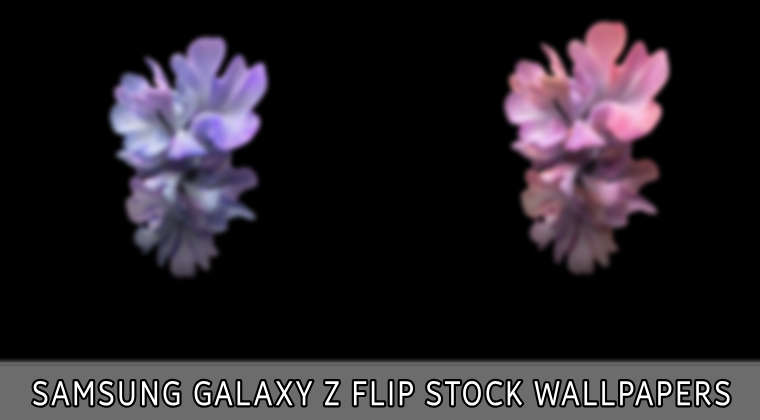 The touch screen slabs are getting so boring that clamshells are back in business again. That said, we all have seen the rebooted Moto Razr for 2020 and kudos to Motorola for starting and warming-up things. However, that device didn't feel all that enticing to me especially due to its specs and price. Just as I felt like this, Samsung decided to give their experimental and controversial Galaxy Fold some rest. Yes, we are talking about the all-new Galaxy Z Flip from the Korean company. The new breathtaking Galaxy Z Flip just makes the Moto Razr look and feel dated. Speaking of which, we have got 3 (2 default and 1 Thom Browne Edition) static Samsung Galaxy Z Flip wallpapers in 2636 x 2636 px resolution. We also have 1 live wallpaper (MP4).
The Samsung Galaxy Z Flip just looks exquisite and expensive and its price tag suggests that. For $1380, you get the world's first foldable glass phone (unlike other foldable phones out there including Samsung's own Galaxy Fold all of which employ a plastic screen). Samsung has achieved this with its new UTG: Ultra-Thin Glass for the display letting it flex and fold. Sure, as you have guessed a crease is visible although not of a big deal in my opinion (better than a notch at least. right?). Anyways, let's check out the wallpapers of the Samsung Galaxy Z Flip.
Samsung Galaxy Z Flip Wallpapers
The wallpapers from the Galaxy Z Flip are unlike any other Samsung stock wallpapers we have ever seen in the past. Keeping the uniqueness of the Galaxy Z Flip in mind, Samsung created 2 wallpapers of a lotus blossom. Interestingly, we also get a live wallpaper of the same kind that's just fluid, gorgeous and vibrant (don't miss it). A Thom Browne edition of the Galaxy Z Flip was also launched and so we have 1 wallpaper from this fancy edition of the device. Again, the resolution of the static wallpapers is 2636 x 2636 px resolution.
Reach out to the Google Drive link below to download the wallpaper in its original glory. Or else, for a scaled-down version of the wallpapers, check out our gallery. Also, do not forget to download the live wallpaper via the link below.
Download Z Flip

wallpapers
Samsung-Galaxy-Z-Flip-Stock-Wallpapers.zip
Samsung-Galaxy-Z-Flip-Live-Wallpaper (MP4)
Flex it all!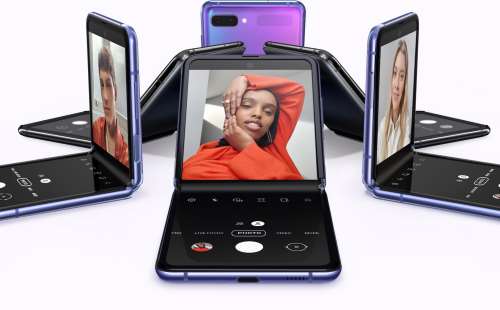 As mentioned earlier, the Samsung Galaxy Z Flip has an Ultra-Thin Glass layered Dynamic AMOLED Full HD+ display measuring at 6.7″. The resolution of the HDR10+ compliant display is 1080 x 2636 pixels. Also, upon folding the Galaxy Z Flip we have a secondary 1.1-inch Super AMOLED screen for notifications icons, time, date, and other relevant info. The resolution of the secondary display is 112 x 300 pixels.
For more detailed specifications, feel free to check out our Samsung Galaxy Z Flip specs post.
You may also download: