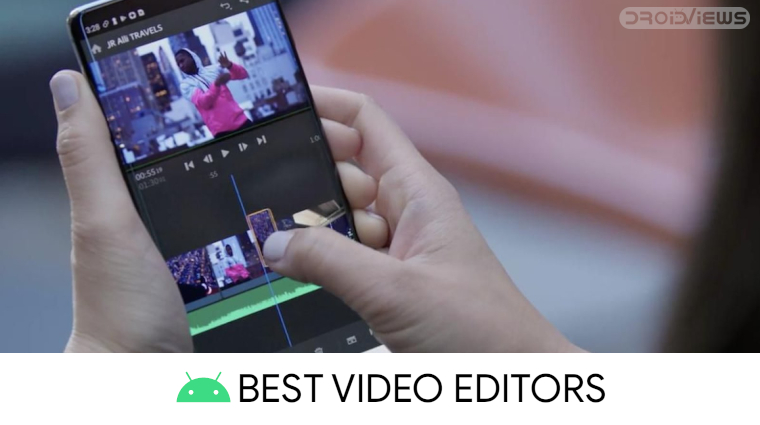 Video editing is mostly considered a job for bigger screens and typically a PC. However, mobile devices these days pack is quite capable processors too. While the smaller screens on Android smartphones may not be ideal, sometimes you do need to quickly edit a video on your phone. Some people even like to edit all their videos right on the phone. The Google Play Store, fortunately for them, is full of some great and free video editors for Android. Here are the 10 best video editor apps for Android, including many free video editors for both professionals and amateurs. These video editing apps will allow you to edit and enhance your videos on Android like a pro.
1. PowerDirector – Best Video Editor App
[googleplay url="https://play.google.com/store/apps/details?id=com.cyberlink.powerdirector.DRA140225_01″]
PowerDirector is one of the most comprehensive and best video editors for Android. It packs in a ton of features including some quick editing tools, various effects, and even a collage maker. This Android video editor also supports slow-motion videos and effects. Video editing is a complex process and difficult to do without the precise accuracy of a mouse and larger display. However, PowerDirector has an interface that is relatively simple to use despite utilizing the classic timeline method.
If you're someone who edits videos often the interface will feel quite familiar. While the app is free to download and use, not all the features are. To get the extra features you'll have to shell out some cash. It might be better if you have a large screen tablet or even better, a Chromebook, to take complete advantage of all that this Android video editor has to offer.
2. ActionDirector Video Editor for Android
[googleplay url="https://play.google.com/store/apps/details?id=com.cyberlink.actiondirector"]
On the PC, ActionDirector is one of the most popular video editing apps after Adobe Premiere Pro. Unlike Adobe Premiere Pro though, Action Director video editor is also available for Android. However, the Android video editor is a lot closer to Adobe Premiere Clip than it is to its PC counterpart. It supports basic functionality, of course, letting you import clips, edit them, and render the video.
Apart from that it also allows you to add your own music, trim and cut video, add text, change the video color, employ slow motion, speed up certain parts or the whole video and more. Action Director video editor for Android also supports 4K videos, provided your device is capable of rendering them. They do provide a nifty tool to check if your device supports 4K videos. The in-built sharing menu lets you quickly share your creations to popular social media sites such as Facebook, Twitter, YouTube, Instagram or a messenger app of your choice.
3. Quik – Best Video Editor for Android Phones
[googleplay url="https://play.google.com/store/apps/details?id=com.stupeflix.replay"]
Quik is a free video editor for Android by GoPro, a name which is pretty popular in the world of video cameras. This is an app that was made with touchscreens and phones in mind but this is also a full-fledged video editor. It also happens to be my favorite app when I want to make quick, fun videos on my phone. The video editor caters to both amateurs and professionals, at least as professional as you can get with an Android device. The entire process is like installing a program on windows where the installation wizard guides you through it.
You can simply select a few photos and a video is automatically created. And you can quickly choose from a lot of different video styles. Some of these look very professional and it would be hard to tell such a video was made on a phone. You also have the options to select one of the many background scores included in the app or add your own. To do that, select the music icon at the bottom, right in the middle.
Tapping on the edit (pencil) icon on the video also allows you to edit every frame individually, add new frames or remove some, such as the Quik logo at the end. It also lets you change the frame size, video duration, add filters, texts, everything you can expect from a video editing app. Just as with photos, you can even combine multiple videos and photos or add music and effects to a single video. For all its virtues, Quick is really one of the best video editor apps for Android at the Google Play Store.
4. Adobe Premiere Clip
[googleplay url="https://play.google.com/store/apps/details?id=com.adobe.premiereclip"]
To make things very clear Adobe Premiere Clip is nothing like Adobe Premiere Pro. Adobe's Android video editor is much inferior to its PC counterpart, but it's free. It's also not nearly as good as something like PowerDirector. If you do use Premiere Pro on your PC though, Premiere Clip can be a great companion app for doing some light editing on the go. It can load the edits, music markers, fonts, and other assets that you use in Premiere Pro.
That's probably exactly how Adobe wants it to be though, a companion app to Premiere Pro. Because you cannot use this one without signing up or signing in. On the plus side, you get an Android video editor with enough AI smarts to make a video for you automatically. The interface is portrait only and does provide you with plenty of tools to get the job done. I recommend you to try this great video editor app.
5. MOCR
[googleplay url="https://play.google.com/store/apps/details?id=tv.shou.mocr"]
MOCR is a relatively newer but one of the video editor apps for Android built from the ground up for touch screens. The app is still in beta though and it has been for about a year. So the android video editor may not yet be complete or may have a few bugs. However, if you only want to do some light video editing such as adding a watermark, an overlay, etc. it can be one of the easiest apps to do so. With funny Facebook videos on the rise, MOCR can also be used by meme creators and people who do that sort of stuff.
It treats each video as a layer, in Photoshop. You can add layers on top of or below your video which can be GIFs, photos, or even other videos. You can also add some text and filters over your videos and of course, you can also trim a video. Editing a layer's position and size are also more difficult than they should be for some reason. You have to constantly tap on the same button until you find something that works for you.
Users can also record external audio over a video which could be quite helpful if you are creating those funny Facebook videos. The audio from the original video can obviously be muted if you want. Frame rates can be increased or decreased but by how much is decided by the app itself.
6. Filmora Go
[googleplay url="https://play.google.com/store/apps/details?id=com.wondershare.filmorago"]
Filmora Go is an Android video editor by Wondershare who usually make some great apps for the PC. This video editor is the go-to choice for many users on Android. Basic tasks like trimming, cutting, adding themes, music, etc. are pretty easy to do with Filmora. While the app can attempt to turn your footage into an edited video on its own, it does let you get hands-on with the process. It also supports 1:1 videos for uploading on Instagram, you can obviously make 16:9 videos for YouTube, etc. It also has some unique features such as creating reverse videos, apart from the usual features like adding transitions and texts.
The Android video editor app also has support for slow-motion videos, and adding overlays. While most features are free, some features are locked behind in-app purchases. Filmora also adds a branding watermark on videos which can be removed with an in-app purchase.
7. WeVideo – Cloud Video Editor for Android
[googleplay url="https://play.google.com/store/apps/details?id=com.wevideo.mobile.android"]
While mobile phone processors have come a long way, they're still no match for a full-fledged PC processor. So the same video that a capable PC may take a few minutes to render could take quite some time on your phone. WeVideo, therefore, tries a different approach by taking all the processing to the cloud. It's definitely not the ideal solution for those concerned with privacy. Most people, after all, will be uploading personal videos to the company's servers.
Another rather big downside to this approach is your videos will have to be uploaded first. Then once you're done, you will have to re-download the whole thing. For small videos that can be fine but for something big, this can not only be very time consuming but also not very mobile-friendly, unless you're connected to WiFi. If you don't feel put off by those downsides though, you'll be treated to a modern interface that is different from traditional video editors. It's geared towards users who have previously never edited videos so the interface is pretty simple.
Don't Miss: 3 Best MP3 Tag Editors for Android
8. Magisto
[googleplay url="https://play.google.com/store/apps/details?id=com.magisto"]
I have used the Magisto video editor app for a while and found it pretty interesting. Magisto is a bit like WeVideo is the sense that it too uploads your videos to its own servers. It then applies some edits, inserts music and extra visuals, then produces a file you can share on your social networks. It's also geared towards people who never have edited a video and neither want to learn. It's definitely not the app for something serious, let alone professional work.
Magisto is for busy parents or grandparents who don't want to put in the time or effort to learn video editing but do want great videos of their kids or pets, etc. The app can take a few awkward recordings, incoherent photos, and create something much better out of them.
9. Kinemaster – Video Editor for Android
[googleplay url="https://play.google.com/store/apps/details?id=com.nexstreaming.app.kinemasterfree"]
Kinemaster is one of the most convenient video editing apps for Android. For one, it lets you drag and drop files to import them into the editor. It's such a basic and small feature but it goes long ways when it comes to the convenience factor. Not only that, this video editor for Android offers a remarkable level or finer control over the editing process. It's certainly marketed towards professionals or at least people who are familiar with traditional video editing apps on the PC.
The interface is a tad bit easier to use and understand than something like PowerDirector. However, that doesn't mean it skimps out on features. Kinemaster supports all kinds of features from basic to advanced while being more touchscreen-friendly. Although all this convenience is going to cost you. Be default, the app applies a watermark to every video you make. You can get rid of that and get more features but with a monthly or yearly subscription, not a one-time payment.
10. VivaVideo Editor
VivaVideo is another pretty popular video editor for Android. Its popularity may be due to the fact that it's neither here nor there. What that means is, it isn't the easiest to work with but it's also not the most feature-packed so there are fewer things to fiddle with. It works well if you're creating short clips for social media like Facebook, Instagram, Snapchat, etc. It uses a storyboard layout like Quik, where you edit and trim each segment before you move onto the next.
VivaVideo includes over 200 video filters and various other effects, text input, and fast and slow-motion support. The free version will watermark your videos and has a video length limit. These restrictions can be removed by buying the pro version.
Video editor apps for Android, or just apps like these in general such as photo editing apps, are like smartphones. Only you can tell what is good for you and other people can only guide you. Despite this list, there are good chances that you may have to get hands-on with a few options above to find which you prefer the most.
Read Next: 5 Best Text Editors for Android