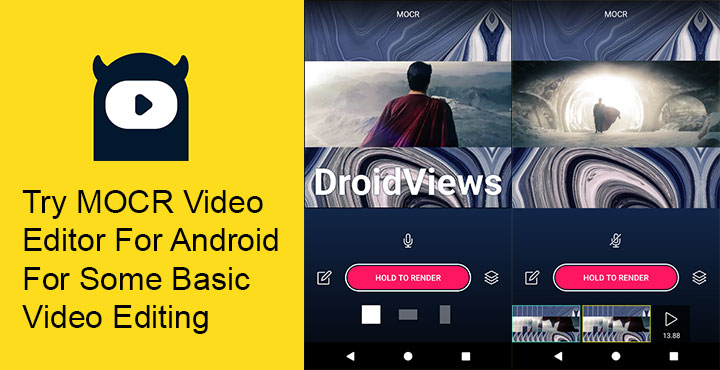 Video editing is a very resource intensive task and mobile phones are clearly not meant for it. But, today's smartphones are very capable of doing some lightweight video editing and thus it is not surprising that there are a number of video editors for Android are present on the Google Play Store. Today we're reviewing one such app called MOCR which is free but a professional video editor for Android. It is nothing quite like Adobe Premier obviously.
The smaller screens and fewer resources make sure there probably wouldn't be any Adobe Premier for Android in the near future as well. There do exist many apps though that can help you make very impressive videos clips. Unlike a fully professional video editing software, these free apps often focus on a few things that they set out to do. MOCR is not much different.
The app is still under development so we can't be expecting a lot yet. However, the beta version is still available for download from the Google Play Store and it does give a fair idea of what the app could be when it officially releases.
Don't miss: Top Apps for Hiding Your Images, Videos, Messages and Apps
User Interface
The user interface is the first thing you notice about an app, and quite frankly, MOCR's interface is a mixed bag. On one hand, it is fluid, animations are smooth and it's simplistic. On the other hand, even though it looks simplistic, it isn't quite simple to use for first-timers. There are just a bunch of icons laid out here and there with no context or floating tips to guide the user about their functions.
You'd have to try them all out to see what they do which is basically what I did. A starter's guide built into the app would be much appreciated in the official release.
Functionality
In terms of functionality, MOCR does not offer a lot of it. But then, it never set out to do so. It is probably the most basic video editor I've come across on Android in its current state. The most, that you can do on MOCR is add layers on top of or below your video which itself is a layer. MOCR supports adding GIFs, photos, and videos as layers, one on top of another.
You may also like: How to Download Netflix Videos for Offline Viewing
You can also add some text and filters over your videos and of course, you can also trim a video. Editing a layer's position and size are also more difficult than they should be for some reason. You have to constantly tap on the same button up top until you find something that works for you.
Users can also record external audio over a video which could be quite helpful if you are creating those funny Facebook videos. The audio from the original video can obviously be muted if you want. Video frame rates can be increased or decreased but the user has no control over it. The only options are fast, represented with an airplane icon or slow, represented with a shopping cart icon. That is apart from the normal speed which is represented with a speedometer icon.
Verdict
There clearly is not much to do but I can see MOCR being useful to some. If you want to add an overlay on a video like your logo, and for some reason, you want to do it on the fly MOCR could be useful. With funny Facebook videos on the rise, MOCR can also be used by meme creators and people who do that sort of stuff. Granted, there are only a couple of things, or even less that MOCR could offer to such users. Maybe when the app officially releases it will have more features. There just aren't as many filter options either. The app is under development as I've mentioned and it clearly shows. Nevertheless, it is a free professional video editor for Android, so it's worth a try.
[googleplay url="https://play.google.com/store/apps/details?id=tv.shou.mocr"/]
Must read: Erase Android Phone Data Remotely Without Internet