There exists a plethora of Android apps that streams (live or otherwise) TV shows. But the ones that cater exclusively to Indian audiences are somewhat hard to find. A Google Play search might end up giving you the related results, but until you end up downloading, installing and trying it out yourself, it would be hard to determine which are the best TV shows streaming apps that cater to your local languages. Hence, to save you from these efforts, we have compiled a list of best TV shows apps. Browse through the list, explore them, and just download the one that suits your needs. Also, have a look at the best live streaming apps for gaming on Android.
Hotstar TV Shows Streaming App
When it comes to the best TV shows and sports streaming apps, Hotstar will always manage to make itself to this list. As evident by its name, it provides contents from various Star channels including Star Plus, Star Movies, and Star Sports. Apart from that, it also has a 24×7 live news in various regional languages. Talking about these regional languages, it currently holds content in around 17 of those.
Its paid service gives you access to Hotstar Premium and Hotstar VIP. This gives you access to various live contents, foreign contents, latest movies and it's own exclusive contents. However, some of you might find its paid service a little bit on the costlier side owning to its Rs 999/year plan. If that's the case, do check out our next entry on the list. Still, Hotstar is one of the top contenders when it comes to the best TV Shows app streaming content for Indian people. On that note, try out SeriesGuide, the best TV shows tracking guide.
[googleplay url="https://play.google.com/store/apps/details?id=in.startv.hotstar"]
SonyLIV TV Shows Streaming App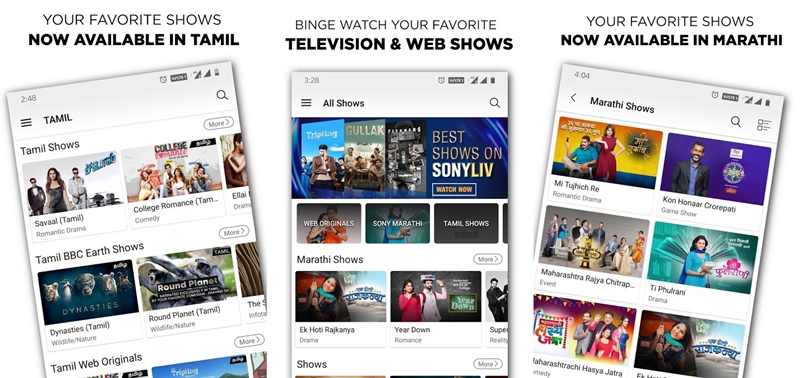 One of the pioneers when it comes to providing OTT (over-the-top) contents, it has truckloads of Indian contents across varied domains. Streaming various Sony, SET and AXN channels, it provides a live stream of various TV shows across various languages. These include the usual Hindi and some English contents all the way to Telugu and Tamil programs as well. If you are one of the sports fanatics, then you will definitely love this entry on the list of best TV shows streaming apps. The ever-loved football's Champions League is streamed live for Indian audiences.
Don't Miss: Apple Music- Best Music Streaming Service App in Town
But to access this, and other premium contents, you have to shell out some bucks from your pockets. But surprisingly it is way too cheap than the first entry on our list of the best TV show to stream Indian contents. Sony Liv has a weekly plan of Rs 29, monthly of Rs 99, six months for Rs 299 and the yearly package for just Rs 499, which is just half the price that Hotstar is charging for its annual premium contents. Owing to a great collection of TV shows at such an affordable plan, it manages to find itself in the best TV shows streaming apps.
[googleplay url="https://play.google.com/store/apps/details?id=com.sonyliv"]
ZEE5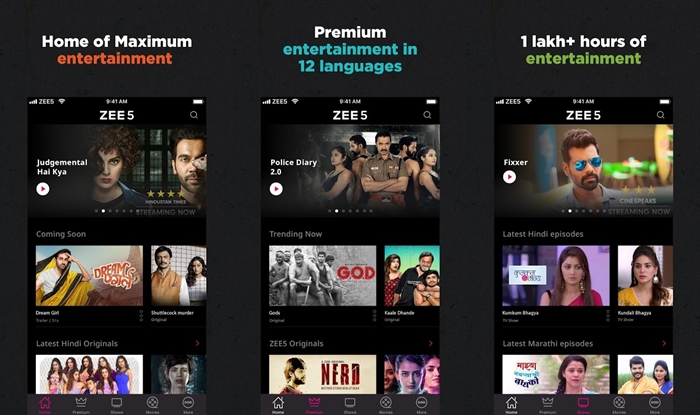 Next in our list of the best TV shows streaming apps for Indian audiences is the Zee5 Android app. It features an extensive collection of Indian shows, latest movies, original web series, international shows, music videos, kids shows, live news and much more. All these are offered in around 12 different languages including English, Hindi, Tamil, Telugu, Bengali, Punjabi, Gujarati, etc.
They could well be streamed across 80+ live TV channels. All the different Zee Channels, from sports to movies to news, are hosted on this app. Moreover, if you wish to have a stronghold on the English language, here are the 10 best apps to learn the English language.
[googleplay url="https://play.google.com/store/apps/details?id=com.graymatrix.did"]
JioTV TV Shows Streaming App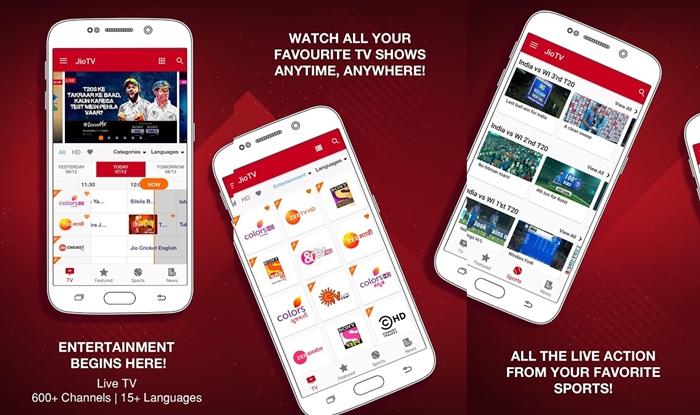 This app has surpassed everyone's expectations and has quickly become the go-to app for local audiences. This is the reason why it has managed to occupy a position in our list of best TV shows streaming apps. Unlike the other apps in this list, it does not have its own dedicated TV channel, but still, it manages to provide TV shows, Movies, Sports (Cricket, Football, Tennis, News). All these are streamed live, HD and for free. But what's this business ideology of providing these contents free of cost?
Well, here's the catch. All these contents are only accessible to Jio users only. If you are one of the Jio users, then you get access to Live TV across 600+ TV channels including 100+ HD channels in 15+ languages. The ability to pause/play live TV shows and support of Picture-in-Picture are some of its other useful features. On that note, also check out YouTube Music app for Android.
[googleplay url="https://play.google.com/store/apps/details?id=com.jio.jioplay.tv"]
TVFPlay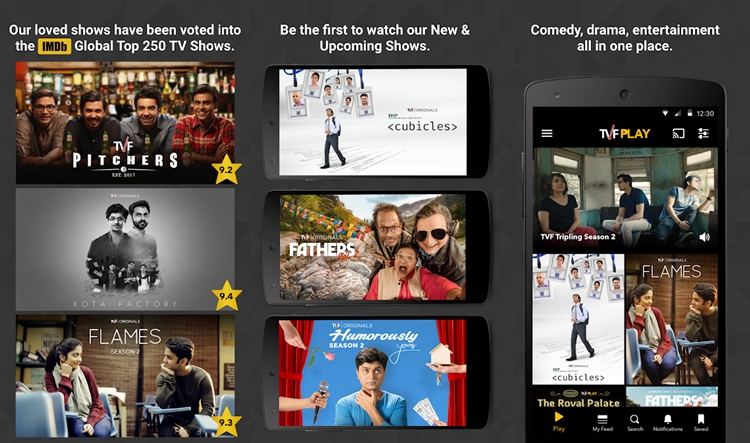 We thought the list was becoming quite monotonous with the same "Indian TV shows in the regional languages" tagline. To break this monopoly comes the TVFPlay app. This app has managed to sneak in our list of best TV shows streaming app thanks to the daily dose of sarcasm that it has in store. You wouldn't find those daily soaps and TV serials that others provide. But it has still managed to carve out a niche segment for itself, especially among the younger generations.
Providing contents related to humor, friendships, love-betrayal and the struggles that youth has to go through, its contents are a little bit different than what others in the list of best TV show streaming apps provide. Most of the TV shows have a healthy score of over 9.5 in IMDB with one (TVF Pitchers) scoring an impressive 39th rank in the top 250 TV shows. This is the same list that holds other shows like Game of Thrones and Breaking Bad, just to name a few.
[googleplay url="https://play.google.com/store/apps/details?id=com.tvf.tvfplay"]
With this, we conclude the guide on the list of best TV shows streaming apps for Indian audiences. Which one of them stands your firm favorite? Did we manage to miss any of your preferred apps? Do share your views and opinions in the comments section below.
Read next: 10 Netflix Tips and Tricks and Netflix Secret Features