Over the years, I've watched a lot of TV shows – you could name a random one and there's a high chance I've already watched it or it's on my watchlist. Even right now, there are 4-5 shows I watch every week so an episode tracker helps in reminding me that a new episode of the show I'm following is going to air today or which episode I watched last, and stuff like that. If you, too, watch a lot of shows, then you must get an episode tracker. And, SeriesGuide is the best one in the market.
First things first, head to the Google play store and install SeriesGuide. Once you've done that, launch it. Now, using the search bar, you can add your favorite shows to the app. If you watch a lot of shows, then typing and searching for each one could be time-consuming. If that's the case, try using the Popular section of the app where you'll find a lot of popular TV shows which can be added to your list via just one tap.
Next, once you've added all the shows, it's time to enter your progress. Tap a show and select the number of seasons or episodes you've already watched. This will help the app in reminding you Ankit the upcoming episodes. Now, we are done setting up the app.
Must read: Hobi is the Best Episode Tracker on Android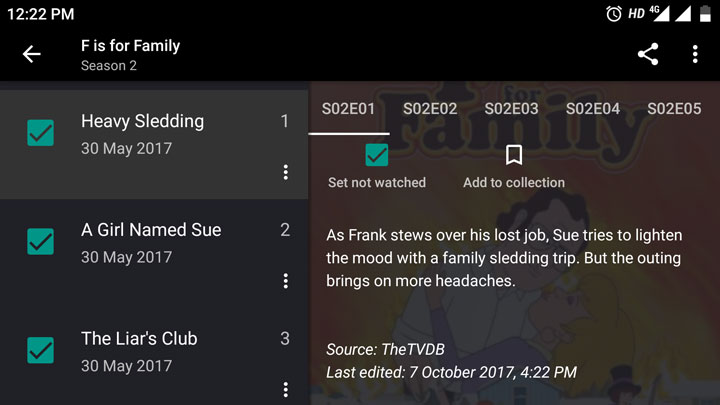 SeriesGuide keeps the User Interface minimal and useful. You can tap each episode to get various information about it like a summary, ratings, stars, directors, writers, etc. You can also find direct links to external sources like IMDB, TheTVDB, trakt, etc.
Going over to the app settings, you can customize notification reminders, theme, number format, etc. SeriesGuide also supports multiple themes – SeriesGuide light, SeriesGuide dark, and Android Dark.
Don't miss: How to Enable Dark Mode on YouTube for Android
Although SeriesGuide is awesome on its own, I would highly recommend purchasing the unlocker for it – SeriesGuide X pass. If you do purchase it, you'll get access to some extra features like widgets, shortcuts, cloud sync episode notifications, more themes (the three mentioned above), etc.
Sure, there's no shortage of TV show trackers on the Google play store but after using a lot of such apps over the years, I have come to the conclusion that SeriesGuide is, indeed, the best of them all.
[googleplay url = "https://play.google.com/store/apps/details?id=com.battlelancer.seriesguide"]