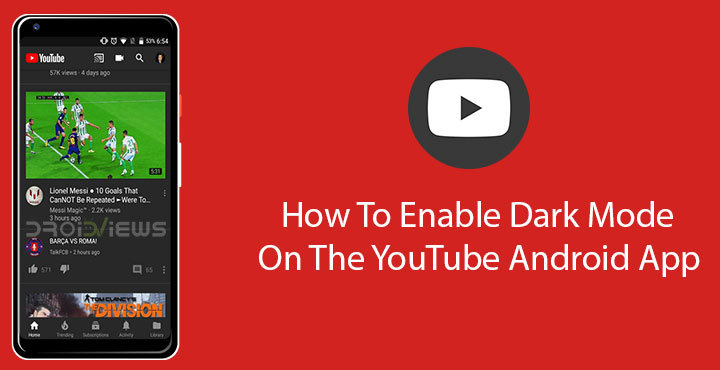 Netflix, Amazon Prime Video, and even Google Play Movies on Android have a few things in common. While they differ in the mode of delivery, these are all video streaming services. All of these have a UI that's dark, and easy on the eyes when viewing content in a dark room or in the night. There's one more similarity between these three. Neither of them is as popular as YouTube which does not have a dark UI, at least not on Android. YouTube on the web has had a dark mode for some time now. Users have been demanding a dark mode on the Android app since forever.
Google hasn't recently been a big advocate of dark themes. Android, as well as any other Google apps on any platform, have all moved away from the dark gray backgrounds, last seen on Android KitKat. Google did give their Google Play Movies app a dark makeover some years ago. The reason, according to the company was that dark backgrounds are easier on the eyes when users browse through media content to watch. That's true in any case though, is what we feel. It took them quite some time but Google has finally decided to bring a dark mode on the YouTube app for Android and iOS.
You'd be forgiven to think that Google would bring dark mode to YouTube on both mobile platforms together, or at least on Android first. Google has had a long history of using iOS as the testing grounds though. This time as well, the dark mode is only available on iOS as of now. Android users will have to wait a while, but the company hasn't given a certain time limit. Google says dark mode for YouTube on Android is "coming soon." Thanks to XDA member AL_IRAQI, and Joe Fedewa, you don't really have to wait as long as you have a rooted Android device. Here, we'll simply expand the guide and get into slightly more details in case you need a more detailed guide.
Install Preferences Manager
[googleplay url="https://play.google.com/store/apps/details?id=fr.simon.marquis.preferencesmanager&rdid=fr.simon.marquis.preferencesmanager"/]
You'd also be using a third-party app called Preferences Manager developed by FireFly. It's an open sourced app that allows users to modify any installed app's preferences some of which the app doesn't even allow. The app takes advantage of the fact that most apps store there data in an XML file inside a private folder accessible only to them. With root access, you can access the folder as well as the file, thus, also modify it. The normal way to do this would be to use a file explorer, find an app's XML file and edit it. Preferences Manager makes all of this hassle-free. Here's how.
How to Enable Dark Mode on YouTube Using Preferences Manager
Launch Preferences Manager and grant root access when asked.
Scroll through the list of apps and select YouTube.
Tap the search button and type dark. You should see two lines as shown in the screenshot below. The values for you would be false by default. Tap on both the entries one by one and toggle the values to true.

There's a good chance that you may not find anything when you search for dark. In this case, simply tap on the + icon at the top, select Boolean and then add the key value as theme_dark_app. Make sure the toggle is turned on, that is, show a value of true. Tap on the Add button to add the value.

Similarly, now add the second key with the value theme_dark_watch_panel, once again set to true.
Exit the app by pressing the back button.
Don't miss: Download Modded YouTube APK with Dark Mode, No Ads & Background Playback
One more step…
Now that you have changed or added the necessary values, head to Settings > Apps > YouTube and FORCE STOP the app. Launch the YouTube app now and you should notice a slight difference. The background is not completely back, but a shade of dark gray. Throughout the app, you may notice black text on black background in just a couple of places. This isn't a deal breaker and is hardly a problem, but this is perhaps why Google is shying away from enabling the dark mode right now.