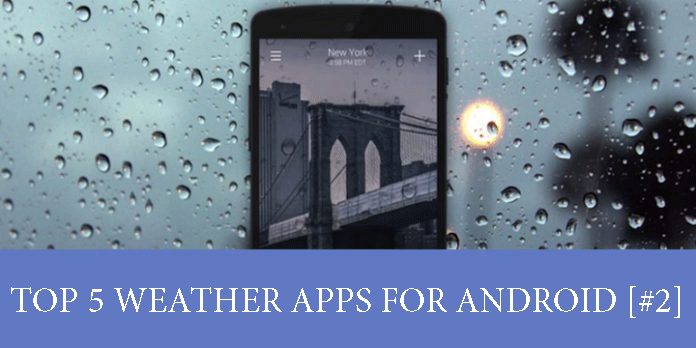 Whether you want to plan a trip or you simply want to know if it is going to rain, then Weather applications are of great importance to you. These are the apps that provide you with accurate forecasts and information about the weather. You can have detailed and accurate weather condition update on your smartphone with these 5 best free weather apps for Android devices.
Several months ago we reviewed the 5 best weather apps for Android and we think that it's about time to give you some more such applications. Before we begin, however, you can find our previous list and some other related articles, in the links below:
Now, let's find out the 5 apps that made it into our list this time around.
1. Weather Now
Honestly, I didn't know about this application. It was a suggestion as a comment in our previous article about weather applications. "Weather Now" includes a detailed weather forecast as well as accurate pressure, humidity and temperature maps.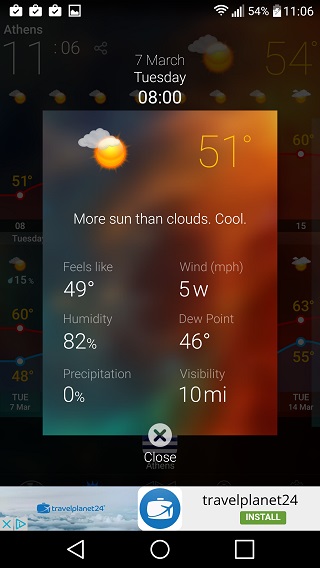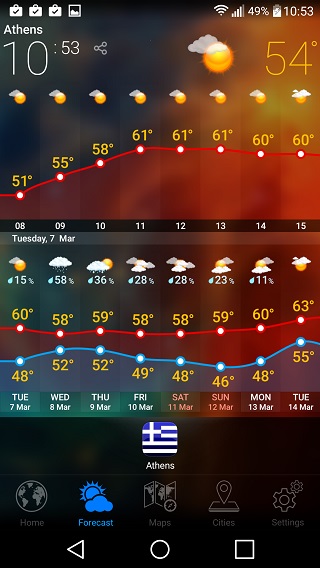 Finally, "Weather Now" incorporates some beautiful and detailed widgets for you to choose from. These features, plus the 3D globe that displays some of the information, secured this app's position on our list.
[googleplay url="https://play.google.com/store/apps/details?id=com.weathernowapp.weathernow"/]
2. YoWindow
Here is a beautiful weather application for you to try. Apart from the detailed forecasts and predictions, this app features animations that change depending on the weather.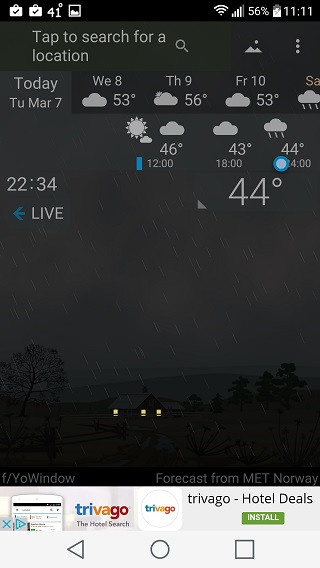 You can change the landscape that the app presents, thus making it feel more like "home". These beautiful animations along with the sounds of the app as well as the detailed forecasts are the features that make "YoWindow" uniquely great.
Must read: 4 Awesome Wallpaper Apps for Android [#5]
[googleplay url="https://play.google.com/store/apps/details?id=yo.app.free"/]
3. The Weather Channel
This is probably the app which gives the most detailed forecasts among those on our list. You can easily find hourly and daily forecasts presented in a straightforward UI.
What's interesting apart from the expected radar maps is a feature named "Road Conditions". This feature can help you plan a trip of yours by displaying accurate information about the road. For example, you can see whether a road you'll use is icy or not. As a result, you can plan a safe journey ahead of time. It is one of the best free weather apps for Android available now.
[googleplay url="https://play.google.com/store/apps/details?id=com.weather.Weather"/]
4. Weather & Radar
A simple yet great all-around app, "Weather & Radar" features accurate maps and forecasts. Hourly and Weekly forecasts make sure that you know what to expect before time.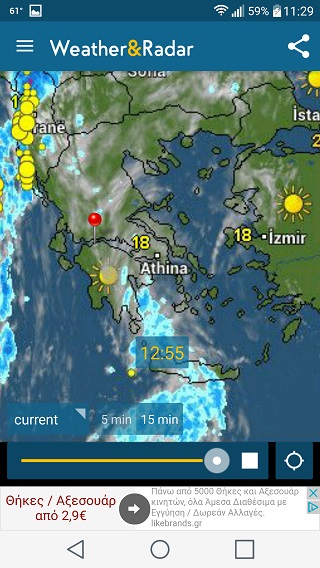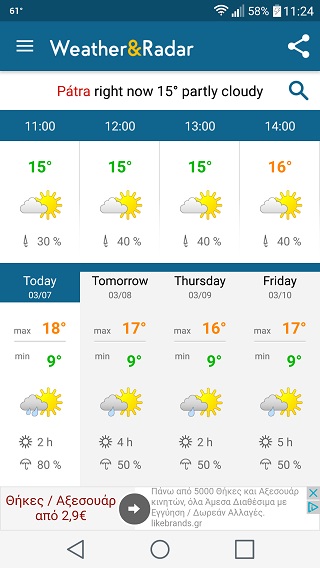 Finally, the app's map features video feedback that shows how the clouds (and many other terms I don't know) will move throughout the day. Feel free to try this app for yourself using the link below.
Also read: How to See All Purchased Apps in Google Play Store
[googleplay url="https://play.google.com/store/apps/details?id=de.wetteronline.wetterapp"/]
5. Weather Live
"Weather Live" probably features the most detailed and complete weather widget. It displays every single piece of important information at a glance.
Moreover, this application features detailed daily and hourly forecasts as well as a radar map with video feedback. You can easily unlock the radar by watching a single video. Feel free to try the application for yourself.
[googleplay url="https://play.google.com/store/apps/details?id=com.apalon.weatherlive"/]
Try these best free weather apps for Android and you'll find them really useful. I hope that these weather applications will help you plan your day ahead and be more productive. In case you have any other suggestions or questions, feel free to comment below.
Read Next: 5 Best Keyboard Apps for Android – 2019