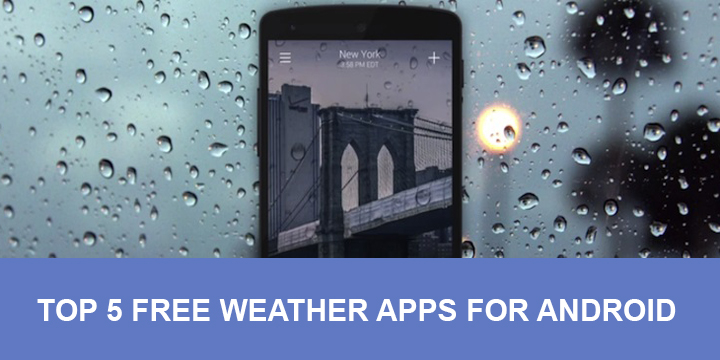 Winter is coming, and as a result, it's time to brace ourselves (pun intended). To do so, however, we need to prepare for the harsh weather conditions of this season. Our trusty Android devices are up to the task, providing us with weather forecasts, even before we need them. Even though there is a wide variety of apps that are capable of helping us with the aforementioned task, we have compiled a list with 5 of the best weather apps for Android available at the Google Play Store.
Did you know that you can:
1. 1Weather
An application worthy of its name, "1Weather" is especially useful for the Widget fans.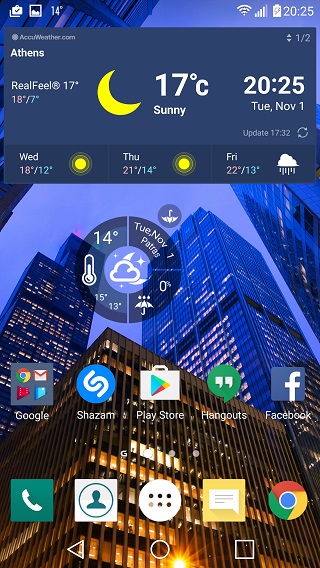 It offers a variety of widgets, some of which can display most of the information presented in the main app. The newly integrated Material Design provides you with the most useful info in a familiar Google card-like interface.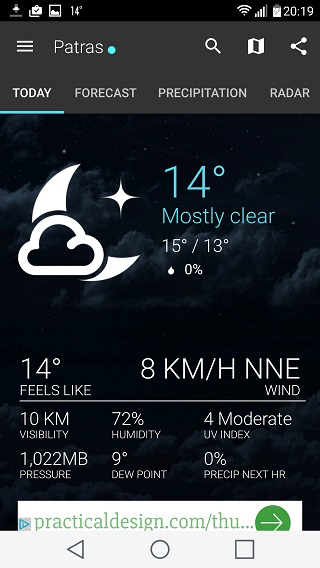 It is also worth mentioning that 1Weather has a theme option allowing you to give the app a unique look. You can also get rid of the (few) ads with a one-time in-app purchase.
A small fun fact is that this app provides facts about different weather-related terms, such as instrument names and more. The more you learn the better…I hope!
[googleplay url="https://play.google.com/store/apps/details?id=com.handmark.expressweather"/]
2. Weather Underground
What I particularly like about this application, is the way it displays its information. The main screen consists of both a minimap and a graph providing further details about temperature and storm possibility. That way, allows the user to see the most important information at a glance of an eye. It's also worth mentioning that there is both a light and a dark theme available.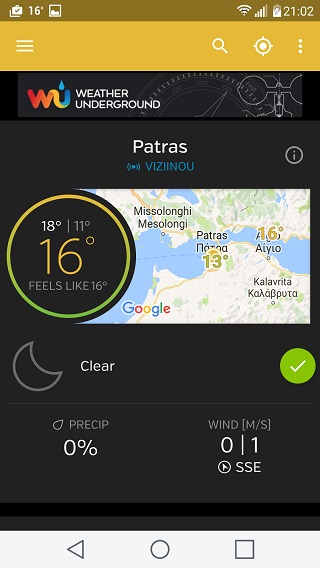 Note that this information is also displayed in your status bar in the form of a refreshable notification. Finally, "W.U" offers push notifications, thus informing you for severe weather alerts.
[googleplay url="https://play.google.com/store/apps/details?id=com.wunderground.android.weather"/]
3. Weather (by MacroPinch)
A minimal application with only the basics included. No radar, satellite map or anything fuzzy, just beautifully presented weather statistics and 5-day forecasts. I really love the design of this application and it is my go-to option since what I only need to know is whether it will rain or not.
The application has also a notification option that displays the most important information on your status bar. Finally, there is a variety of themes to choose from.
[googleplay url="https://play.google.com/store/apps/details?id=com.macropinch.swan"/]
4. AccuWeather
The be-all, do-all weather application. AccuWeather is not only the most popular app on our list but also one of the best weather apps for Android. It is also the one that combines all of the things mentioned above. Feature-rich and minimal, AccuWeather offers thorough hourly/daily weather information and forecasts.
Also, note that AccuWeather is also behind many other third-party apps, providing them with accurate forecasts and weather information. Dependable, easy to use and accurate, this application will surely not let you down.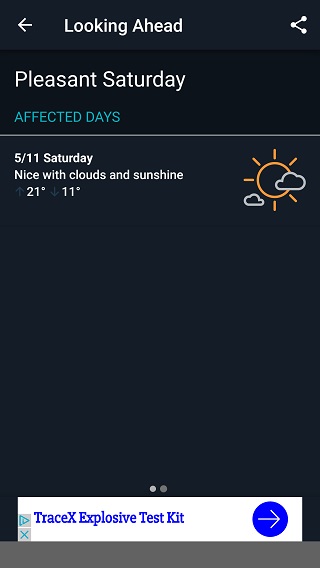 Finally, it is important to note, that downloading an Android Wear version of this app is also available.
[googleplay url="https://play.google.com/store/apps/details?id=com.accuweather.android"/]
5. Yahoo Weather
Coming in as an honorable mention in this list is another beautifully designed application. Probably the most beautiful on this list along #3. Those of you that love photography will truly appreciate the photos associated with the cities you choose.
It is also important to note that this is the only app on this list that asks you beforehand whether you would want a notification on your status bar or not.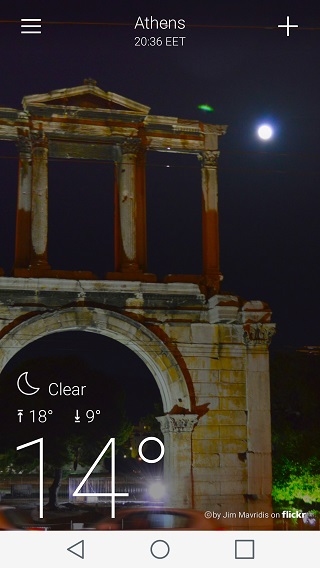 Other than that, Yahoo Weather provides us with the latest forecasts and updates in a very straightforward way. It's one of the best weather apps for Android to try.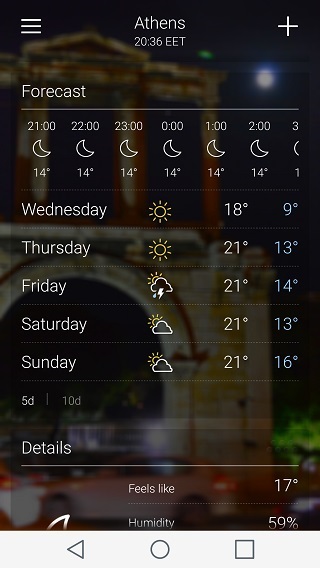 [googleplay url="https://play.google.com/store/apps/details?id=com.yahoo.mobile.client.android.weather"/]
Did we miss anything? Feel free to comment below.
You may also like: 5 Best Weather Apps for Android [#2]