Wouldn't it be great if you automatically received a weather notification each morning? Wouldn't it also be great if your Facebook photos were automatically saved to a separate album? Those actions, along with much more can become a possibility with "If This Then That" (IFTTT) that makes your Android device smarter.
[googleplay url="https://play.google.com/store/apps/details?id=com.ifttt.ifttt"/]
According to the developers, "IFTTT gives you creative control over the products and apps you love" and this description is exactly what this app is all about. So, let's dive further into the application itself and see how it works.
Set Predetermined Actions
If you have any experience with programming, then the name of the app will surely sound familiar to you. That's because you only have one thing to do. Set a condition, that when met, will trigger an action for the smartphone device. Or to put it simpler:
The conditions may vary, from receiving a text or an important email, to the possibility of rain in the morning. Those conditions in turn (if met), can make Android automatically change the wallpaper, delete unwanted mail and more. Note that IFTTT names such condition-action combinations as "Recipes". From now on we will also refer to them as such. See below for examples.
Find and Create Your Own IFTTT Recipes
Soon as you open the app, IFTTT prompts you to create an account. Note that this procedure is required. This account permits you to browse through a huge collection of Recipes, as well as create your own.
Speaking of creating your own Recipes, that is pretty easy. Simply tap on "Create a New Recipe" and choose what you want your phone to do, as well as when to do it. See the image below for clarification.
Internet of Things
IFTTT can completely help you transform your house to a "smart-home" by controlling other devices that are synchronized through WiFi or Bluetooth. Do you have a "Philips Hue" and want to automatically turn on the lights at sunset? There is a recipe for that. Yes, I am serious.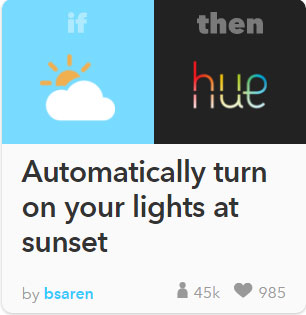 Overall, there are endless possibilities with IFTTT, that can help you save time and increase your productivity. Don't hesitate to download this beautiful app that makes you Android device smarter. For any questions, feel free to comment below.
Read Next: Make Your Android Device Look Amazing with Swift Installer