The sweetest part of Android is its customizability. Whether you are a veteran or a noob, it has something for everybody. With Android, you get the freedom to alter each and everything and make your device dance on your fingers. You can easily put together something that's unique and different than what everybody else is rocking.
I bet I can't be the only one who gets bored of their setup after a week, two weeks at max. Since I've not rooted my device yet, the only form of customization I can do is changing stuff like launchers, wallpapers, and icon packs. That's the basic level of customization anyone can do even if you are just a beginner.
We, at DroidViews, are suckers for customization and share some awesome customization tips to help you freshen up your device from time to time. In this series, we will be focusing on icon packs, which, I think, is one of the easiest ways of breathing a new life in your device. With that said, here are 4 awesome icon packs you'll love for sure.
Don't miss these:
Flix – Icon Pack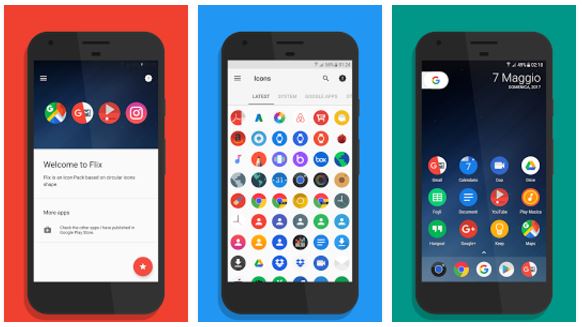 Flix is a round icon pack that takes the Pixel icons as its inspirations. Each icon in this pack has been designed with minimal colors without the usage of any shadow to give it a flat look. It has a bunch of simple wallpapers that match with the icon pack perfectly. If you are into round icons, then give it a try. However, the only problem with it is that the icon count is way too low for it to be used as daily icon pack.
Mation – Icon Pack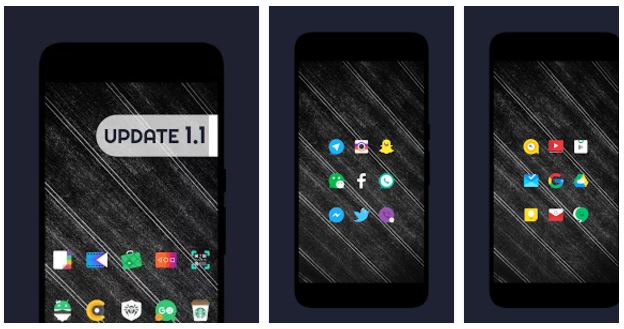 Mation is a dope pack of shapeless icons. It has more than 1000 icons in the resolution of 192 X 192 and a bunch of sleek cloud-based wallpapers. The usage of vibrant colors makes these icons pop on the home screen.
Recently, we've seen the rise of shapeless icons in the Google Paly store. Shapeless, basically, means that edges of these icons are not as uniformly shaped as we're used to seeing. This kinda gives a carefree look to the overall UI.
Unicorn Icon Pack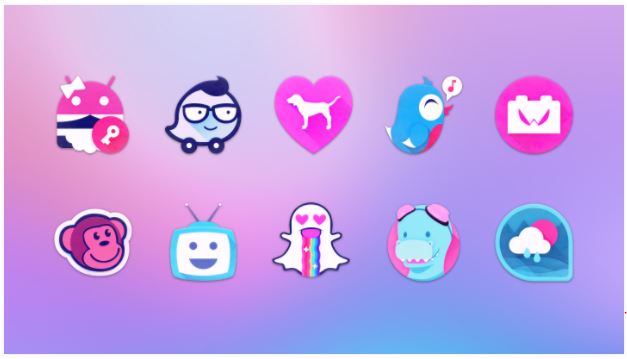 DrumDestroyer Themes is one of my favorite icon pack developers. The dev is known for producing high quality and original work. Unicorn comes from the same dev and it's a bit different than what I've used so far.
Unicorn icon pack has over 200 high-quality wallpapers and over a thousand icons which are created with precision and by providing great attention to details.
Must read: My Top 5 Icon Packs of All Time
The icons in this pack are created with just four colors – purple, pink, blue, and teal. This helps in bringing uniformity and a distinctive feel to the icon pack.
If Unicorn is too bright for you, then you can go for the darker version of the same icon pack called dark unicorn.
S Eight – Icon Pack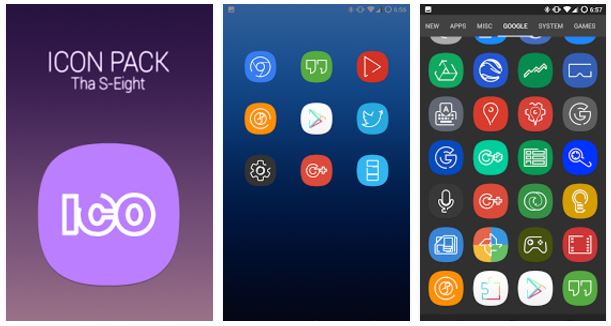 Samsung Galaxy S8 is a great smartphone. With this device, Samsung went all in and made a lot of subtle changes to make the UI cleaner than its predecessor, the Galaxy S7.
The icons used for S8 are very modern, colorful, and uniform. If you want the same look on your device, then S Eight is an amazing icon pack that you should definitely try.
While S Eight is not a replication of the S8 icons, they are similar in a lot of ways. What makes it different, though, is the use of white lines to draw a certain part of each icon. It looks really elegant on the home screen. Better yet, if you have a Galaxy S8, these icons will look really dope on your device.
You may also like: 5 Must-Have Utility Apps for Android
S Eight offers more than 2500 icons and a bunch of minimal wallpapers.