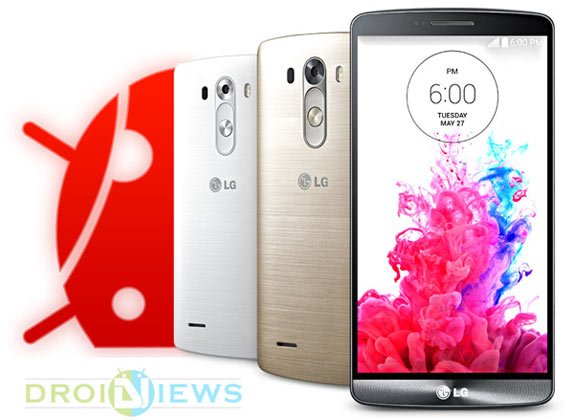 The LG G3 was showcased on May 28 and until now there is no word from the company as to when the new phone will be available to users. The release status of the LG G3 on official LG and carriers' website still shows "coming soon" manner. Well, it's only possible in Android that even an officially unreleased smartphone gets treated by talented developers!
Yes, one of the biggest sensations of the Android world, the LG G3 has been rooted despite the fact that it's still not available in the market. We know the rooting tutorial we are going to share will not be useful for you right now but if you an aspiring buyer of this phone, keep this page bookmarked for future.
Today, we have five root toolkits that make rooting the LG G3 very easy.
IOroot
Towelroot
Purpledrake
Stump Root
RootTool
Preparations
Before you proceed to root you all-new LG G3, here are a few preparations you need to make.
Download and install the latest LG USB drivers on your computer.
Enable USB Debugging on your LG G3. If you don't know how to do it, read this.
Method 1: Root LG G3 Using IOroot
IOroot, first of these tools, does not require any introduction to LG users as it is very popular and works on a range of LG Devices including the LG Optimus G, G2, G Pro, G Pro 2, G Flex, G Pad and many others. IOroot is compatible with Windows, Mac and Linux. The tool has just been updated and now it can root most LG G3 variants including—
Korean G3 F400K/L/S
International G3 D855
AT&T G3 (D850)
T-Mobile G3 (D851)
Canadian G3 (LG-D852)
Sprint G3 (LS990)
Verizon G3 (VS985)
If you own any of the above listed LG G3 variants, you can use the IOroot tool by Autoprime and obtain root access in a matter of seconds. Now here's are the steps:
Download the latest version of IOroot and extract the zip file: ioroot.zip
Make sure you have installed LG USB drivers on your computer and enabled USB Debugging on your phone.
Set screen-off time of your phone to 10 minutes. You can do this in Display settings.
Turn on Airplane mode on your device. In case you own the Verizon LG G3, use Ethernet mode instead.
When the above cmd window is launched, just press a key on your keyboard.
Wait till IOroot runs the root script and your phone reboots into stock recovery mode.
Highlight "apply update from adb" option and press the power key to select it.
Keep an eye on the command window and press a key to continue with the root script.
If everything goes well, you will see some like shown below on your G3's screen:
Your device has been rooted successfully. Just select "reboot system now" option to reboot your device.
Method 2: Root LG G3 with Stump Root
Just yesterday, jcase released another awesome universal root tool for LG devices that also works on LG G3. The tool is called Stump Root and is very easy to use. It does not require a computer. All you have to do is to install an Apk and run it. You can find more details about Stump Root here.
Method 3: Root LG G3 Using TowelRoot
There is another one-click, or rather one-tap root method available for the LG G3 which is not only easy but also safe to use.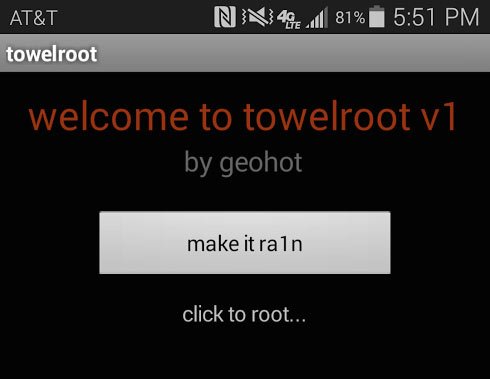 All you need is to install the Towelroot Apk file on your LG G3, open the app and tap the make it ra1n button. You can find the whole method in detail here.
Method 4: Root Using PurpleDrake (OSX/Linux/Windows)
In case you have updated your LG G3 to the latest software version 10A/10B/10E/10G and are still struggling to gain root access on your phone, give Purpledrake root exploit a try. We have already tested it on D855 with software version 10G successfully. The good thing is that Purpledrake works on computers running Mac, Linux or Windows.
Download the latest Purpledrake Lite exploit: PurpleDrake-Lite.tar.gz
Extract the file after downloading.
Connect your phone to computer and set device screen timeout under Display settings to 10 minutes.
Make sure the phone shows homescreen while you use Purpledrake and also USB Debugging is enabled.
Now launch Purpaldrake batch file depending on your OS.
Press Enter key to run the root script.
Keep an eye on your phone's homescreen and select OK when you are asked to Allow USB debugging?
Just wait for a few seconds and follow the on-screen instruction on the Purpledrake window.
Method 5: Root LG G3 Using RootTool
Thanks to jarari2 from XDA for making the one-click root tool for the G3 and hoangnova for sharing it. You can easily root LG G3 using one-click root tool within seconds. Please note that the root tool used for obtaining root on the G3 is not new. It also works on devices like the LG G Pro and the LG G Pro 2 running Android 4.4.2.
The root tool has been tested on the Korean model of the G3 (F400K) but we have no doubt that it'll also work on the International LG G3 (D855) without any problem. If your LG G3 has a locked bootloader, we strongly recommend not to try this tool. Now here're the steps:
Download the one-click root toolkit: roottool.zip
Unzip the roottool.zip file on your desktop and open the extracted folder.
Connect your LG G3 to the computer using the USB cable.
Now double-click the Run.bat file.
When the command window pops up, press a key on your keyboard.
Your G3 will reboot into stock recovery mode.
When you see the recovery screen on your phone scroll to apply update from ADB option using the Volume Down key and press the poer button to select it.
Then press any key on the command window. The root.zip file provided with the rooting package will be pushed to your device.
Now return to the main recovery menu and select reboot system now option.
When your phone boots up, open Play Store app on your phone and install Chainfire's latest SuperSU app:
[googleplay url="https://play.google.com/store/apps/details?id=eu.chainfire.supersu"]
Verify Root Access on LG G3
To make sure your LG G3 has proper root privilege, install Root Checker app from the Play Store and run this app.
[googleplay url="https://play.google.com/store/apps/details?id=com.joeykrim.rootcheck"]
Your LG G3 now has root access! Now you can try some cool apps that require root and enhance your mobile experience in terms of performance and customization:
Best Apps for Rooted Android Devices
Want to Install TWRP Recovery on LG G3?
You can do it now! Here's is our tutorial to install TWRP Recovery on the LG G3
Do Not Miss:
Improve the Picture and Video Quality with LG G3 Camera Mod