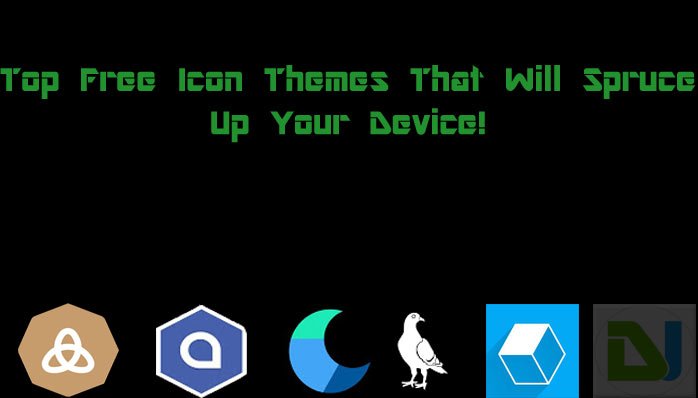 If you are a typical Android user, you may be bored and fed up of the stock-old icons on your device. For example, the same old dialer icon, the old messaging icon, and many bore-some third-party application icons! To change your lifestyle a little bit, you'll need to get into the Play Store, get into the Personalization section, and start looking for some cool icon packs. But, isn't it hard to search over a million applications to find what's the best? Yes, indeed it is! So, We decided to make your work easier. We decided to break down the list from thousands to the Top 5! Yes, Top 5! Here are the Top 5 Free icon packs that you'll need to give your device a new look! Let's hop right into it!
Also Read: Top 10 Premium Icon Packs for Android Devices
1) Rufus – Icon Pack – Free
Ever wanted to change your device's look a little bit, by just changing the shape of the icons? Well, with Rufus, you can! Instead of the old circle shaped icons, Rufus provides the user with beautiful Octa-shaped icons, meaning the icon will have 8 sides! Impressive! Also, instead of all the same old glossy/metallic colored icons, this time, it comes with unique pastel colors, so it'll highlight the icons more than anything!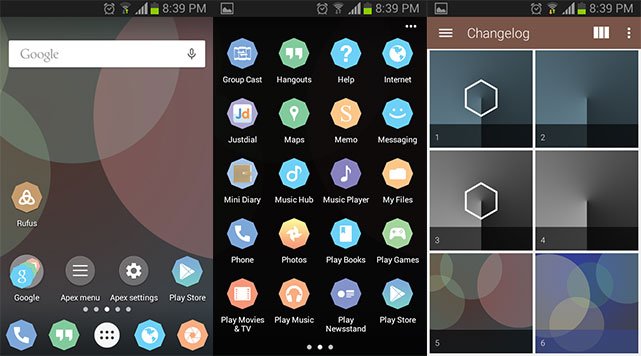 An icon pack usually contains just a bunch of icons, yes, Rufus does it too, with over 1,200 icons, and counting! Apart from the icons, Rufus contains 6 beautiful material-like wallpapers pre-installed! So, for unthemed icons, don't worry! because Rufus adds an icon mask to that icon too, so it'll not be the odd one out! All icon packs have a dash board! And this dashboard is Material themed, meaning smooth styles, and great looks. This icon pack is also supported by Muzei. This icon pack is available for a lot of the launchers out there, namely Nova launcher, Apex launcher, Action launcher, Smart launcher, Atom launcher and ADW launcher! Don't worry, We didn't name all of them, so this icon pack is supported by almost all the launchers available on the Google Play Store.
Rufus icon pack is not available. Please try Rugos instead!
2) Whicons – White Icon Pack – Free
This icon pack is unique, as it uses only one color scheme – White, that's what it's named after! White-Icons! In this icon pack, there is no specific shape of an icon, it is an outline of the figure of the icon! So this means, this icon pack is really attractive! Instead of using the color-full icon packs out there, you may want to make your device look different for sometime! The white color also catches the human eye, for it is so bright and so attractive. Enough talk, take a look at the screens below!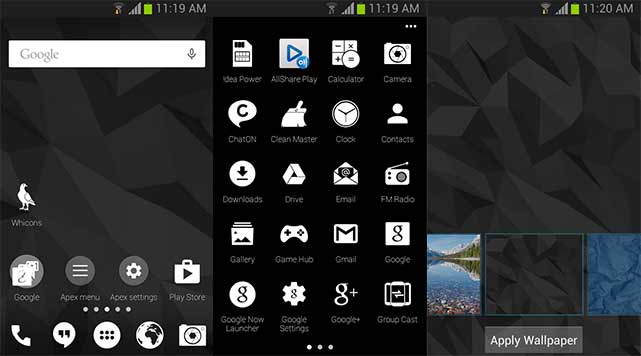 Whicons is an icon pack with over 1,950 icons, and counting! More and more icons will be added to this icon pack, because this app frequently updates itself! So the user doesn't miss any of the icons he/she wants! With 8 beautiful wallpapers, this icon pack also has a beautiful dashboard with an icon request tool, for the fanboy/fangirl users. Also, just like iOS, this icon pack supports dynamic calendar icon support! This icon pack supports many launchers, namely, Apex, Nova, Aviate, ADW, Action, Smart, Go, and Holo. 
So, what are you waiting for? Get this icon pack on the Google Play Store!
3) Voxel – Icon Pack – Free
This icon pack is unique because it contains square, flat icons! This an icon pack with flat UI icons, with some of the Material touch. There isn't much to talk about this beautiful icon pack! The color representation in this icon pack rules all of it! It all starts a small icon, actually icons, this icon pack redefines your device's whole look. Even though it's just a icon pack, it looks as if you've applied a theme on your device. This icon pack is optimized for HD devices, for all the icons are pure HD. Let's take a look at some of the screen shots below!
With over 1,200 icons, there is a never-ending list of icons to choose from. In the icon pack, there are sub-categories like Apps, Games, Google, System, and Misc, which will enable the user to find the icon more easily! Not only does this icon pack contain beautiful icons, but also 19 beautifully Materialized wallpapers to choose from! If the user is unhappy with the vast selection of icons, he/she can always request for a icon with the icon request tool! For starters, who have never used an icon pack before, this icon pack contains a Help Section for Starters! This icon pack is supported by numerous launchers, namely, Nova Launcher, Apex Launcher, Action Launcher, Smart Launcher, and many more!
Get this icon pack for free by clicking on the link below:
4) Moonshine – Icon Pack – Free
This icon pack was released when it was time for Android Lollipop's anticipation, and yet, this icon pack rules all of them out! Forget Material Design, this icon pack is just like it! Beautiful icons, long shadows, and a lot of Material Design, this icon pack needs to stay on your device. This icon pack was inspired by rumors and myths, and redesigned to give the user a full Pre-Material feel on his/her device. This free icon pack beats all of the paid ones too, for it is so beautifully made, and gives the user a satisfaction upon using this icon pack! Let's take a look at the screen shots!
The Moonshine Icon Pack contains over 750 beautifully designed icons, recommended for HD devices! And also, in this specific icon pack, the dashboard gives the user a Material-feel! This icon pack also has an icon picker, to search for your favorite icons! Also, so that the user doesn't miss on any of the application/game, this icon pack is guaranteed updated every two-weeks, or a month, to add the never-ending icons! Not only are the icons so gorgeous in this icon pack, so are the wallpapers too! This icon pack contains 19 beautifully home-made and designed wallpapers, to bled the icons and the wallpapers!
To get this free icon pack, click the link below!
5) Axiom – Icon Pack – Free
Euclid, you did some serious hard work back then, cause an icon pack is here, with the name of your term – Axiom! This icon pack is the last one on our Top 5 list. This icon pack's slogan is :
The beauty of stock, magnified
Sure, it is pure stock icons, but with more designing to make it look more awesome. Most of the icons you see in this icon pack are mainly close to stock icons, but more beautiful. The reflections in this icon pack give it a new look, and make your Android device look more beautiful and awesome. Obviously, in this generation there is no icon pack or theme with long, and beautiful shadowed icons! This icon pack is one of them too! The color scheme of this icon pack is selected very efficiently, for it blends very nice with the icons! Let us take a look at the screen shots!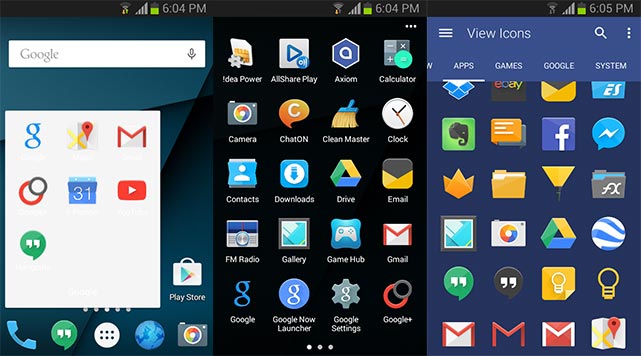 With over 160 uniquely designed icons, this icon pack can not be more better! Also, this is the first icon pack in our list to provide support for QHD devices, meaning there is no restriction of resolution with this icon pack! This icon pack features cloud-saved wallpapers, so this one doesn't use your devices internal memory to save the wallpapers. Also, this icon pack also supports dynamic calender! This icon pack also works with a bunch of launchers!
Get this icon pack for free on the Google Play Store!
So, here we end this list of the Top 5 free icon packs you can get on the Google Play Store!