Android is the most flexible, customizable and versatile operating system. Just take a look at the variety of custom UIs found on Android devices from different OEMs. Android is capable of surprising you with its different avatars. Besides, by taking advantage of root privilege and custom recoveries, you can install different kinds of custom ROMs, mods, kernels, patches and themes.
Even if you don't happen to be a root user, the OS still lets of enjoy different home launchers, lockscreen replacements, 3rd-party keyboards, widgets, live wallpapers, icon packs and so on. You can find hundreds of alternatives for almost each of the elements of the OS. No wonder, Android is the most popular platform for mobile devices on the globe!
The most commonly used stuff that people use to personalize and decorate their Android devices include home launchers, widgets and icon packs. As we already mentioned above, Android overwhelms its users with numerous options for everything and the same goes about the icon packs. The Google Play Store offers hundreds of free and paid icon packs and if you start testing them all to pick just the most suitable ones, it might take months. That's where people like us pop in.
Also Read:
Best Free Icon Packs for Android
To help you with finding the most beautiful and worth-the-money icon packs, we have shortlisted the Top 10 paid icon packs available for Android devices. So, if you are planning to buy a new icon set for your device, just hold a little and check out our list of the best options available today.
Note: Before we proceed with our list of best icon packs for Android, I would like to clarify that its all based on firsthand experience. I have really tested more than 30 (as you see in my screenshots below) of the most popular and highly rated icon packs from the Play Store.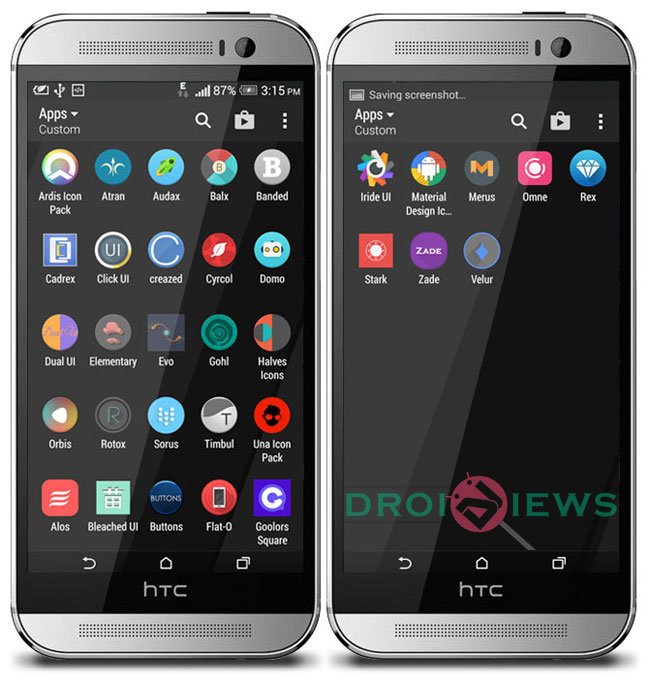 1. Audax – Icon Pack
The greatest dilemma one feels while making such a top-someting list is deciding the top two items. It's always easier to place things on 3rd, 4th or 5th position. The reason why I am listing the Audax icon pack at number one position is the very urge that makes me return to it again and again. It really infatuates with its great looks, finish and minuteness to details.
Audax really give an impression that it has been created with a passion for perfection. Being a theme-maker myself I can say that the developer has put utmost care while making individual icons to make sure that they contribute to the stunning look of the pack. The round-shaped icons look a little upheaved with app logos placed on them with perfect drop shadow.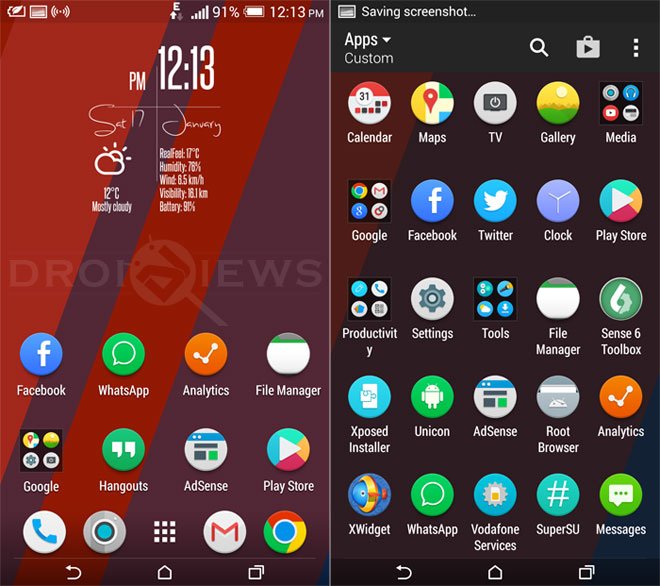 Audax icon pack contains more that 2000 icons and a number of beautifully designed wallpapers to complement them. I tested it on my Nexus 5 with CM 11, stock Sense ROM (with Unicon) and worked fine. If want to get an elegant look on your home and app drawer, Audax which is priced at $1.99 is a great choice to go with.
2. Balx – Icon Pack
Balx, another beautiful icon pack that is worth spending your hard-earned money, comes from a renowned designer AndreaCorvi who has give us some good icon packs like Crycle, KooGoo and Quadro. And if you happen to use the Crycle icon pack, you would find that Blax is very close to the former in shape. However, the similarity between the icon packs end there as Blax brings an enhanced design and a little 3D effect achieved through long shadows that nicely blend with app logos. Moreover, Blax features lighter color palettes that give it an overall elegance.
Blax consists of a whole bunch of 2000+ high definition icons and 68 awesome wallpapers that can be download through the app's interface. In my opinion, Blax is one of the prettiest icons packs available for Android devices.
3. Creazed Icon Pack
Having taken look at two round-shaped icon packs, it's time to introduce a square-shaped icon that is amazing in look and fresh in design. While looking at the app details at the Play Store, I noticed a discrepancy. Yes, it's hard to find an app with 100% positive reviews by users and yet have poor download stats, especially if its price is a lot cheaper than other apps in its category.
Whatever the stats of the Creazed icon pack might say, we won't be affected by that. It's a huge icon pack with 2100+ regular and 7500+ activities plus alternative icons. The large number of icons ensure that all app icons on your app drawer are themed properly for a unified and beautiful look. As the very name suggests, the icons have a diagonal crease effect on a square template with bright colors and thin darker border. These eye popping icon pack comes at a very reasonable price and yet is capable of giving your device a unique look.
4. Velur Icon Pack
Velur is yet another icon pack from a celebrated icon designer who has more that 16 great icon packs to his credit. It's again a round-shaped icon pack but with a little twist. You might feel enamoured by the colorful borders around the flat icons with little app logos with long shadows in the center.
Velur icon pack looks unique it its own right. It features more than 2,670 (and still growing) high quality icons as of now to theme all your apps. Even if you find that it doesn't have icons for some apps you use, you can can make a request to the developer. Velur also lets you access 44 beautiful cloud-based wallpapers that have been designed specifically for the icon pack. Another good thing is that, Velur gets regular updates.
5. Click UI – Icon Pack
Click UI is already one of the most downloaded icon packs at the Play Store and its popularity is based on sound reasons. According to the developer "this is the original trendsetter that has inspired many". Really, Click UI icon pack is one of first to bring flatness and shadow effect in app logos.
The icon pack offers tons of rounded icons (more than 1580) of great look and feel. It can theme most of the apps that you might be using on your device. The icon mask really helps to get non-themed icons looking like they belong to Click UI. If you like round icons with simple yet beautiful look, Click UI is probably the best option for you.
Some More Beautiful Icon Packs
6. Alos – Icon Pack
7. Aurelia Icons Theme
8. Aurora UI Square – Icon pack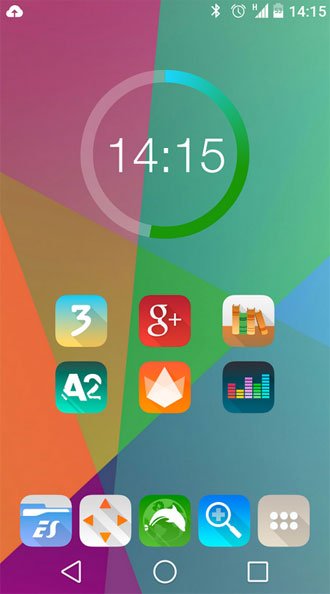 9. Cadrex – Icon Pack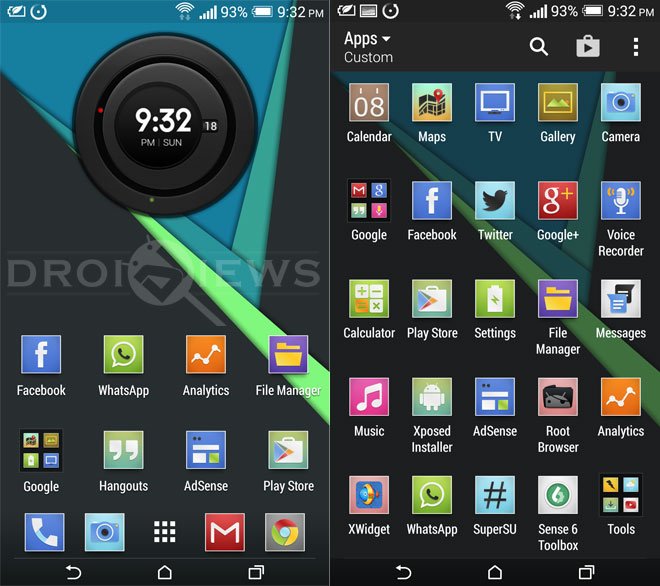 10. Sorus – Icon Pack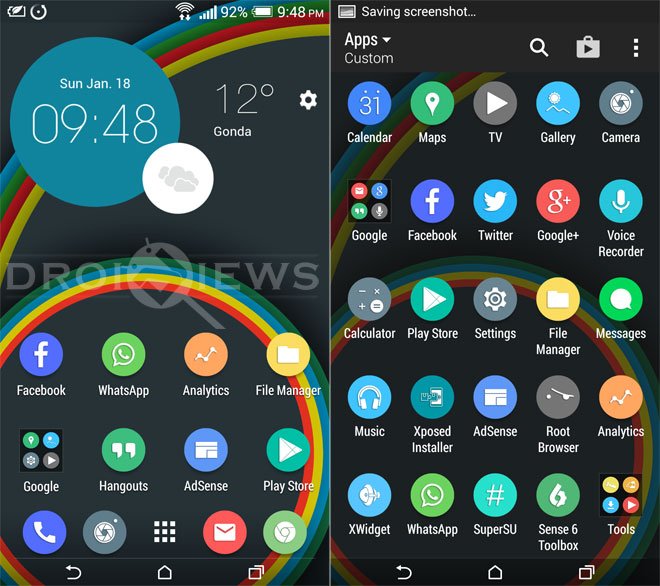 So, we are done with our list of top 10 icon packs for Android and hope you like them too. If you think we have missed any icon pack that deserved to be included above, please let us know via comments. Cheers!