If you love downloading files using torrents, we have suggestions for some of the best BitTorrent client apps for Android devices. The BitTorrent file sharing protocol was introduced in 2001 and since then it has been used by millions of users worldwide. It is designed to reduce the server and network impact of distributing large files: each computer on the network can be used to distribute files to many recipients, eliminating this way the need for big servers. Statistics show that it is responsible for about 5% of internet bandwidth and it enjoys between 15 and 25 million concurrent users at any given time.
After its release, the BitTorrent protocol drew some controversy because it has been used by many to distribute copyrighted content, including movies, music, and computer software. However, this is not its only use, it is widely used for easily distributing big amounts of data by companies, downloading desktop Linux ISOs and pushing game and software updates. One interesting fact is that BitTorrent is used internally by Facebook and Twitter to push updates to their servers.
To download files through the BitTorrent network, the user needs to have a special.torrent file or a magnet link. These are then opened by a BitTorrent client App and provide information on how to download the files.
You may also like: 5 Best Lock Screen Replacement Apps for Android
On Android, there are a plethora of BitTorrent client Apps available. Many of them are descendants of well-known desktop clients. Here is a list of the 5 best BitTorrent clients on Android, in terms of features, speed, and usability.
5 Best BitTorrent Client Apps for Android
1. BitTorrent
Price: Free with Ads / Paid Pro version with additional features
This is the official Android BitTorrent app, developed by the people who designed the protocol. It comes packaged with many features, including magnet links support, file storage selection for downloads and WiFi-only transfers to save mobile data. BitTorrent always includes the latest version of the BitTorrent core, enabling the most current features included in the protocol and improved performance.
Moreover, it includes a media player for playing downloaded media directly through the App and download/upload speed limits. BitTorrent is free but there is a paid Pro ad-free version available. The Pro version also provides an auto-shutdown feature (which turns off the device after all transfers are finished) and a power-saving feature.
2. Flud
Price: Free with Ads / Paid Ad-Free version

Supported extra Network features: DHT, UPnP, NAT-PMP, LSD, Peer/Tracker Exchange, uTP, IP filtering
Also read: 4 Best Android Apps You Should Be Using Right Now
Flud is one of the best BitTorrent apps. It uses the open source libtorrent as back-end. It offers a beautiful Material Design User Interface. Features like WiFi-only transfers, sequential downloading, magnet links, and storage selection for downloads are supported.
Furthermore, the user can select which files inside the torrent file to download. This BitTorrent client also packs support for proxies for both client and tracker connections, battery saving tweaks and download/upload speed limits. Flud can be used free with advertisements and a paid ad-free version is also available.
3. LibreTorrent
Price: Free

Supported extra Network features: DHT, UPnP, NAT-PMP, LSD, uTP, IP filtering
This is a free, open source and ad-free BitTorrent client App. It implements magnet links support, configurable download storage, file, and folder download priorities and sequential downloads. Also, proxy support for client and tracker and download/upload speed limits are available. LibreTorrent provides features nearly on-par with the Flud BitTorrent client since they share the powerful library libtorrent as their back-end.
4. Vuze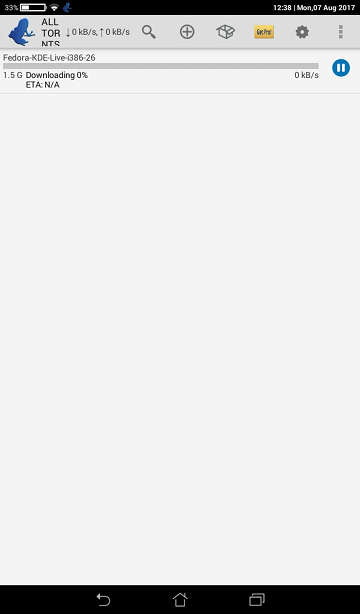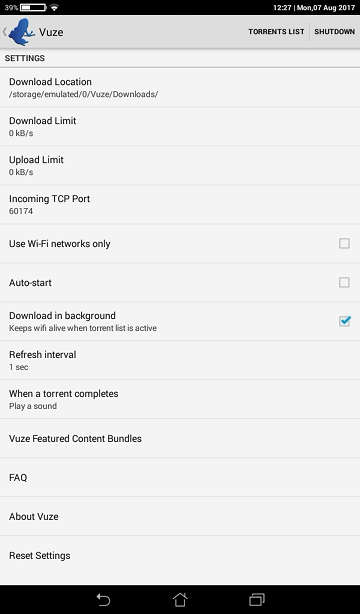 Price: Free / Paid version with some extra features
Coming from the developers of the desktop Vuze (formerly Azure) BitTorrent client, Vuze for Android is one of the best BitTorrent apps that offers a minimal User Interface, WiFi-only mode, simple torrent Web search and configurable download/upload limits. Vuze Torrent Downloader is a free app. There is also a Pro paid version with some additional power saving features.
5. Frostwire
Price: Free with Ads / Paid Ad-Free version

Supported extra Network features: DHT
Frostwire is also open source. It includes everything offered by the Apps above, plus a built-in media browser/player and special torrent search engine. Also, users can play media files while they are downloaded.
Don't miss: Get iOS 11 Control Center on Any Android Device
In addition, Frostwire can download media from YouTube and Sound Cloud (these features are not available on the version downloaded from Play Store, but they are available on versions downloaded from the App's official website).