Are you looking for a beautiful weather app? Today Weather Forcast is the most beautiful app in my opinion and you must give it a try.
When it comes to apps, there is no shortage of them on Android. No matter what you are looking for, there are at least 50 apps that offer the same functionality. Some of them are free and some are paid. As of December 2018, there are 2.6 million apps in the Google Play Store. Out of all these apps, you can easily handpick a few that stand put off the crowd.
I am a big sucker for design, and if an app does not after good design, it's a big 'no-no' for me, even though it's functionality is good. That said, even though there are many weather apps for Android, the app-in-discussion, 'Today Weather – Forecast' is one of the most beautiful (if not the most beautiful) weather apps ever built for Android.
Related article: 5 Best Weather Apps for Android
Today Weather Forecast Design:
Normally, here at DroidViews, we always place the screenshots of the app at a later point in the app review. But, today, it comes first. The reason, you ask? You must see how beautiful (a word that I am going to use a lot more in this article) the app is to understand what I am talking about. Every single screen of this app screams design! Click on the images to view them in full resolution. Here you go:
I have tried to include every single screen of the app, because, every nook and corner of this app is carefully designed and looks amazingly beautiful!
Must read: My Top 5 Icon Packs of All Time
Features of Today Weather – Forecast:
The UI and the Design of the app itself are enough reason to try this app out. Not convinced enough? Below are some of the features that the app offers:
Display the weather forecast (Thank You, Captain Obvious!) in a clear big font with a dark background. If you are using a phone with AMOLED display, boy, you are in for a treat!
To get detailed information, just swipe down on the app's home screen. All the details you need are displayed in a well-organized manner.
Every time you open the app, a stunning picture related to the current weather condition is displayed in a big square box. Looks simply amazing!
Air-quality and UV index information.
Sunrise, Sunset and Full Moon night information are available so that you can plan beautiful moments ahead.
Daily weather forecast notification.
Alert severe weather.
Many other useful information such as air pressure, humidity, wind speed, wind direction, actual temperature, dew point.
Lookup weather information of any location in the world.
Beautiful Widgets to get quick updates on the weather.
When you try to share the weather, an entire screenshot of the app is saved to your phone and then the beautiful screenshot is shared.
Download Today Weather – Forecast:
Click below to read the reviews and download the app from Google Play Store:
[googleplay url="https://play.google.com/store/apps/details?id=mobi.lockdown.weather"/]
Limitations:
In the free version of the app, you can add only two locations to the app. To add any more, you need to pay.
There are no 'one-time' purchase options, sadly. Although, the app offers three different subscription plans. See below:
So far, I haven't figured out how to remove added locations. This could have been made a bit easier.
Read also: List of 70 OK Google Commands for Google Assistant
Become a beta tester:
The app is still in beta, and the developer is looking for more beta testers. In case you wish to join the beta testing, click on the link below:
Once you click the above link, you will be taken to the below page.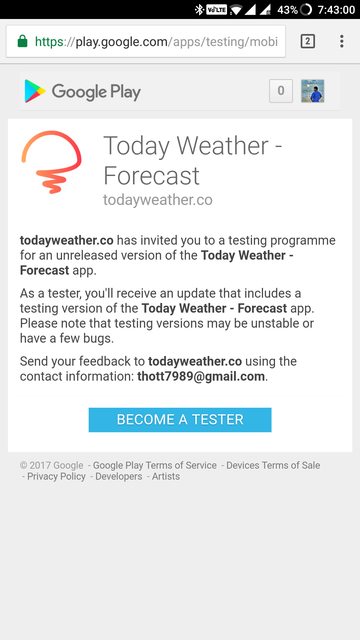 Just tap on the 'BECOME A TESTER' to become a part of beta testing.
Final Thoughts:
For an app that is still in beta, the app performs amazingly and look beautiful without any design dependencies. Though the app's pricing model is a bit too ambitious, I honestly think weather information of two locations would do just fine for most people. Also, developers have to eat, right? You can always buy the app as per your needs, and it keeps the app's development alive. If you are looking for a beautiful weather app that doesn't comprise on the performance, 'Today Weather – Forecast' is the answer.
Must read: List of Most Popular Android Apps and Games of All Time