Chrome for Android
If you do any significant amount of Internet browsing on your Android device, you have likely faced the ads we're going to be
Google Chrome is the most widely used web browser, both on smartphones and computers. But that doesn't necessarily mean
One of the greatest attractions of Android is customization – I have used this statement probably thousands of times. But today,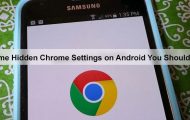 There are dozens of speed tests that will prove that Google Chrome is the fastest browser on Android. But when it comes to customizing
Privacy might not be a big concern for some but it's a matter of foremost important for most users who use the digital modes of
Being one of the most installed Android apps of all time, Google Chrome is the ultimate web browser for Android. Google, as a company,
Multitasking is a marquee feature on desktops; you can truly multitask on a desktop by having more than one window up at the same time.
Ever since Chrome was launched, it has been a favorite browser for Android. Not just for its features but for its easy compatibility