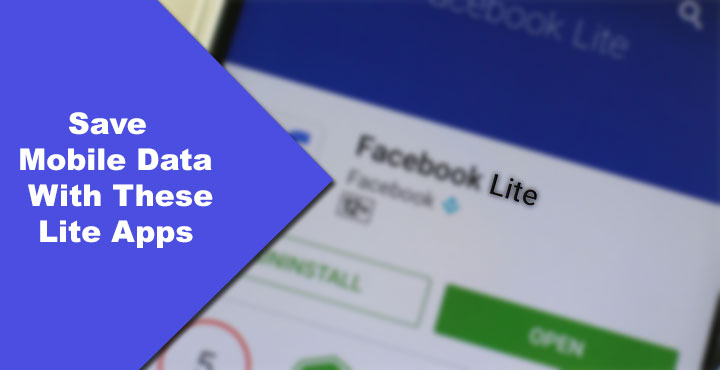 Many of us have a WiFi connection at home these days. And we don't think twice about how much data is being consumed while we scroll through our Facebook news feed or watch auto-playing funny videos. Get out of the house though, and it's a different story especially if you're on a limited data plan. This is even truer in countries like India where most of the internet connectivity is through mobile data, which is more expensive than Chicken Curry. Using the lite app alternatives for Android apps, you can save a lot of mobile data on Android devices.
Apps like Facebook, Messenger, Skype, and YouTube are where you probably spend most of your data. That is if you don't stream online videos via mobile data. But on Android, you can actually save mobile data on various data hogging apps.
Basically, just use Lite versions of apps wherever possible. Many of these apps do, in fact, have lite versions available. These are mentioned below along with a few details about them to help you decide whether you should make the switch.
Don't miss: 10 Tips to Make Your Phone's Battery Last Longer
Let's check out the best lite app alternatives for Android.
Facebook Lite
Facebook Lite uses less data by default. And it does make a difference compared to the official Facebook app both on the performance of your phone and your data consumption. Also, the app truly is a Lite app and is less than 2 MB in size. It also works better on slower connections than the regular app. The best part though is that you don't necessarily need a separate Messenger app to read or respond to your Facebook messages.
The grass is not all green though and there may be a few minor trade-offs. These include no transition animations, no GIF support at all in the comments section,  and a few other minor features here and there. If you don't mind losing those not-so-necessary features, there's definitely no reason why you shouldn't use this. If you do care about those, you'll have to weigh your options. We'd say the advantages are a lot more than the disadvantages here.
Facebook Lite – Download from Play Store | Download from APK Mirror
Messenger Lite
Facebook's Messenger app, which the company deliberately pushed down the user's throat, is a memory hog and a serious data killer. And that is probably not news to you either. But there is a lesser-known version of this app called "Lite." This is just like the "Lite" version of the Facebook app which has the same name. If you use Facebook Lite, you don't absolutely need the Messenger or the Lite version of it. But if you prefer the regular Facebook app, you're going to need one. Or maybe you just prefer a separate app for your Facebook conversations but don't like all those GIFs and extensions and games and what, not that come bundled in with Messenger. In any case, you can use Messenger Lite.
Also read: Erase Android Phone Data Remotely Without Internet
With Messenger Lite, you don't get to send GIFs, play games or make calls (neither audio nor video).  If you only use Messenger for text chats, a few pictures, and stickers, we don't see why you should be using the feature-packed but bloated Messenger app. Messenger Lite has a much simpler and cleaner UI overall and is more seamless to use than the actual Messenger app.
Messenger Lite – Download from Play Store | Download from APK Mirror
Twitter Lite
Twitter Lite takes the meaning of Lite to a new level. Where for Facebook and Messenger, you have to download Lite versions of an app, to get Twitter Lite, you don't have to download anything. Just point your Chrome browser to mobile.twitter.com, and you're already using Twitter Lite. How is this an app? Well, if you don't automatically get a notification, tap on the three-dot overflow menu in Chrome and select Add to homescreen. When you open Twitter Lite from your home screen, it opens up just like an app without launching the actual browser. This works very much like apps on the now dead Firefox OS.
Tap your profile picture and toggle the Data Saver Mode. This will disable the automatic loading of images and videos, and you have to tap on them to load them. The app does push notifications to your Android through supported browsers like Chrome. However, it does not automatically update your timeline in the background all the time, unlike the regular app.
Skype Lite
If you've ever used Skype for video calls, you know how much data it drains. But video calling tends to do that any way that shouldn't surprise anyone. But you can still save some precious data if you switch to Skype Lite. The app is meant for the sole purpose of reducing data consumption which it achieves by compressing the audio and video.
Don't miss: How to Limit Data Usage on Facebook and WhatsApp
You can still all those features you love from the original Skype app for Android including chatbots. It also acts as an advanced SMS app filtering promotional text messages. You can choose to not see SMS messages by simply toggling it off on the main screen. Tap on the hamburger menu button on the top left corner gives you more options and a quick overview of how much data you have consumed through the app. This is one of the best lite app alternatives for Android.
Skype Lite – Download from Play Store  |  Download from APK Mirror
YouTube Go
Watching YouTube videos on mobile data, especially when you're on a limited plan, is not advisable. You'll burn through your data pack very quickly. But there are times when someone shares a video and you can't wait till you get back on a WiFi network to watch it.
Enter: YouTube Go
Google's answer to your problems. The company has been adding several data saving, and offline features to its app which it says are being tailored for countries like India. But data savings never hurt regardless of wherever you live. You can use the app's settings to dictate how much data it can use, so you don't have to worry about exhausting more data than you want to. You can also queue videos for downloading on WiFi later. The only downside to YouTube Go is that you can't watch videos over 480p it seems.
YouTube Go – Download from Play Store  |  Download from APK Mirror
By using these above lite app alternatives on your Android, you'll not only save storage space, device resources but also mobile data on your Android.
Read Next: 9 Best Lite Apps to Save Space and Data on Android