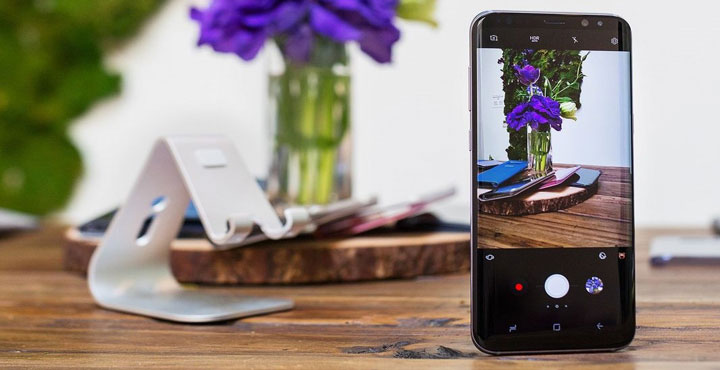 Samsung has finally unveiled its long-awaited iPhone killer of 2017 at its Galaxy unpacked event today. There have been a lot of rumors and leaks that will all be now put to rest, at least for the Samsung Galaxy S8 and S8 Plus. The latest Galaxy flagships are an impressive combination of glass, metal and a massive screen in a much smaller size than you'd expect. Although, thanks to Xiaomi's Mi MIX and LG G6, that's no more a reason enough to stand out.
Don't miss: Download Galaxy S8 Stock Wallpapers (Official)
Samsung Galaxy S8 and Galaxy S8 Plus key specs
| Feature | S8 | S8+ |
| --- | --- | --- |
| Screen size | 5.8 inches | 6.2 inches |
| Dimensions | 148.9 x 68.1 x 8mm, 155g | 159.5 x 73.4 x 8.1mm, 173g |
| Camera | 12MP main, 8MP front | 12MP main, 8MP front |
| Storage | 64GB + MicroSD | 64GB + MicroSD |
| Software | Android 7.0 | Android 7.0 |
| Release date | April 28 or April 20 for pre-orders | April 28 or April 20 for pre-orders |
| Price | £689 | £779 |
The smaller of the siblings, Galaxy S8 packs in a massive 5.8 inch (570ppi) screen while the S8 Plus has a 6.2 inch (529ppi) Quad HD+ screens at a resolution of 2960 x 1440. The super tall 18.5:9 aspect ratio is a bit peculiar, however. It will be interesting to see how apps work on it. Considering the popularity of the Galaxy flagships, though, that shouldn't be a problem. The S8 is also IP68 water-resistant, so it can deal with most day to day liquid accidents.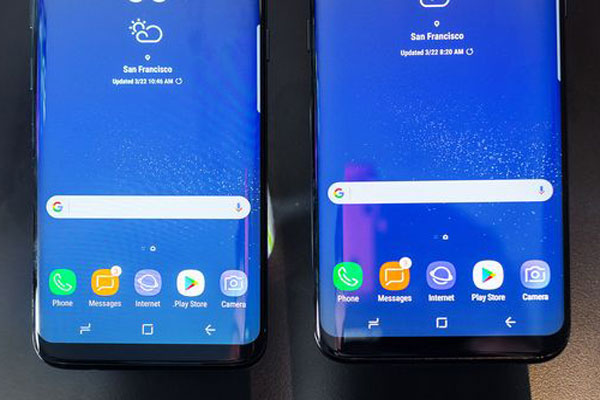 The US variants will be powered by the Snapdragon 835 while the international variant will feature Samsung's own Exynos 8895. Both the processors are manufactured by Samsung using the company's own 10nm manufacturing tech. Samsung has also decided to stick with 4 gigs of RAM for both the S8 models offering 64 GB of storage on the base models. Expandable storage via a micro SD card is also supported. There is a fingerprint reader on the back, but it's placed to the right of the camera, which is not an ideal placement.
Samsung Galaxy S8 Camera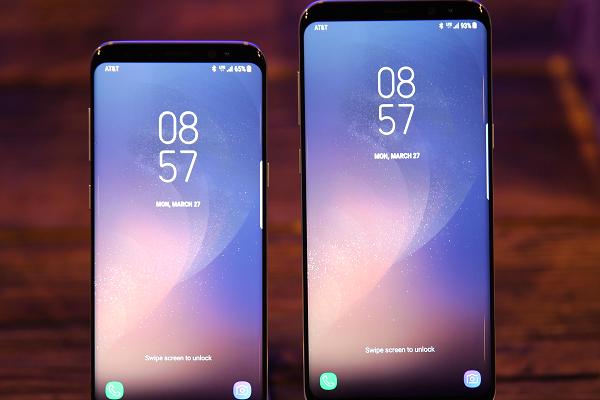 Other than the screen sizes, there's not much to set apart the two devices. Both sport a 12MP rear camera and a 8 MP selfie shooter. Samsung has chosen not to go down the dual camera route like a lot of other smartphone makers, but maybe they're keeping it for the Galaxy Note 8. The company is touting its "multi-frame image processing". What this means is when you click a photo, the camera takes three and uses two of them to sharpen the first one. It's not possible to say anything about how nicely that will work, but Samsung's cameras are usually among the top.
Samsung Galaxy S8 Battery
You will probably remember how things went down the last time Samsung released a phone this big and beautiful. Not surprisingly, Samsung has decided to not push the envelope this time regarding battery sizes. The S8 has a 3000mAh battery while the larger S8 Plus has a 3500mAh battery. The company claims they've tweaked the battery chemistry to make them last long even after a year or two of use.
Qualcomm Quick Charge 4.0 is present on the Qualcomm variants, and both variants support major wireless charging standards. I can't help but wonder how long a 3000mAh battery would last under a 5.8 inch Quad HD+ display, however.
Samsung Galaxy S8 Software
Samsung makes some of the greatest hardware on smartphones, and nobody can argue about it. But it is the software that many have a problem with. Since the good old days of Android, Samsung has had a reputation among Android fans, and the company has been trying hard to get away from that. The software on the Galaxy S8 and S8 plus continues that trend. Samsung's own skin runs atop Android 7.0 Nougat, but there aren't as many bloatware apps as skeptics would expect.
There's the always on display we have seen before, except it also shows notifications this time. The phones also have what seems to be speedy facial recognition along with Iris scanning which was a bit clunky the last time it appeared on the Note 7. Considering the awkward placement of the fingerprint reader on the device, this might come in handy. Although, Samsung admits this is not as secure as the other solutions. Hence if you want to make payments, showing up your pretty face is not going to work, you will still need the fingerprint or Iris scanners.
The Galaxy S8 (and the S8 Plus) also have DeX. It's a feature like Windows 10's continuum. You can buy a specialized dock and use it to plug your device to a larger screen, possibly connected to a keyboard and a mouse to get a full desktop like experience. This is more or less a gimmick, but it's a gimmick many people would be excited to try out, at least once. Keep in mind though this is nothing like a Remix OS, and does not offer any desktop like browser windows.
Samsung Bixby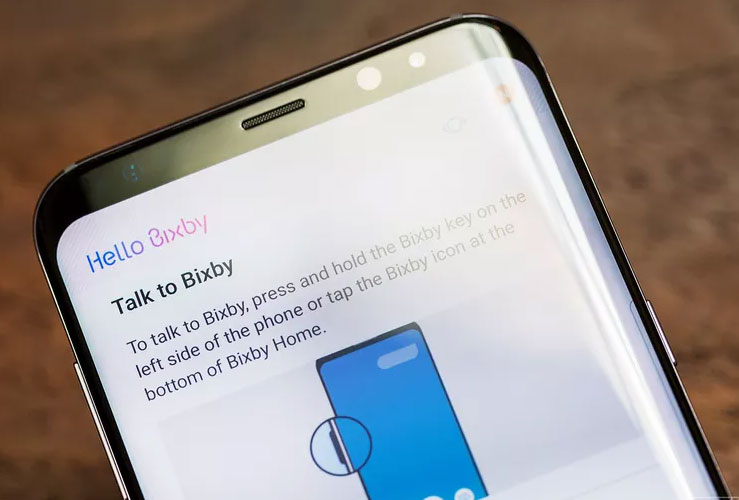 And finally, there is also Bixby, the rumored virtual assistant that is finally as official as the devices it is on. Samsung's assistant, the company claims, is a much bigger deal than Siri or Google Assistant. That's because unlike the other mainstream virtual assistants, Bixby is deeply integrated with the device, and will allow complete controlling of the device's features and apps, even navigation through voice commands. For instance, you could ask Bixby, and it will share your photos to Facebook.
Bixby has a dedicated button to itself on the left side of the phone and can also be accessed via a swipe up on the home screen. Samsung has played a big gamble on Bixby, and the company will need to make sure it does not turn into another S-Voice.
Pricing and availability
The devices will be available for pre-order starting March 30th and will go on sale on April 21st. If you pre-order, you will get a free Oculus headset with a controller and a set of games along with your preorder. The US is getting more colors this time in the form of black, gray, and silver Galaxy S8 and S8 Plus variants while only Gold and Blue make it to international consumers. A pair of Harmon AKG headphones worth $99 come bundled with the devices. Yes, it has a headphone jack, rejoice! Pricing starts at USD 720 for the Galaxy S8.