Hi guys, we just managed to grab 24 stock wallpapers from the all new Samsung Galaxy S8 ahead of the official Samsung Unpacked event. It's first on the internet and a DroidViews exclusive! Download them from below.
Just a few weeks ago, DroidViews was the first site to share the leaked wallpapers from the Samsung Galaxy S8. While those wallpapers were rendered or inspired by the leaked images of the phone, this time we have the 24 official default wallpapers from the device.
The Galaxy S8 comes with more wallpapers and we'll be sharing them as well when they are available. Stay tuned!
Download Samsung Galaxy S8 Stock Wallpapers
To download the wallpapers, just right-click them and select "Open link in a new tab" or "Save link as…" option. We have also compressed all wallpapers into ZIP files so that you can grab them all in a single click.
QHD HD Resolution: 1440 x 2960 px
Don't miss:
Update:

March 30

Just added 4 more stock wallpapers from the Samsung Galaxy S8 Plus. This time, in a different aspect ratio and even higher quality. Enjoy and stay tuned for more wallpapers from the Galaxy S8 duo phones!
Download 21 Wallpapers shared above:
Samsung-Galaxy-S8-Wallpapers.zip | Mirror
Update:

March 31

Since the size of the wallpaper pack is huge (204 MB), we have uploaded them to Google Drive and Mega. Download all the wallpapers featured below in a single zip from one of our links shared below. The resolution of the wallpapers is 2960 x 2960 px.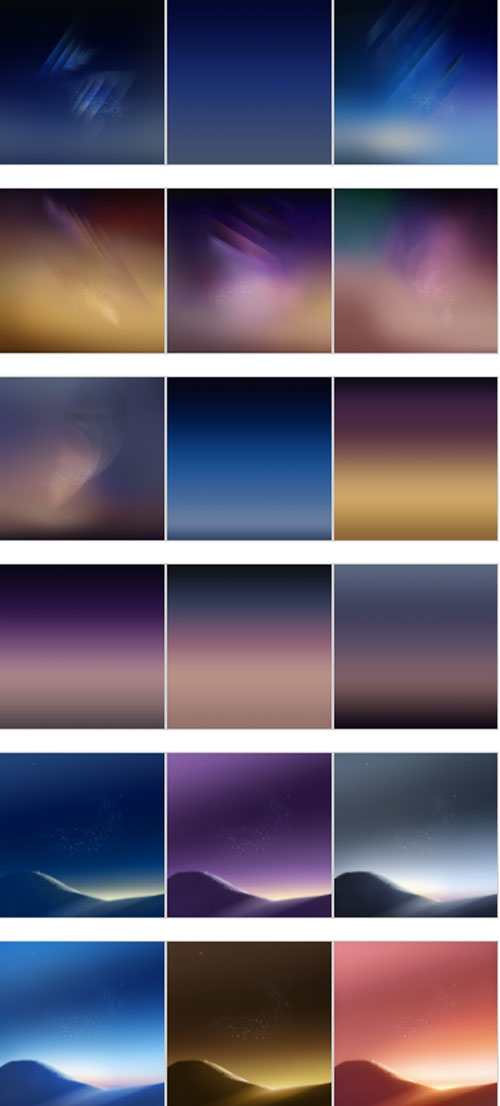 Samsung-Galaxy-S8-Stock-Wallpapers.zip | Mirror 1 | Mirror 2 (204 MB)
Don't miss: Download iPhone X and iPhone 8 Stock Wallpapers
Update:

Download Samsung Galaxy S8 Stock Ringtone

Now you can also download the official stock notification, UI, and ringtones from the Samsung Galaxy S8 and S8 Plus.

Samsung-Galaxy-S8-UI-Ringtones.zip | Mirror (9.6 MB)