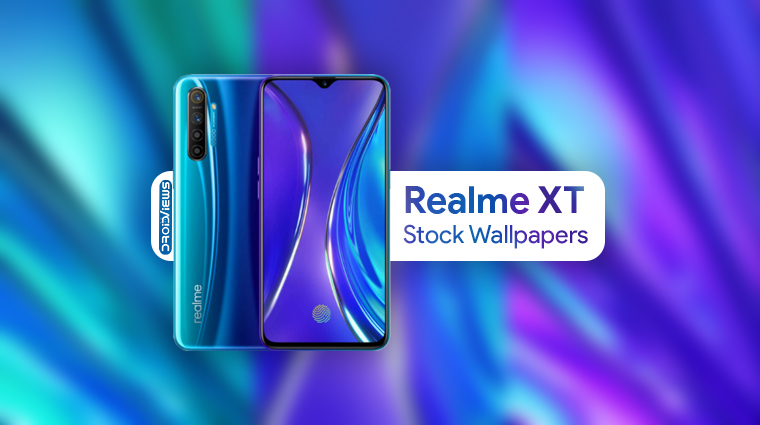 Realme has just announced another great smartphone in their lineup with great specs at an amazing price. This one is called the Realme XT and the spec sheet is pretty tempting if you're looking for something in the price range of around ₹16000 to ₹19000. The device brings some features that you normally don't find in a phone under the ₹20,000 price point. As is the case with every new device launch, Realme XT is also packed with some new stock wallpapers. You can find the link to download Realme XT stock wallpapers below.
Realme XT Stock Wallpapers
We have 3 Realme XT stock wallpapers, for now, all of which are mostly blue or a shade of blue and something that lies on the same end of the electromagnetic spectrum. These wallpapers have a resolution of 1080 pixels x 2340 pixels which is the same as that of the Realme XT's display. The aspect ratio comes down to 19.5:9 so you wouldn't have to crop out much of the image to fit it on your screen as long as you have a phone launched in 2018 or later.
Unless you have an expensive Android flagship or a OnePlus 7 Pro, your phone most likely runs a 1080p display or lower. So these wallpapers should look as great as any wallpaper can look on your screens. Even in devices with 144p displays, not everyone can tell the wallpapers aren't 1440p.
We've uploaded the images below so that you can check out the wallpapers before you download them. These are compressed JPEGs, however, while the original wallpapers are in PNG format. While still pretty high-quality, these are not the actual wallpapers and are only meant for demonstration.
Download Realme XT Stock Wallpapers
If you're interested, you can download Realme XT stock wallpapers from the link provided below.
Realme-XT-Stock-Wallpapers.zip
Browse the Realme stock wallpapers collection in our wallpapers section.
Realme XT Specifications
The Realme XT packs in a 6.4-inch display which is huge but also common these days. It's a Super AMOLED display which is not quite as common in this price range or even in significantly more expensive mid-range devices. The panel is full HD+ with a resolution of 1080 pixels x 2340 pixels and an aspect ratio of 19.5:9. Inside it sports a 2.3GHz Qualcomm Snapdragon 712 processor with an Adreno 616 GPU. To keep things running smoothly, the processor is helped with at least 4GB of RAM and 64GB of storage.
The device is also offered in other storage and RAM variants with either 6GB or 8GB of RAM and 128GB of storage. The internal storage is UFS 2.1 so it is fast but not the fastest.  To keep the lights on, Realme has packed in a 4000 mAh battery. It should easily last about a day for even heavy users. Another unusual spec is the quad rear camera set up. The Realme XT features a 64MP primary camera with an 8MP ultra-wide lens, a 2MP dedicated macro camera and another 2MP depth sensor. On paper, this should result in great photos but considering the price, it won't be blowing anyone's minds.
The device runs Android 9.0 Pie with ColorOS 6.0 built on top of it. An Android 10 update is in the plans. However, Realme and its parent company Oppo don't exactly have the best record when it comes to updates. The phone will be offered in Pearl White and Pearl Blue colors. It features Corning Gorilla Glass 5 on both front and the back.
Having downloaded the Realme XT stock wallpapers, you should also consider the following beautiful wallpaper packs: