Android has really grown into a serious gaming platform but obviously, it's no match for a console or a PC. Some people, therefore, prefer playing some lightweight games on their phone instead. Some others are forced to, because of low-end hardware. Remember, Android devices are available for as low as $30 in some parts of the world, probably even lower in others. Here are some of the most lightweight or low MB racing games under 50MB.
Real Bike Racing
Start the engine, hit the gas and experience the thrill of handling a 200 HP beast. Go bumper to bumper with elite riders to win the world championship. Now get ready for adrenaline-fueled racing action and ride your way to victory in the fastest lane of all!
[googleplay url="https://play.google.com/store/apps/details?id=com.wordsmobile.RealBikeRacing"]
Real Bike Racing is only 21MB in size at the time of this righting at version 1.0.9. That's way under 50MB. The fact that the game has been downloaded more than 50,000,000 times, and yet maintains a Play Store rating of 4.4 speaks for itself. For such a lightweight racing game, the graphics don't suck a lot. Sure, it doesn't look like a Moto GP2 but, remember this is only 21MB in size. Believe me, you are going to love this racing game under 50MB.
Don't Miss: 5 Best Heaviest Games for Android | 2019 Edition
As for the game itself, the fun quotient is high. It's high because the game can get really competitive once you get through a few levels and start getting the hang of it. It supports VR, if you have a headset, and features more than 10 different superbikes for you to unlock and enjoy playing with. The controls are touch based.
City Racing 3D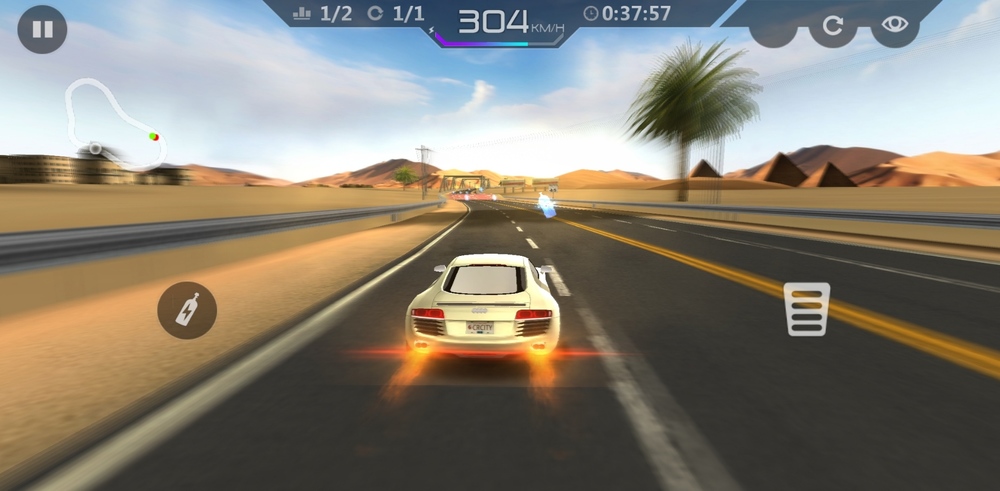 Bring the fast driving experience to a whole new level! Incredible slim size, and support WiFi Multi-Player racing mode! Race the traffic! Be the king of street racing!
[googleplay url="https://play.google.com/store/apps/details?id=com.racergame.cityracing3d"]
If you're more of a car person, City Racing 3D might be what you'll prefer. The game is not quite exactly under 50MB but it's right there at 50MB. It has over 50,000,000 downloads and a rating of 4.6. For more than twice the size of the previous game, you get significantly better graphics. The controls are better too with a choice between touch-based controls or gyroscopic controls.
There are several "real" cars which can be upgraded and customized. The game also features real places like Tokyo, Paris, Chicago, London, Macao, Cairo, Hawaii, Chengdu, Arizona, etc. Wi-Fi multiplayer is also supported along with several other modes. If you're a fan of the Asphalt series, this will be like mini-asphalt. Mini only in size, to be clear. City Racing 3D is one of the best racing games under 50MB you should try.
Must Read: 5 Best Racing Games for Android in 2019
Bike Race Free
Bike Race is one of the best racing game on Android! Race and have fun against millions of players. Bike Race is one of the top-rated free games! And it's free! Speed up the wheels and get ready for fun!
[googleplay url="https://play.google.com/store/apps/details?id=com.topfreegames.bikeracefreeworld"]
Bike Racing Free sits at 28MB in size but the game is not designed to be graphics heavy anyway. It's a 2D game for those who like more of a challenge in their races. You may have played similar terrain or hurdle based 2D bike games before. This one adds racing to it. and for the better. It makes the level designs more challenging. The game is all about trying and trying until you succeed. And you will be trying a lot.
If that wasn't enough there are tournaments, a multiplayer mode and you can even challenge your Facebook friends. It's also one of those lightweight racing games that you can play without Wi-Fi.
Racing Moto
Racing Moto is a fast-paced racing game. You never dare drive so fast in the real world! Control your moto with incredible fast speed during traffic rush time! Also enjoy beautiful view during the journey – desert, city, bridge, sea, and forest!
[googleplay url="https://play.google.com/store/apps/details?id=com.droidhen.game.racingmoto"]
Racing Moto is a bit like Traffic Rider which would actually be the better game. However, Traffic Rider does is not under 50MB and the size varies on different devices. Racing Moto is not bad at all as a replacement though. The controls are similar, as in you tap on the screen to accelerate and tilt the phone to change directions.
Related Post: 10 Best Gameloft Games Under 50MB for Android
The longer you keep accelerating, the more your score is boosted. The vehicles will change directions as well so keep an eye out for the indicators on them. This is an endless racer where your goal is to beat your own high score. You can also unlock new bikes. It's a lot more fun than Temple Run and that makes Racing Moto one of the best racing games under 50MB for Android.
Traffic Racing Simulator 3D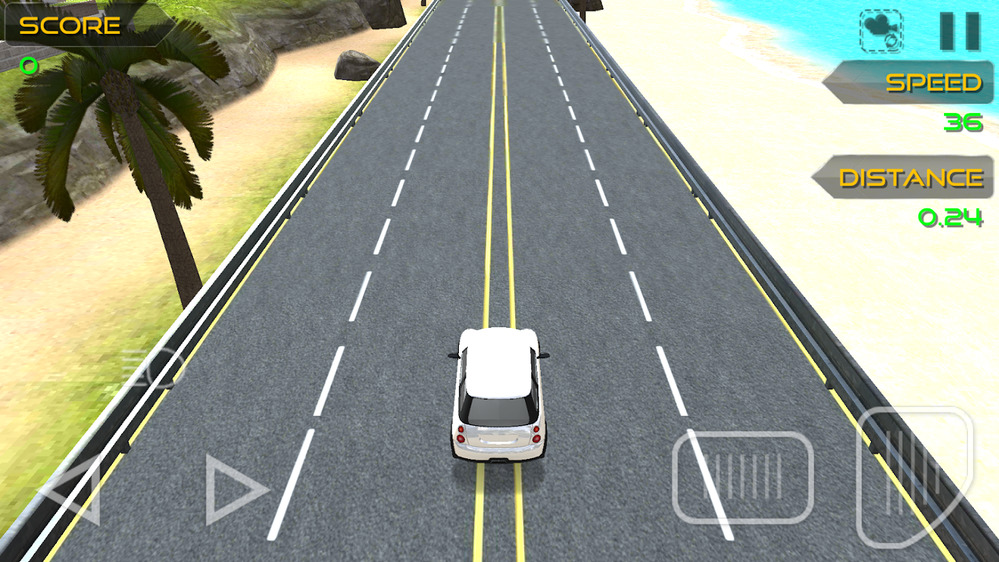 Driving in visitors has never been simple and this game will provide you a job to push an automobile on highway to acquire an experience of genuine racing in automobile.
[googleplay url="https://play.google.com/store/apps/details?id=com.habibur.trafficracing"]
If Racing Moto was like Traffic Rider, Traffic Racing Simulator will feel like a direct ripoff of Traffic Racer. Once again, Traffic Racer is the better game of two, but at 53MB, it's not a lightweight racing game that's under 50MB. Which is why it could not be included, but it was worth mentioning. This one is no slouch either. You have a lot of different cars to unlock. Both of these games are like Traffic Rider but with cars.
Try these awesome racing games under 50MB! I hope you would enjoy them.