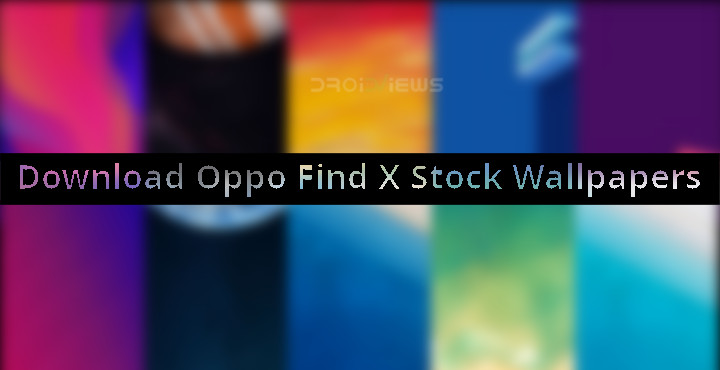 The original Oppo Find X stock wallpapers are finally here, but before you skip directly to the wallpapers, let's take a look on the phone itself.
And the award for the highest screen to body ratio 2018 goes to the Oppo Find X. If you were not keeping up, Oppo finally released another flagship device after 4 years. The last time oppo released one was back in 2014. It was innovative, for the time, with a single camera that could rotate back and forth. The Oppo Find 7 was certainly interesting. Oppo launched the Oppo Find X earlier this week, keeping up with the tradition of innovative flagships. It brings innovations and brand new stock wallpapers as always.
So far, 2018 from Android manufacturers has been all about trying to imitate what Apple did late in 2017. The notable exceptions to this are Samsung and HTC. Everyone else has blatantly made copies of the iPhone X and yet none of them were quite top-notch. The iPhone X is still the best-looking smartphone from the front because it nails the notch design. All the Android phones with notches still have thin or in some cases thick chins which is completely missing the point of a notch. Earlier, Vivo showcased its Vivo NEX smartphone, with an all screen-design and no notch.
Vivo managed to do this by fitting in a slideout camera module that hides inside the phone. Oppo takes it to the next level with an entire panel that slides out from under the display. This panel houses both the rear and front-facing cameras as well as face recognition sensors. The sensors become essential since the device has no fingerprint reader, not on the back, not on the front, not under the display like the Vivo NEX. All of this helps Oppo touch those magic numbers and become the first phone with a 90% screen to body ratio.
Camera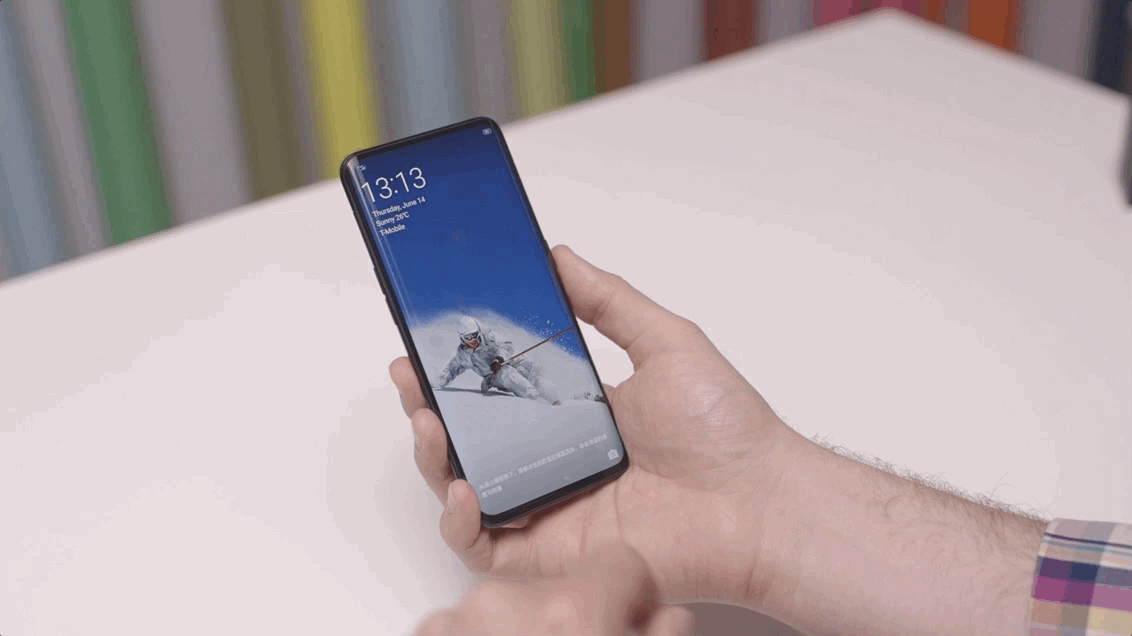 Since we're talking about the camera module, it houses dual rear-facing cameras in a 16MP + 20MP combination. The AI-enabled camera sensors have an aperture ratio of f/2.0 for an enhanced photography experience. It also supports optical image stabilization. The front camera is a 25MP 3D camera with a f/2.0 aperture. Beside the front-facing camera are the sensors used for 3D Structured Light-based face recognition technology called O-Face Recognition. In other words, Face ID.
Display
The moving camera module is only one aspect of the Oppo Find X's design. On the sides, it features curves on the display very much like the Samsung Galaxy flagships. It's a 6.42 inch AMOLED display with a 19.5:9 aspect ratio and a screen resolution of 1080 x 2340 pixels. It's an all screen display with a slight bottom chin comparable to the OnePlus 6. Oppo Find X also features an all-glass design like many flagships these days. All of that makes up for a pretty fragile smartphone, especially combined with a motorized camera module.
Other specs
There's no headphone jack here, but that's where we're heading anyway, no matter how many rivers everyone cries. The device is powered by the Snapdragon 845 paired with 8 GB of RAM. As far as the battery is concerned it has a 3730 mAh battery with Super VOOC charging. This basically offers up to two hours of talk time with just five minutes of charging. Oppo also says that the battery can be charged from zero-100 percent in just 35 minutes. Out of the box, Oppo Find X ships with Android 8.1 Oreo aboard 256GB of internal storage.
Cool but not durable
It is innovative, of course, and Oppo has done commendable work trying to come up with something new. Yet, the thing with motorized parts is they are not exactly durable. Oppo claims the camera module can be raised and lowered over 300 thousand times. This isn't a huge number when you consider that the phone prompts you to use the camera more often than you normally would. Since it lacks a fingerprint scanner, you'll probably be relying on face unlock. Moving the camera module every time you want to unlock your phone does not sound exactly durable.
Oppo Find X Stock Wallpapers
The Oppo Find X stock wallpapers pack below contains a total of 14 wallpapers. The images attached below are compressed and only for reference. You can download the full-sized wallpapers from either of the links provided below. The resolution of these Full HD+ wallpapers from the Find X is 1080 x 2340 px.
Download Oppo Find X stock wallpapers | Mirror
Recommended wallpaper packs: