The OnePlus 7 Pro has been deemed the fastest Android phone on the market by many. From the pop-up camera and in-display fingerprint sensor to a full-screen notch-less 90Hz display, the OnePlus 7 Pro has a lot to offer. Thanks to some well-thought-of software choices though, OnePlus allows users to further enhance their experience of using a OnePlus device. Here are some OnePlus 7 Pro tips & tricks you should try immediately after you've set up your new device.
If you want to enjoy awesome themes on your OnePlus 7 Pro, don't miss these best Substratum Themes for Oxygen OS 9.5+.
OnePlus 7 Pro Tips & Tricks
Get rid of the navigation bar
Just when Apple removed the home button on iPhones and added navigation gestures to iOS, every major OEM in the Android world started adding their own implementations as well. OnePlus was also one of those OEMs. But since Android Pie natively added navigation gestures, OnePlus is perhaps the only OEM to give users the choice between their navigation gestures and Google's pill navigation.
By default, Oxygen OS has a traditional three-button navigation bar. You can switch to Android Pie's native two-button navigation bar in Settings > Buttons & gestures > Navigation bar & gestures. This is where you'll also find the option to completely get rid of the navigation bar too. You can do this by enabling the Navigation gestures option. This hides the navigation bar and lets you use OnePlus's full-screen navigation gestures instead. You can swipe up from the bottom-center to go home, swipe and hold to bring up the recents menu or swipe up from either bottom-side to go back.
You can enjoy more navigation features by using a custom ROM on your OnePlus 7 Pro.
Change or disable fingerprint animation
The in-display fingerprint sensor on the OnePlus 7 Pro may not be as good as a traditional fingerprint sensor, but it opens up a few possibilities. For instance, there's room for a quick, nice animation when you press on it. OnePlus even lets you change this animation. By default, there are three built-in animations and the option to turn it off completely. A lot of the 'speed' you feel on OnePlus 7 Pro is actually perception. It's not the fastest phone on the market, that'd be the iPhone with its Apple-made chip.
However, OnePlus creates this perception of being faster through quicker animations and the 90Hz display. One thing faster than quick animations though is no animation. Obviously, you don't want your Android experience devoid of animations completely. But removing the fingerprint animation has little to no effect on your experience. What it does is make it seem that the fingerprint reader is faster, almost as fast as a traditional fingerprint reader.
You can change or disable the animation in Settings > Security & lock screen > Fingerprint > Fingerprint animation effect.
Set up quick launch on OnePlus 7 Pro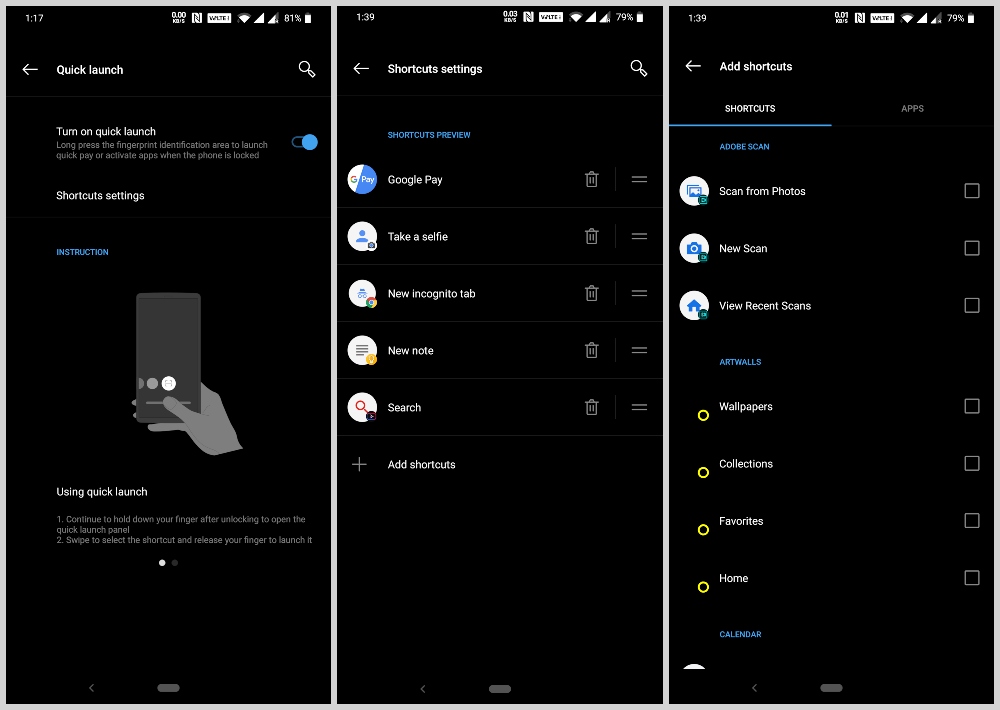 OnePlus' Oxygen OS lets you long-press on the fingerprint reader to activate quick launch. You can add up to six apps or shortcuts to quick launch. If you're someone who constantly finds yourself in a situation where you need to make a quick payment, jot down notes, etc., you will really appreciate the feature. To set up your favorite apps or shortcuts, head over to Settings > Utilities > Quick launch > Shortcuts settings. Here, you can remove and arrange shortcuts. To add a shortcut, tap Add shortcuts and you can choose from a list of app shortcuts or apps.
Tips to Tweak the Ambient display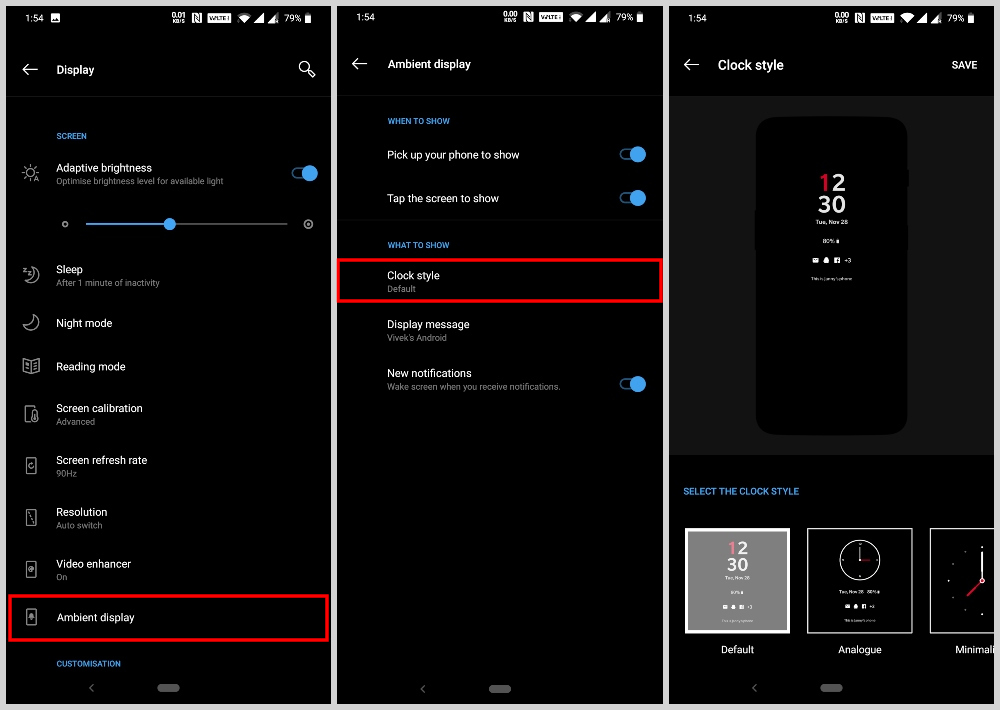 OnePlus users have been demanding an Always-on Display since it was first introduced by Samsung. However, OnePlus has always shied away from it citing battery drain. The OnePlus 7 Pro, like other OnePlus devices, does come with an Ambient display. It can light up when you receive notifications, or when you pick up your phone. If you don't like how it looks though, OnePlus does allow users to tweak the looks. Like the finger-print animations, there are a few in-built basic appearance options.
You can find these in Settings > Display > Ambient display > Clock style.
Experience Zen
It can get hard to keep your hands off that incredible 90Hz display you just paid for. This is perhaps why the OnePlus 7 Pro was the first phone in the OnePlus lineup to get Zen Mode. It's a feature that pretty much locks you out of your phone for 20 minutes. Other than emergency calls or camera you cannot access anything on your phone. It simply becomes an expensive glass brick with a timer. While it may sound ridiculous to turn it on, Zen Mode does have actual benefits.
Unlike other digital wellbeing tools, it does not give you an option to get around it and use your phone a little more. You're locked out and have no other option than to not use your phone. This might help you to focus on things that really matter in life. And since all notifications are turned off, you won't be disturbed either. To know more about it and to learn how to enable and use Zen Mode on OnePlus devices on, you can read our detailed article.
With a hope that the above-mentioned OnePlus 7 Pro tips and tricks would help you with using your smartphone more efficiently, I wind up this article here. I'll be sharing more tips in the coming weeks.
Read Next: Make Your Android Device Look Amazing with Swift Installer