Now that the Redmond giant has finally officially pulled the plug on their own Windows Mobile platform, it's time for them to focus on giving their best to the Android and iOS platform and it's users. Speaking of giving their best, I meant that they are now fully geared up to provide us Android users with all of their Windows applications and experience. Moreover, let us all admit the fact that Windows Mobile platform has failed miserably, mainly because of lack of users which in-turn swayed developers away from the platform. However, it is of no doubt that Windows phone platform's UI was unique and gorgeous in terms of aesthetics. In fact, I have used windows Phone for almost three years and I must say that the platform was perfect in everything except in the apps department. Enough said, let's get to the point of this article. Microsoft has released their Microsoft Edge web browser for all of us Android users out there and this is what I have for you all readers out there today. Until now Microsoft Edge was a Windows 10 only exclusive internet browser.
My Observations
Based on my observations (these are my personal opinions and findings, your mileage may vary), I can say that Microsoft Edge is pretty much on par with Google Chrome on Android. However, both Microsoft Edge and Google Chrome still kind of falls short of Samsung Internet Browser for Android in terms of loading times and fluidity. An important point to note though is that Microsoft Edge is currently in preview. As a result, there may be bugs or other small issues here and there, which I hope would be ironed out in the stable version.
Must Read: Write Notes and Add It to the Notification Center with Notin App
Microsoft Edge In-depth look
Now, let's see the web browser in action and take an in-depth look at its features as depicted by the screenshots below.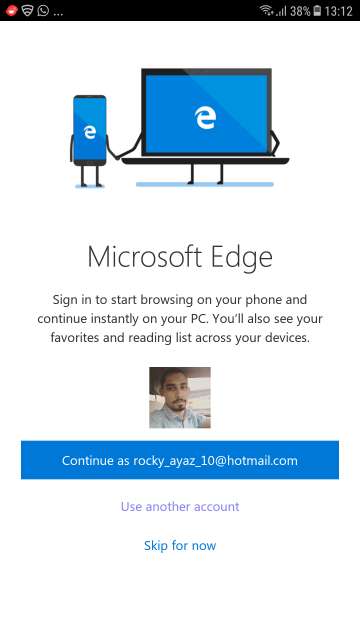 Sign in with your Microsoft account to start browsing on your phone and continue instantly on your PC. Moreover, you can also access your bookmarks, favorites, and reading list across all your devices.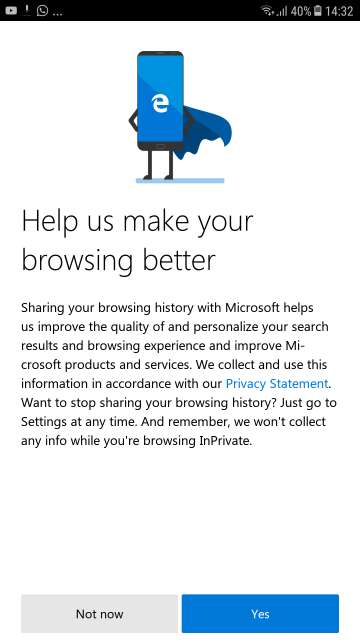 I would recommend all of you to tap Not now. Tapping Yes would help Microsoft make your web browsing better by sharing your browsing history to improve the quality of and personalize the search results and also improve the browsing experience. However, information is not collected while you are browsing in InPrivate mode.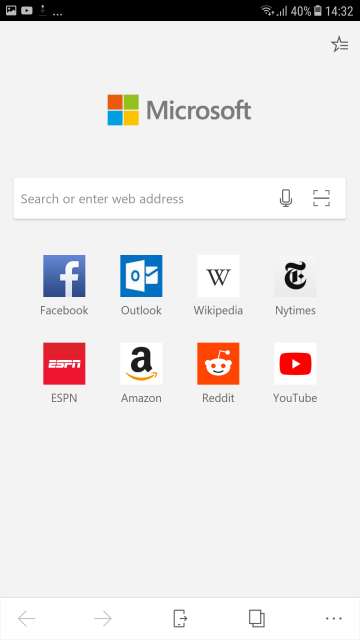 Here you can access bookmarks, search the web, initiate a voice search, scan a QR code. Moreover, you are also provided with a few shortcuts to commonly used websites, switch tabs. Furthermore, you also have an option to continue browsing later on PC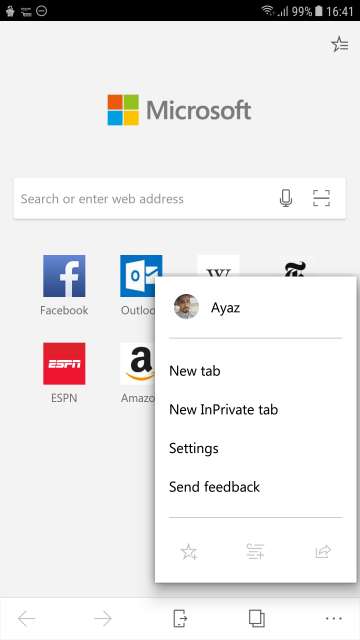 Tap the three dot button located at the bottom right-hand corner of the screen to access options. Options included are a New tab, new InPrivate tab, settings and send feedback. Moreover, you are also provided with options to add a page to favorites, add to the reading list and share a page.
Do Not Miss: Lock the Touchscreen of Your Device in Any App with Blocky
Microsoft Edge in action
Page rendering and loading times are pretty much on par with chrome for Android. However, according to me, Samsung Internet Browser performs better than both Edge and Chrome. Though, your observations, opinions, and mileage may vary.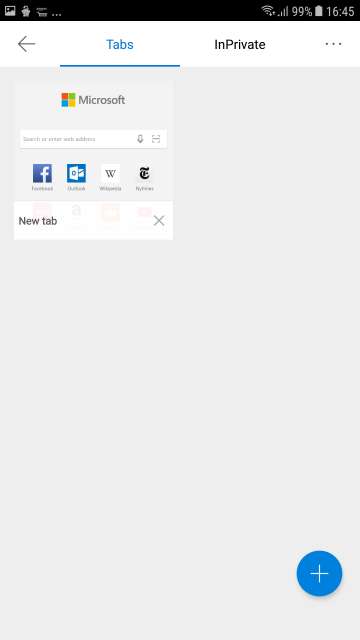 From the main screen, tap the fourth icon from the left located in the bar at the bottom of the screen to access the tabs. Here, you also have the option to enable InPrivate mode that allows you to browser the web anonymously.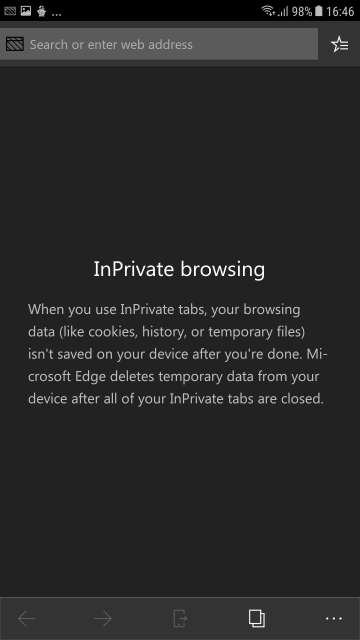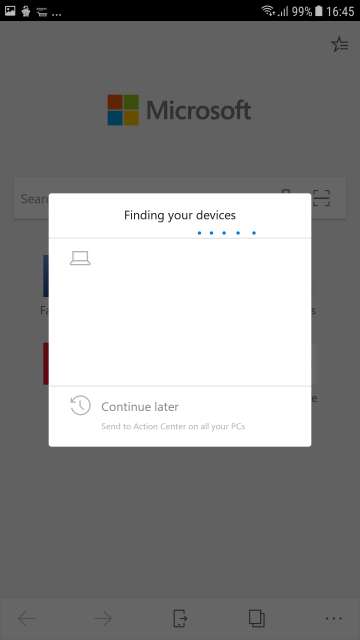 From the main screen, tap the third button from the left located in the bar at the bottom to continue web browsing across all of your devices.
From the main screen, tap the button located at the top right-hand corner of the screen to access bookmarks, reading list, books, history, and downloads.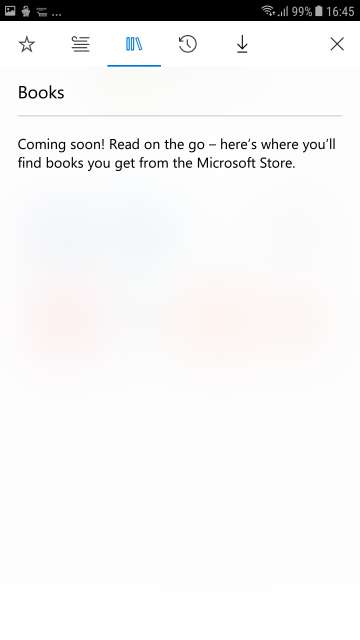 Here you can find books to read which you would download from the Microsoft Store. This feature will launch soon.
Settings
To access settings, from the main screen, tap the three dot button and select settings.
Here, you have the option to turn on the theme color, and show the reading view button when available to be able to view a page in reading mode.
Choose a default search engine to be used for searching the web. Available search engine options are Microsoft Bing, Google, Yahoo, and Ask Jeeves.
Select whether to autofill forms or input your addresses and credit card information.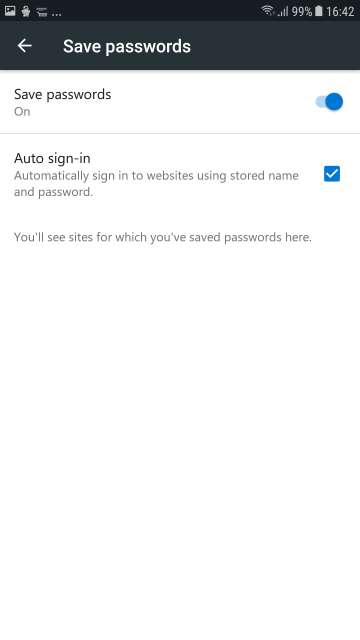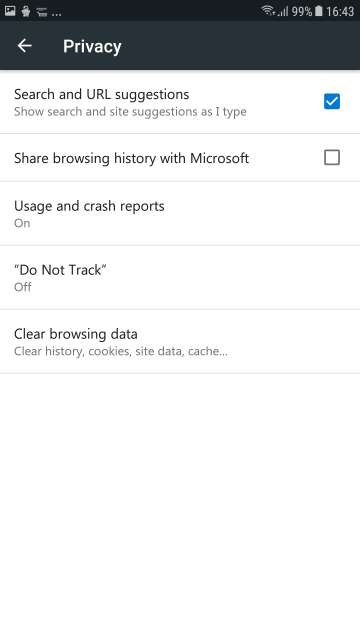 Options available are to show search and URL suggestions as you type, share browsing history with Microsoft. Moreover, you also have the option to toggle Do Not Track, usage and crash reporting on or off, and Clear all your browsing data.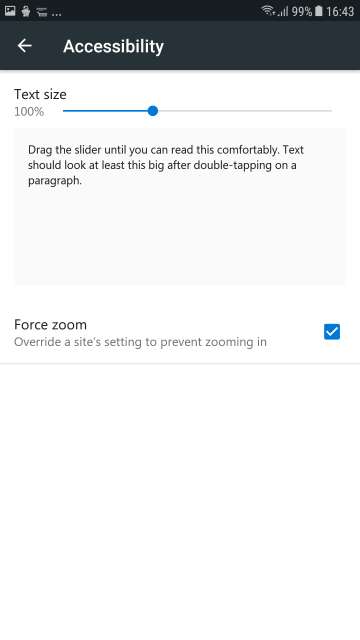 Other available settings are to set site permissions and set Edge as default web browser.
Conclusion
So here you go Droidviewers and tech enthusiasts on my in-depth look and review of Microsoft Edge web browser. This browser is quite up there with most of the other top Android web browsers. Moreover, a very important thing to note is that this web browser is currently in its preview stage. Speaking of preview stage, you may encounter bugs and other small issues. However, at the time of testing, I did not come across bugs, although I hope in the next update or in the stable version they improve the loading time, speed and stability.
Feel free to chime in the comments on your take and experience with this well capable web browser. Download Microsoft Edge via the Google Play Store link given below.
[googleplay url="https://play.google.com/store/apps/details?id=com.microsoft.emmx"/]
Also Read: Launch Apps Based on a Situation with Taskzy App for Android