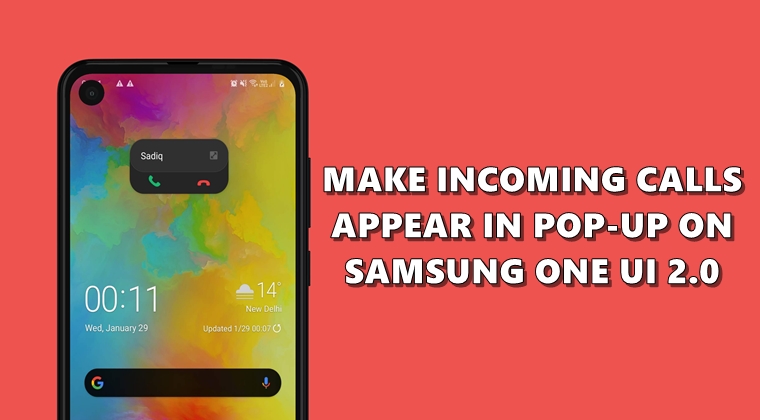 It's never a good idea to let incoming calls hijack the entire screen. It gets even more irritating when you're busy using any other app. Thankfully, Samsung noted this and introduced the option to let calls appear in pop-up cards in One UI. Although it was indeed a good initiative, a room for further improvement was always there. In One UI 2.0, this section received another overhaul that now makes incoming calls appear in mini pop-up cards on your Samsung Galaxy devices. Wish to know how this could be done? Well then here are the required steps. Before that, you could also have a look at the steps to turn off tips notifications in One UI 2.0.
Make Incoming Calls Appear in Mini Pop-Up
Enabling the said feature will make incoming calls appear in less intrusive pop-up cards rather than covering your entire One UI 2.0 screen. Moreover, there also exists an option to apply the same set of rules to calls after you have picked them up. Here is what needs to be done. On the other hand, if you are getting delayed Gmail notifications on your Samsung One UI 2.0, then check out these Gmail notifications fixes.
Steps to be followed
Head over to the Phone app on your Samsung devices.
Tap on the overflow icon situated at the top right.

Select Settings and under Call Settings and look out for the Call display while using apps option.
Within that, you'll have three options to choose from Fullscreen, Pop-Up and Mini Pop-up. Select the last one to make incoming calls appear in pop-up cards.
Moreover, just beneath that, you'll find another option named Keep calls in the pop-up. If you enable it, then after picking up the calls, they will still remain in the pop-up screen, rather than the default full screen.

Don't Miss: How to force dark mode in One UI 2.0
That's it. These were the short and quick steps to let incoming calls appear in mini pop-up cards on One UI 2.0. It is indeed quite a benefital feature introduced by Samsung in its latest iteration of One UI. What are your views on this? Is the full screen calling still your go-to choice considering it provides all the options at one go? Or you're rather fine with the new less-intrusive pop-up cards? Do share your opinions in the comments section below.