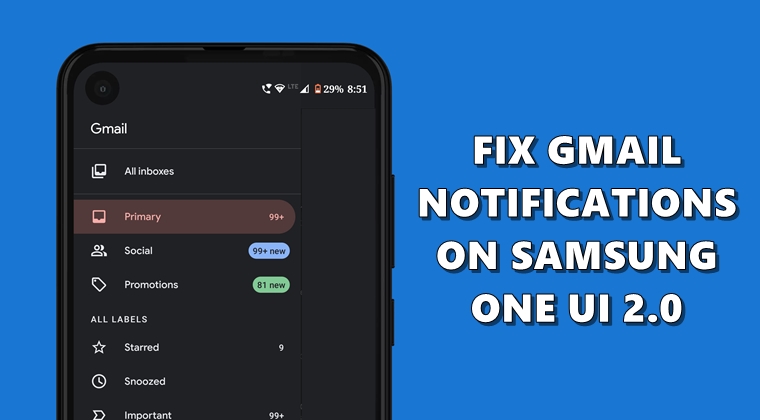 Samsung One UI 2.0 holds quite a lot of interesting features, to begin with. Apart from the usual Android 10 features like new gestures navigations and the dark theme, it has also been blessed with some Samsung exclusive features. However, every update has a few unforeseen quirks associated with it. And unfortunately, Samsung also couldn't escape from this. After getting their devices updated to One UI 2.0 (Android 10), users are having the issue of receiving delayed app notifications. This problem seems to have affected the Gmail app, in particular. Therefore in this guide, we will be listing various fixes for the delayed Gmail notifications on your Samsung devices running One UI 2.0. On that note, also check out the steps to turn off tips notifications in One UI 2.0.
Fixed Delayed Gmail Notifications
Head over to Settings on your Samsung device running the One UI 2.0.
Scroll to the Device Care section and tap on Battery.
Next, tap on App Power Management.

Within that, head over to the Sleeping App section and make sure that Gmail isn't a part of the list.
If it is, long press on it and tap on Remove.
This should fix the delayed Gmail notifications on Samsung One UI 2.0. Moreover, you could also make the app add to the list of never sleeping ones. Doing so will further make sure that you don't miss important Gmail notifications. Here is how it could be done. On the other hand, if you're having a OnePlus device, refer to our separate guide to fix Gmail notifications on OxygenOS.
Stop Gmail App from Hibernating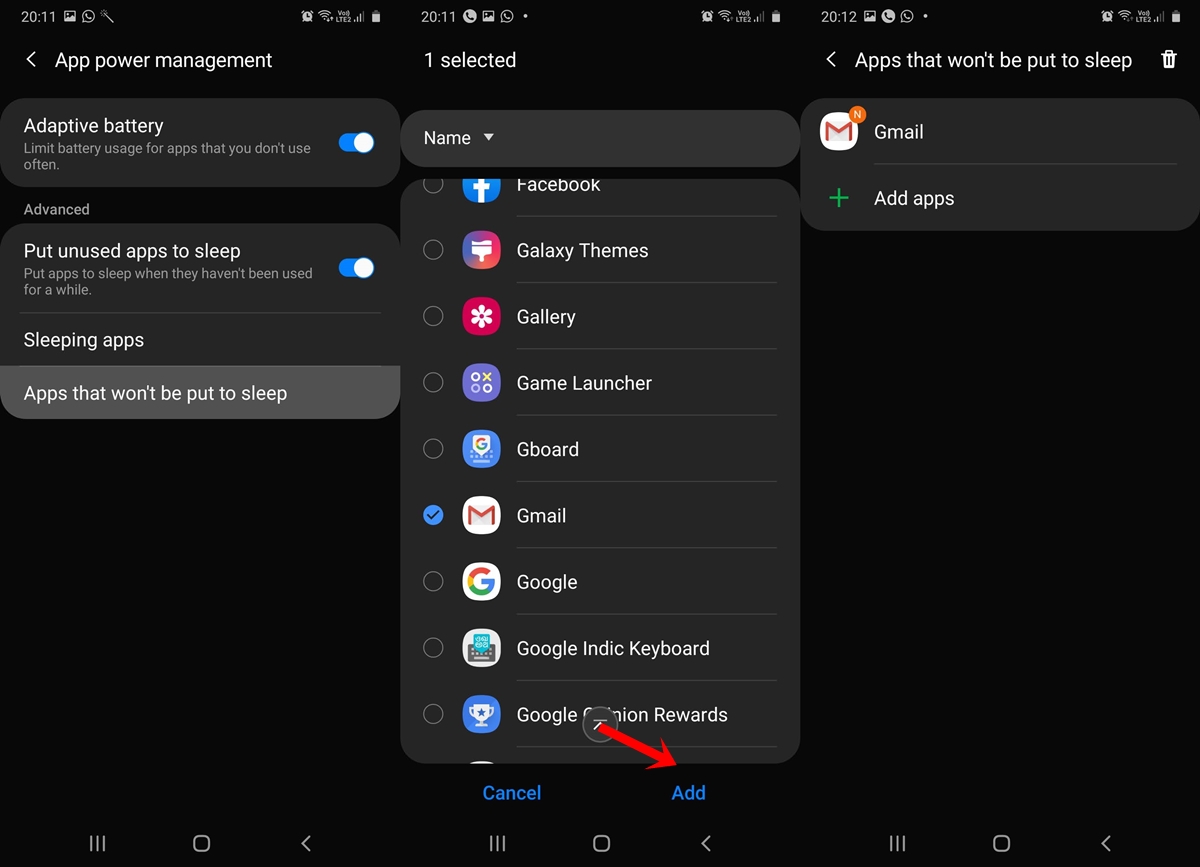 To do so, head over to the Apps that won't be put to sleep section under App Power Management.
Then tap on Add apps, look out for the Gmail app and tap Add.
The app won't ever be sent to a hibernation state and you will never miss a notification from the said app. Also, these steps aren't limited to Gmail, its applicable across all apps for which you are receiving delayed notifications on your Samsung One UI 2.0 device.
However, if you are still facing some issues with regards to Gmail notifications, here are some additional in-app settings that you should check out.
Don't Miss: How to Fix Android Notifications Not Showing Up Issue
In-App Gmail Notifications Fix
Head over to the Gmail app on your Samsung device.
Tap on the hamburger menu and select Settings from the side menu.
Next, tap on the Manage Notification section and make sure all the notification toggles are enabled.
So with that, we conclude the guide on how to fix delayed Gmail notifications on devices running Samsung One UI 2.0. If you are having any trouble carrying out the mentioned steps, do drop in your queries in the comment box below.
Read next: Get One UI 2.0-like Gesture Navigation on Samsung Devices