Wi-Fi and Bluetooth are the most used modes of connectivity features on smartphones for sharing internet data and file transfer from one compatible device to another. If you scan for a Wi-Fi or Bluetooth connection with your Android phone or tablet, you will see either a generic or customized name of the detected devices. If you are new to Android, this little tutorial will help you assign a customized name for your phone or tablet that will be shown when other devices scan for yours.
There is nothing twisted about setting up a device name for Wi-Fi and Bluetooth connection and that's why I call it a beginner's guide. If you are a smart Android user, please do not cross beyond this point. All options are already existing under phone settings, I will just be telling you how to dig into it.
Must Read: How to Change Android Device Model Name on Marshmallow and Nougat
Steps to Change Device Name from Settings
Note: You will see the option to change device name only if you have an Android device with Android 4.2 and above.
The easiest way to change the device name of your Android device is doing it from the About screen itself. Open Settings on your phone or tablet, scroll to About and tap on it. On the next screen, tap on Device Name, type the desired name for your device in the text field and select OK.
If you have an HTC device, go to Settings> About> Phone identity and tap on Phone Name. Type your custom device name and done.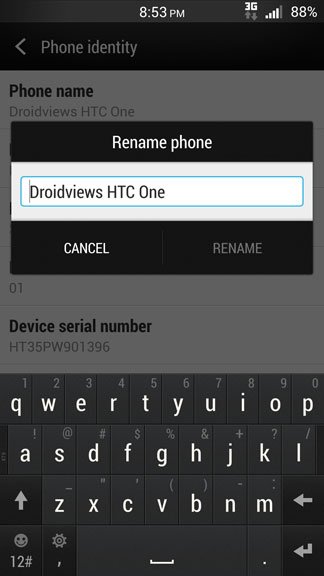 Steps to Change Device Name for Bluetooth Connection
To be able to edit the settings for Bluetooth, you will have to turn it on first.You can turn on Bluetooth quickly by swiping down your finger from the status bar. This will launch the Notification center. Just tap on the Bluetooth icon to turn it on. If your phone is on Android 4.2, you can launch the Quick Settings panel by swiping down the status bar with two fingers. Bluetooth can also be enabled by tapping on the slider from Settings> Bluetooth.
Open Settings on your Android device and tap on Bluetooth option.
Now tap on the menu key. In Samsung phones, the left soft button beside the Home works as the menu key for all apps' & feature's available options. On most other phones, it is an icon with three dots in vertical order. Anyways, from the options select "Rename Device" or "Rename Phone" and type the desired name for your device in the text box that pops up. Select OK and done!
On newer Android smartphones and tablets, changing the device name from Settings> About device automatically changes the Bluetooth name for the device.
Change Device Name for Wi-Fi Connection
Assigning the desired device name is pretty much the same like that of Bluetooth. Let's see how you can do it.
Again, to edit WiFi settings, you will have to enable it first. Go to your device's Settings panel and tap on the toggle slider to enable it
Next, tap on the "Wi-Fi" text to see the configuration screen.
Tap on "Wi-Fi Direct" button on the bottom (for Samsung devices), or launch options menu to see the "Wi-Fi Direct" option (for AOSP) and then tap on it.
Now tap on the menu button/icon to see the "Rename Phone" or "Rename Device" option.
Type in the preferred name in the text box and select OK to save it. Done!
Changing Device Name for WiFi Hotspot and Tethering
If you want to customize your Android phone's name for WiFi hotspot and tethering, go to Settings> Mobile Hotspot and Tethering and turn it on. Then tap the MORE option (on Samsung devices) or the 3-dot menu button and select Configure Mobile Hotspot option and replace the existing name with a name of your choice.
So here ends our easy tutorial, if it really is, for beginners. We just hope it helps to change your Android phone/tablet names for Bluetooth and WiFi connections. For more real Tips and Tricks for Android devices, do not forget to take a tour of our useful tutorials. Cheers!
Do you know how you can transfer data faster than Bluetooth using WiFi Direct? Read this Tutorial.
Also Read This:
Use Your WiFi Enabled PC Or Laptop As a Virtual WiFi-Router for Sharing Data on Android