In the modern digital world, we all store our favorite memories digitally. For that, we need SD cards for our Android smartphones. Even most smartphones come with plenty of storage, the majority of us like to use Micro SD cards for the safe of usability and portability. As there are lots of memory cards for different uses in the market. One of the standards of memory cards is Micro SD cards.
SD Stands for Secure Digital, which is non-volatile memory cards used to store data. And Micro SD is just a smaller version of the original SD cards designed for big hefty cameras. This is a standard developed by Panasonic, Sandisk, and Toshiba. Today we will talk about the best SD cards for Android devices. From storing songs to hold large files, there is an SD card option. So let's explore the world of Micro SD cards.
What Are SD Cards?
MicroSD cards are the chips in which you can copy your files, photos, videos, etc. It also helps the phone to install new software. It comes with a variety of variants with different storage capacities. SD cards come with 4 GB to 256 GB storage capacity. In earlier days, Micro SD cards came with a minimum storage of 128 MB. However, those days are over now, and the minimum storage you will probably find is 4GB. Some top variants have even more storage capacity and read/write speeds.
Different Classes Of SD Cards For Android
There are two classifications in SD Cards based on speed class and UHS class rating. As peed class ratings are used to define the minimum guaranteed speed of the cards, you can evaluate it according to your needs. High-speed cards are best for camcorders as it records live streaming data.
Speed Class (SD Bus)
A class of SD cards is also known as speed calls, also known as SD Bus. This is a basic class of SD cards that is suitable for basic storage in day to day life.
| | | | |
| --- | --- | --- | --- |
| Class | Minimum speed | Maximum speed | Compatibility |
| 2 | 2 MB/s | 4 MB/s | For basic photos |
| 4 | 4 MB/s | 16 MB/s | For photos and small videos |
| 6 | 6 MB/s | 24 MB/s | Medium-sized videos |
| 8 | 8 MB/s | 36 MB/s | HD videoes and documents |
| 10 | 10 MB/s | 49 MB/s | HD videoes & photos and documents |
UHS Speed Class (UHS Bus)
There is another high-class SD card known as Ultra High Speed or UHS. It is used for fast cameras, drones and the device which need fast and high-quality storage. These types of storage chips are the best SD cards for Android.
| | | | |
| --- | --- | --- | --- |
| UHS class | Minimum speed | Maximum speed | Compatibility |
| 1 | 10 MB/s | 104 MB/s | Android phones with High-speed cameras, drones for 4k videos |
| 3 | 30 MB/s | 312 MB/s | Action cameras like Go Pro |
So, here is a basic knowledge of the speed of SD cards. Depending on your budget and requirements, you may choose any one of them. If you're, not a power user, then we recommend you to buy a class 6 SD card. And if you need better speed and quality, you may go with Class 10 Micro SD card.
Best SD Cards For Your Smartphones?
There are different types of smartphones, and most smartphones don't support the latest Class 10 or UHS 3 SD cards. So, before buying the product, make sure to check the SD card compatibility of your smartphone. Now you can also store Netflix videos on SD card too. So possibilities with SD cards are endless. Here are some great options to choose if you're looking to buy a DS card for our Android device.
1. Samsung Evo Plus microSD card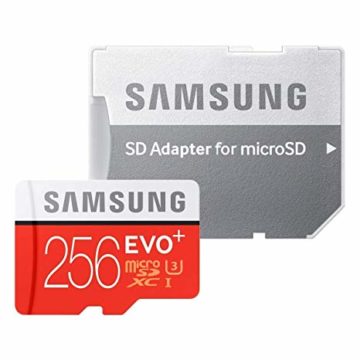 These are one of the best SD cards available in the market. It works at its most efficient when used with the proper hardware. Clear recording on the Android phone, is one of the best cards.
Capacity: 32GB, 64GB, 128GB, 256GB
SD class: SDXC I 3
2. Samsung Pro+ microSD card
It can write a large amount of data very fast. Samsung Pro+ microSD card for Andriod is a robust card with the trust of Samsung. Also, they are data proof so you can recover data from Samsung SD card easily. It is best for the people who record 4K video regularly. No need to buy for day to day use.
Capacity:32GB, 64GB, 128GB
SD class: SDXC I 3
3. SanDisk Extreme Plus microSD card
This is quite expensive. But with the fastest speed, it is one of the fastest Android SD cards. This is the best card for action cams, drones or burst photography. The Android phones used for fas video recording and high-quality games.
Capacity: 32GB, 64GB, 128GB
SD class: SDXC I 3
4. Samsung Evo Select microSD card
Samsung Evo Select is another great product by Samsung. It is a fast, reliable and most efficient SD card. It is all-rounder can be used in the digital camera, drone, phone or Nintendo Switch games console. So, if you play games on your Android phone. This is a viable option.
Recommended: How to Encrypt and Decrypt SD Card on Samsung Galaxy Devices
Capacity: 32GB, 64GB, 128GB, 256GB
SD class: SDXC I
 5. Kingston microSD Action Camera
It is one of the fastest SD cards for Android that can be used in cameras like Go Pro. Even Kingston can withstand drops, shocks, and splashes. With an incredibly robust design, it is specially designed for action cameras. Although amazing but not good for day to day use.
Capacity: 16GB, 32GB, 64GB
SD class: SDHC I
Which Micro SD Cards You Should Avoid?
SD cards are important since they hold valuable data such as documents, pictures, memories, contacts, videos, etc. So it is important to buy good quality and reliable micro SC cards only. Because bad quality cards do get corrupt easily and then it's hard to fix microSD cards without losing data. Here are some tips on choosing a good Android Micro SD card.
Do not purchase a fake company (replica) card.
Avoid buying second hand or refurbished SD cards.
Only purchase cards from verified sellers.
Conclusion
We use different types of Android phones and devices to store our important data. It is also used to store our favorite memories. So, we have provided you with the list of different SD cards according to their compatibility and uses. Just evaluate your use and hardware of your smartphone and buy the ideal SD card.