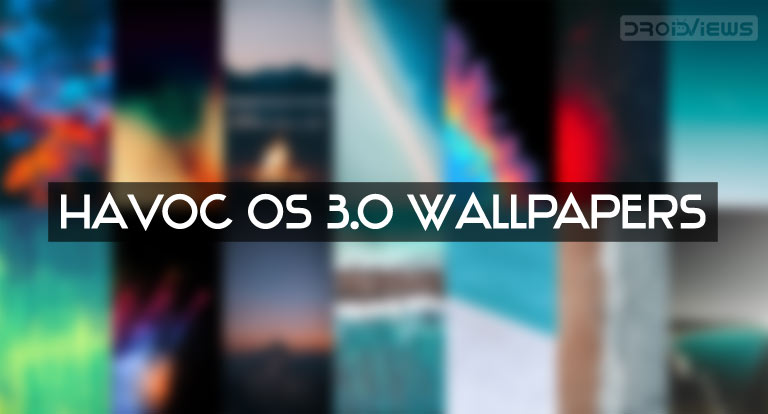 Havoc OS 3.0 is one of the most feature-rich custom ROM. This stable ROM is highly customizable and it offers excellent battery backup. Since this ROM is based on LineageOS, it's UI is similar to that of stock Android. Additionally, the latest built of Havoc OS runs on Android 10.0. The next major highlight of Havoc OS 3.0 is its visually impressive wallpaper collection. Well, if you have been scouting for the stock wallpapers of Havoc OS 3.0 then this article will help you. In this article, we have shared the download links for eighteen high-quality stock wallpapers.
Before sharing the actual download links for Havoc OS 3.0 stock wallpapers let's quickly run down some of the best features of Havoc OS. This ROM includes many useful apps like AdAway, Google Calculator, Google Markup, and Lean Launcher. It is worth noting that, Havoc OS 3.0 is one among many few custom ROM's that offer system-wide rounded UI. Lastly, Havoc OS also offers a dedicated screenshot editor, gesture-based commands, playback controls, and many other useful features.
Don't Miss: OnePlus Diwali Icon Pack & Wallpapers

Havoc OS 3.0 Stock Wallpapers
As mentioned above, Havoc OS 3.0 comes with eighteen high-quality stock wallpapers. These unique and colorful wallpapers will enhance the overall look and feel of your home screen. You can use these wallpapers as the base to create a custom Nova launcher setup. So here's a preview of all 18 wallpapers.
Download Link
You can download the full quality version of these wallpapers from the link below.
Havoc-OS-3.0-Stock-Wallpapers.zip
No matter which smartphone you are using these wallpapers will breathe a new life to your smartphone. Well, these wallpapers can be used for both lock screen and home screen. Lastly, once you get bored by any one of them you can always change it with other wallpaper from this collection.
It is worth noting that the resolution of these stock wallpapers is 1080 by 2160 pixels. Consequently, if you own a smartphone with a resolution of 1080 by 2160 pixels then these wallpapers will fit perfectly on your device. Furthermore, the dark wallpapers from this collection are ideal for Super AMOLED displays. The dark wallpapers from Havoc OS 3.0 will look elegant on AMOLED panels and will also save up some battery.
Stock Wallpaper for Other Devices
If you prefer changing the wallpaper on your smartphone on a regular basis then you can check out the stock wallpapers of some other devices from the links below.