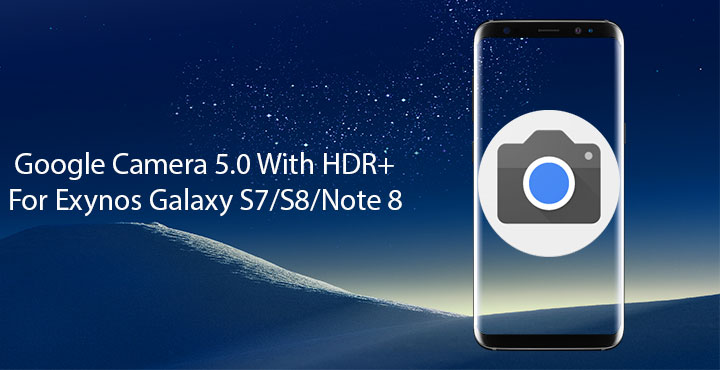 Google Camera is probably the most sought-after camera app outside of the Play Store. That would explain the numerous attempts at porting it to non-Google phones. Since the launch of the Google Pixel and its amazing HDR+ tech, everybody has been wanting to get their hands on it. And people have been quite successful to an extent. Up until now, Google Camera with the HDR+ functionality intact has been ported to devices running on Snapdragon 820, 821 and 835 chip-sets. That means almost every flagship device in the past two years can now enjoy Google Camera's HDR+. The Exynos variants of the Samsung Galaxy S7/S8/Note 8 have been big exceptions, however.
That changed a couple of days ago as the Google Camera Port with HDR+ now works on the Exynos powered Galaxy flagships. Being able to use HDR+ should result in photos with better dynamic range, obviously. It should also mean more color detail and better low light image processing. If you're unaware, HDR+ is a set of computational photography techniques used by Google on its Pixel smartphones. Up until now, HDR+ processing was being carried out with the help of Hexagon DSP found on Snapdragon chip-sets. While Google wanted to keep HDR+ exclusive to its Pixel devices, it couldn't quite.
Samsung Stock Camera vs Ported Google Camera 5.0 with HDR+
There are several key differences between pictures taken from the Samsung stock camera and the Google Camera port. The pictures shown below were uploaded by a Reddit user ybadusername demonstrating the differences. We've included them here for your convenience. If these are not enough, you can take a look at all the photos posted by the user at the following links.
He also explains these differences in case you don't notice them right off the bat.
The Google Camera photos do show the background much brighter than the stock camera app's photos. The stock camera app's photos also have less grain and less of an oil painting look than the Google Camera app's photos. The Google Camera app's photos are more colour accurate though (much more colour accurate in those photos with the leaves). However, the Google Camera app seems to take longer to take a photo than the stock camera app. The progress bar stays on the screen for a while when taking each photo. The stock camera app is almost instant.
As it stands right now, this Google Camera port won't probably replace your stock Samsung Camera. It doesn't seem to be fully optimized and won't prove to be the better camera every time.
Download
You can download the APK from above and install it normally. You may have to enable Unknown sources under Settings > Lockscreen and Security if you haven't already.
source: reddit