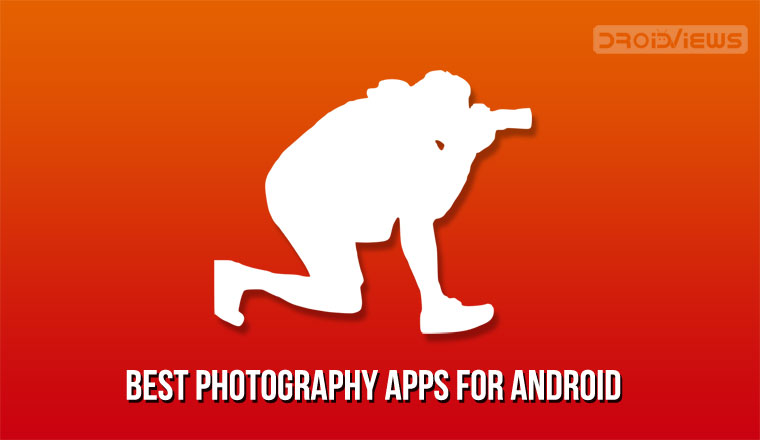 Smartphone cameras have come a long way. Now we are getting a better camera with more features. Many people rely on their smartphone camera due to their small size. Besides, you can also capture great quality images with your smartphone camera. Mobile photography is getting better due to better smartphone cameras. Here are some of the best mobile photography apps that let you capture and edit photos on your Android like a professional photographer.
Tons of people are following it as a hobby. But when you find your niche it is a very good career. There are a wide variety of Android applications available for photography. In this list, we will look at the top mobile photography apps for Android which you can use to capture great images.
Best Mobile Photography Apps for Android
1. Moment Pro Camera
A great app for capturing great quality images. It is a feature loaded application. It comes with RAW support (even in burst), manual camera controls, a leveler and more. The user interface is also simple and clean. It is available in the Play store for INR270 or $1.99 which is much cheaper than its alternatives.
Moreover, Moment Pro also features video tutorials, tips for beginners. It has most of the settings one would find in a professional camera. Moment Pro is a new app for Android and it will get better with future updates. Besides, most of the settings are available on the main screen which makes it easy to toggle them.
[googleplay url="https://play.google.com/store/apps/details?id=com.shopmoment.momentprocamera"]
2. Adobe Lightroom CC
Adobe has a handful of apps for photographers. One of which is the Adobe Lightroom CC. It is one of the best photo editing application available for Android. You get access to filters by purchasing the premium version. Moreover, it features clarity and exposure settings, RAW and HDR+ support, etc.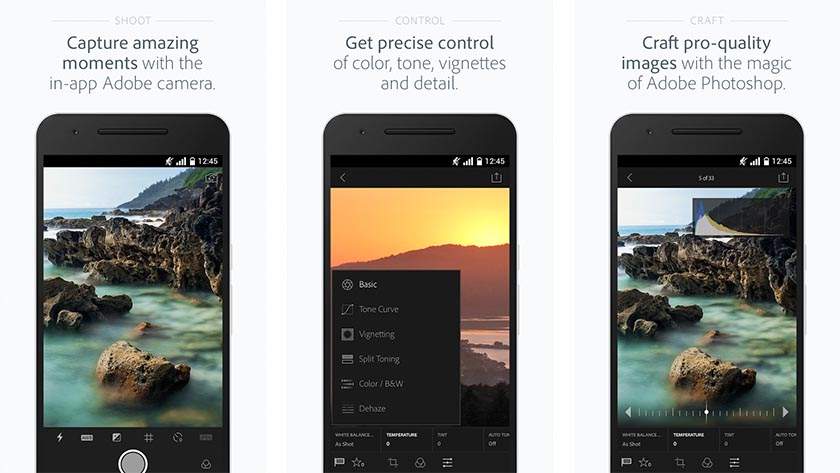 You can back up your images in the Adobe Cloud storage. Lightroom presets gives you great quality auto settings to enhance your images. Besides, with a few clicks, you can edit pictures like a professional. A must-have app for photography enthusiasts.
Don't Miss: OpenCamera: Open Source Camera App for Android
[googleplay url="https://play.google.com/store/apps/details?id=com.adobe.lrmobile"]
3. Snapseed
Snapseed is a great alternative to the Adobe Lightroom. It features simple as well as an advanced tool to enhance your images. It has a total of 29 filters and styles. Moreover, it also supports the RAW format. Other features include lens blur, glamour glow, HDR scape, etc.
One of the main reason to have this app is that it is free. You get a ton of settings to toggle with to improve your images. Besides, you can share your edited images across various social media networks.
[googleplay url="https://play.google.com/store/apps/details?id=com.niksoftware.snapseed"]
4. TouchRetouch
TouchRetouch is a different kind of photo editor. It does not focus on toggling with settings like contrast, exposure or red-eye reduction. Besides, it helps in retouching small imperfections in your images. You can get rid of people, wires, blemishes on the wall, etc.
Moreover, TouchRetouch is not a good editor when it comes to handling major settings. But, does a great job to remove imperfections from your pictures. It is available at the Play store for INR130 or $1.99.
[googleplay url="https://play.google.com/store/apps/details?id=com.advasoft.touchretouch"]
5. VSCO
VSCO is an all-rounder app available for Android. You can edit your images or take beautiful photos with this one application. Moreover, it also acts as a social media network for photographers. You can follow people's curated work or explore the VSCO editorial content.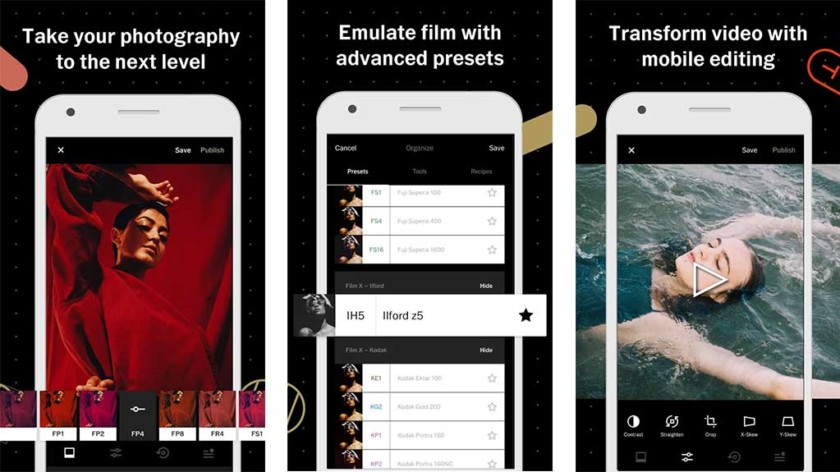 VSCO features a great variety of filters and a lot of image enhancement settings. Furthermore, to get add-on features, you need to pay a subscription fee of $19.99/year. Besides, it does its job well but there are other alternatives which can do much better than VSCO for lesser price.
Must Read: How to Add Timestamp to Photos on Android
[googleplay url="https://play.google.com/store/apps/details?id=com.vsco.cam"]
6. PicsArt
PicsArt is another great photo editing app. It has a great set of tools like collage maker, clipart library, drawing tools, etc.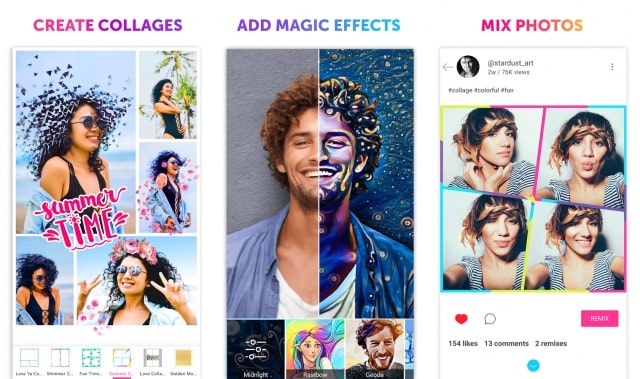 You can buy the gold version of the app to unlock its full potential. Besides, it features everything one wishes for in an editing app. It also has a wide variety of custom effects and filters. Moreover, you can toggle with settings to enhance the quality of your images. There are a lot of photo contests and challenges to learn new editing tricks.
[googleplay url="https://play.google.com/store/apps/details?id=com.picsart.studio"]
7. Pixlr
Pixlr photo editor is a great tool. It is simple and easy to use Android app. Moreover, there are a ton of filters, overlays, and filters that will enhance your picture. You can make collages with a huge variety of layouts.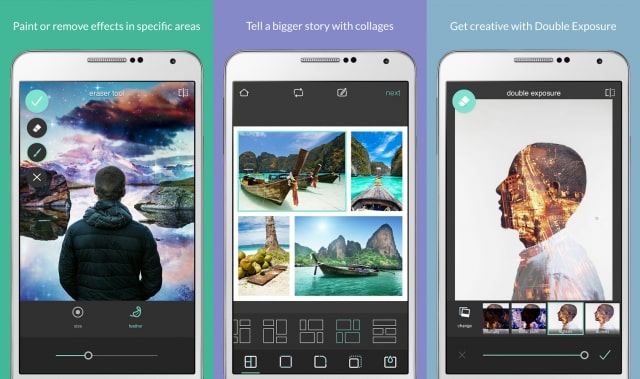 You can share your images across various social media networks within the app. Pixlr lets you add captions, borders, and much more to produce great quality images. Besides, you can also remove blemishes from your picture with Pixlr. Double exposure lets you create a professional effect with a single tap. Pixlr is available for free in the Play Store.
[googleplay url="https://play.google.com/store/apps/details?id=com.pixlr.express"]
8. Unfold – Mobile Photography App
Unfold is the best android app for people who love uploading Instagram stories. Besides, it creates great quality stories for Snapchat as well. Unfold has a wide range of templates. With them, you can create brilliant stories for your social media networks.
Recommended for you: 5 Best Photo Editing Apps for Android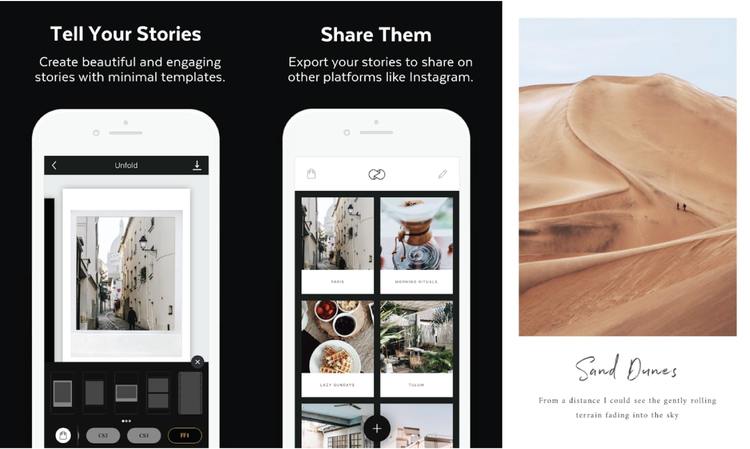 Most of the templates in Unfold are not free. You have to buy them to unlock all the premium templates. It also offers different types of fonts and colors. Its user interface is simple and clean. Unfold supports video format as well. Moreover, one of the downsides is that you have to create a new post every time you wish to sample different templates.
[googleplay url="https://play.google.com/store/apps/details?id=com.moonlab.unfold"]
9. Camera MX
Camera MX unlocks the true potential of your mobile photography skills. It supports a wide range of devices. It is a stock camera app with a minimal design user interface. Camera MX gives you full control over your camera to produce high-quality photos.
Furthermore, you can create animated photos and videos. Other features are Gif, live shots, "Shoot the Past" and much more. Besides, it has tons of effects, filters, and frames to edit your images in high quality. Camera MX is a great alternative if you are willing to replace your stock camera app.
[googleplay url="https://play.google.com/store/apps/details?id=com.magix.camera_mx"]
10. Cymera – Mobile Photography App
Cymera is a camera app that lets you take good quality photos. It has an in-built photo editor and collage maker. Moreover, it also features a wide range of filters and effects to use in your photos. It enhances your mobile photography.
Cymera is also a great selfie camera. There are a lot of bundled selfie features included in the app. The photo editor lets you reshape your body, face, etc and you can also toggle with other settings. The downside is that it does not provide a manual control camera. Besides, you have all the preloaded filters and effects to enhance your images. Cymera is definitely one of the best mobile photography apps you should try.
[googleplay url="https://play.google.com/store/apps/details?id=com.cyworld.camera"]
11. Google Camera
Pixel 3XL camera is the benchmark for smartphone cameras. The quality and software processing is of the next level. It also shows the capability of the processor to produce such quality photos. You can use the Google camera as a replacement for your stock camera. You get the portrait mode (with front & rear both), and other settings like RAW support, etc.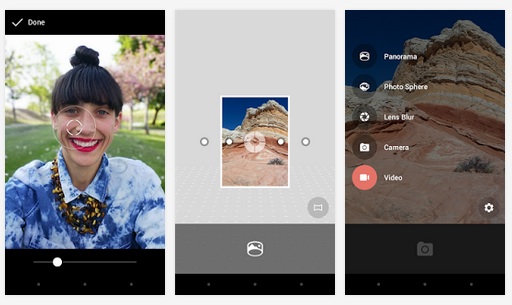 Google Camera is available for all the devices. You can install it like any normal application. HDR+ support, night mode (some devices support this), makes this a must-have app. Moreover, it is the best camera app available for any smartphone. You can follow the below link on DroidViews. Install the Google Camera app for compatible mobile.
Download Link: Google Camera
Conclusion
With the development of smartphones, its features have taken a huge leap. Especially in the camera department. Our smartphones are our go-to devices for taking selfies, portraits, and whatnot. The mobile photography is of much importance for people who love posting selfies and photos on their social media accounts. Besides, photos are the best way to preserve a memory.
Moreover, smartphone apps let you use different varieties of Android apps and use the one that suits your need. Please let us know in the comments if we missed any other great app that deserves to be in this list.
Read Next: Wipe Your Phone's Data Remotely without Internet Connection