Oppo's Color OS skin over Android might not be the best, but it does offer a ton of features. There are multiple different Swipe Gestures settings in Color OS 6.1. Thus, if you're using an Oppo or Realme device with the latest Color OS update, then this post is for you. You can also check out how to change to performance mode in the Color OS Game Space app.
I've been using the Realme X2 Pro for more than a week now and the option to choose between multiple Swipe Gestures settings is great. The device is running Color OS 6.1. However, you can use also change the Swipe Gestures in Color OS 6 via the same steps. Although, there are not as many options in Color OS 6. So without much further ado, let's check out the steps to change the gesture navigation settings in Color OS.
Swipe Gestures settings in Color OS
Changing the settings for the gesture-based navigation in Color OS is fairly easy. Follow the steps below to get started.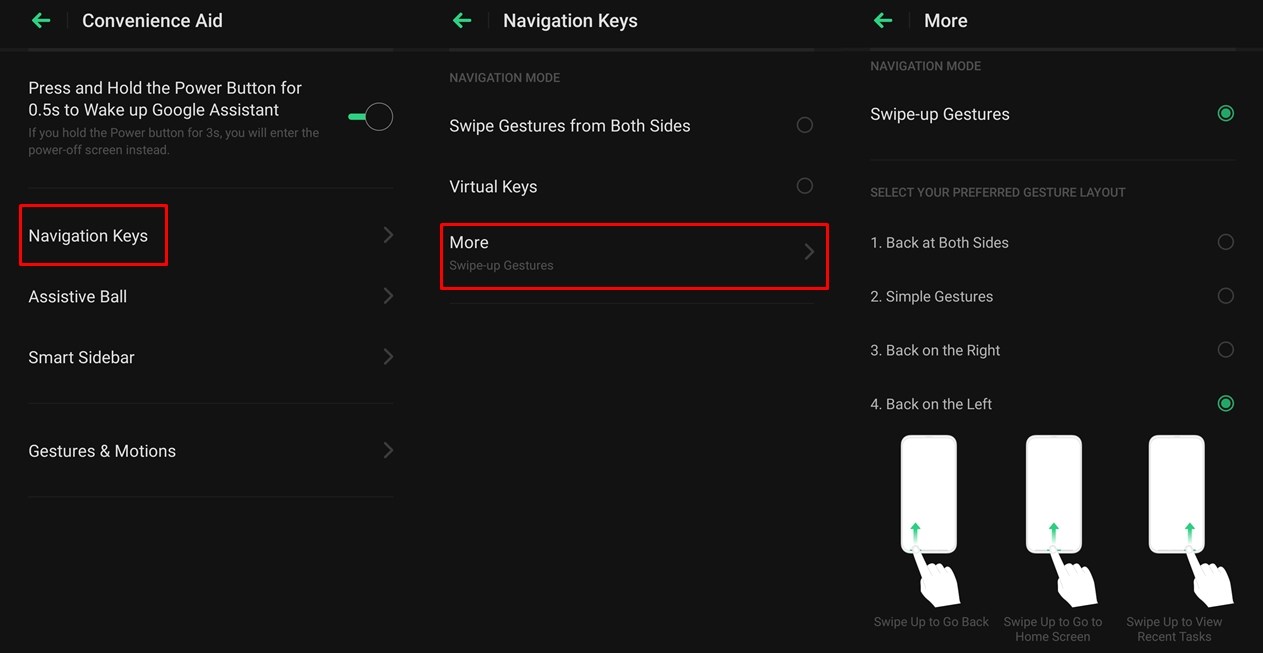 Launch the Settings app on your Android device running the latest Color OS update.
Tap on Convenience Aid and then select Navigation Keys.
From here you can select either the Swipe Gestures from both sides or Virtual Keys.
To view other Swipe Gestures settings, tap on More.
Now you will be able to see a list of four different gestures settings.

Back at Both Sides.
Simple Gestures.
Back on the Right.
Back on the Left.

Pick the gestures that feel natural to you. To help you, there's a visual guide as well that shows you the where and how to use the selected gestures.
Check out: Download ColorOS 7 Wallpapers (Full HD+)
Whichever gesture you choose to select, you can use them right away since there's no reason to restart the phone. Additionally, you can even choose to hide the gesture guide bar. To do this, simply toggle on the Hide Gesture Guide Bar option within the Swipe Gestures settings. Although you can leave the setting off in case you need more time to get used to the swipe gestures.
If you don't fancy the gesture-based navigation option, you can also enable the standard Virtual Keys. Here too you will get to pick from a bunch of layout options. This includes the Android 9 Pie virtual key layout. To enable the virtual keys, go to Settings > Convenience Aid > Navigation Keys and tap on Virtual Keys. Then select your proffered layout.
In case you often find yourself accidentally exiting apps, you can also toggle on the Mistouch Prevention for Swipe-Up Gestures option. This will prevent you from exiting full-screen apps accidentally by first bringing up the guide bar rather than exiting the app.
Read next: 3 Simple Tips & Tricks Every Android User Should Know