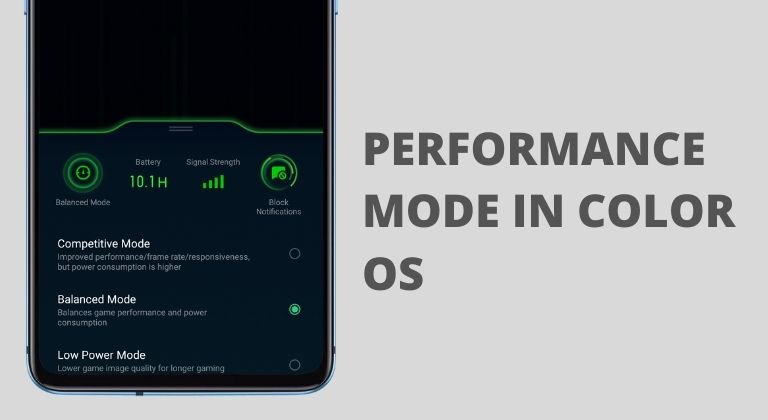 Just about every smartphone OEM skin now has a dedicated game mode app. Oppo's Color OS skin also comes with a Game Space app that lets users control a bunch of different functions. These extra features help enhance the gameplay experience on Oppo and Realme devices. Let's see how we can enable performance mode in Oppo's Color OS Game Space.
The Game Space app has a bunch of interesting and useful features that you wouldn't find on any other OEM skin. If you're noticing lag or frame drops while gaming, then you can change the performance mode. By default, the performance mode in Game Space is set to 'balanced'. However, you can change it to Competitive Mode to boost the overall performance while gaming.
Of course, this will not result in a huge change in performance. But it does help to reduce lag and FPS drops. You can even change the mode to Low Power Mode to save battery by reducing the game image quality. So if you're interested, here's how to change the performance mode in Color OS Game Space.
Performance mode settings in Game Space
Follow the steps below to change the performance mode settings in the Color OS Game Space application.
Launch the Game Space app on your device.
The performance mode option will be visible at the bottom left corner.
If you haven't changed the performance mode before, you will see Balanced Mode.
Tap on Balanced Mode and then select the mode you wish to use.
Check out: PUBG Mobile 0.16.0 Update Released: Here's What's New
Once you select the performance mode of your choice, each time you launch a game the device will perform accordingly. We would suggest using Competitive Mode when your device is plugged in. This will allow you to enjoy a better performance without worrying about battery consumption.
If you've got an Oppo or Realme device with a mid-range or flagship chipset, the balanced mode is more than capable of handling most games. Thus, you might not find the need to enable competitive mode. And in case your phone is low on battery, the best choice is to use the Low Power Mode to play games.
What's even more interesting is that you can add non-game apps as well to Game Space. Thus, each time you open the app the performance would change depending on your selection. Hence, you can boost the performance in video editing apps by using the Competitive Mode. Else, you can even use the Low Power Mode for apps that do not require much CPU or GPU usage.
To add other apps to Game Space tap on the + (add icon) and then select the apps from the list. A pop up will appear to confirm the action, simply tap on Add. We hope the guide helps you get the best performance from your Oppo or Realme device.
Read next: 10 Best Strategy Games for Android in 2020