Your device is full of sensors, these small components that help your smartphone accomplish many of its functions. However, there is a possibility that some of these sensors may stop functioning properly and, as a result, cause you a bit of trouble. Hence, today we are going to show you how to calibrate sensors on Android in order to keep your phone functioning.
As always, before we move on with our tips, feel free to read some related articles:
How can I find if my phone's sensors need calibrating?
We will eventually get to calibrating your sensors, but first, we have to identify any existing problems. In order to do this, you have to download a specific application that runs some sensor diagnostic tests. For your convenience, I will post such an app below.
[googleplay url="https://play.google.com/store/apps/details?id=com.wered.sensorsmultitool"/]
In order to find out whether there is a problem or not, you'll have to expose your phone in different conditions while running this app. For example, open the light sensor monitor and try to hide your phone's light sensor (usually located in the top bezel). If the sensors works then the app will show you something like this: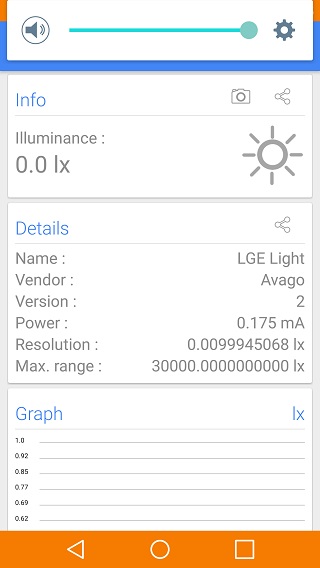 Illuminance of about 0 lx (= total darkness) means that your phone responded as expected to what you did to it. Hence you can be sure that this sensor is functioning properly. Try this with all different sensors and see if there is a problem.
Note that you can also find out if your touchscreen functions properly by going to Settings> Developer Options and enabling the choices in the input submenu.
If you don't feel like downloading an app, you can also use some of the secret codes that we described in this article:
Some of the codes that we describe in the aforementioned article can help you run some diagnostic tests.
How to Calibrate Sensors on Android Devices
Now that you found out whether you need to calibrate sensors or not, let's move on.
As always, you can download an application from the Play Store in order to re-calibrate your phone's sensors. There is an all-around application that seems to help with the job. Download and install the following app.
[googleplay url="https://play.google.com/store/apps/details?id=bully.games.quicktuneup"/]
If you don't want to download an application for the job you can try calibrating your sensors from the settings. However, only specific phones offer this feature and only for a couple (or even one) of your device's sensors.
It is also important to know, that if you are rooted and use the Xposed Framework, you can easily disable the problematic sensor until you can find a solution.
If you have any questions, feel free to comment below. As always, thanks for reading.
Read next: Understanding Smartphone Specs: What do Smartphone Sensors do?