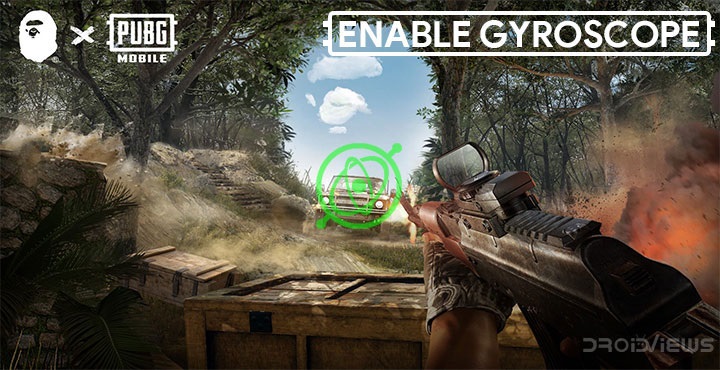 Learn what's Gyroscope in PUBG Mobile? What is Gyroscope in PUBG Mobile and how to enable and tweak its sensitivity? Gyroscope is the most essential feature of PUBG Mobile as it helps in aiming targets while playing PUBG games. In this tutorial, we'll see how to use Gyroscope in PUBG Mobile and tweak its settings for the best results.
Fortnite may have taken over the Battle Royal fever in the United States but PUBG is going quite strong on mobile in India. PUBG Mobile adopts the same free-to-play model of Fortnite which its PC version lacked. Most of the popularity though also is due to the fact that PUBG Mobile offers a host of options in the settings to better optimize the game for different devices. This really helps its case in a country where most users use budget Android devices. You can switch from a range of low to high graphics as well as change how controls are displayed, feel and behave. One such setting in the game allows users to use Gyroscope for aiming.
What's Gyroscope in PUBG Mobile?
Most Android smartphones have a built-in gyroscope sensor. The gyroscope can make good measurements of the rotation and deflection motions so that the actual motion of the user can be accurately analyzed and judged. PUBG uses this to allow users to aim using a tilt of the device instead of swiping on the screen with your thumb, which isn't really a great experience. Gyroscope aiming is clearly not for everyone though. But if you tend to like it, it can improve your the accuracy and speed of your aiming by a few times.
Using Gyroscope in PUBG Mobile and Adjust Sensitivity
So how do you turn on aiming with the Gyroscope? Launch PUBG Mobile and wait for it to load to the main screen. On the main screen, tap on the cogwheel icon in the bottom-right corner to access the game's settings. In the Settings, select Basics from the right-column if not already selected and on the left, you'll find options to use the Gyroscope. The three settings you can choose from are Always on, Scope On and Close, which is selected by default.
Recommended for you: 25 Hidden Android Settings You Must Check Out
Select Always on to use Gyroscope aiming always on Scope On to enable it only when you are aiming through a scope in the game. You can now return to the game and use the tilt and angle of your device to aim. If you find it more convenient than using your fingers you may want to adjust it a bit. PUBG Mobile allows you to adjust the Gyroscope sensitivity in various situations and while using the various kinds of scopes.
To adjust the Gyroscope sensitivity, select Sensitivity from the Settings menu column on the right. Scroll down on the left side and you'll find the various sensitivity sliders for the Gyroscope. These sliders let you adjust the Gyroscope sensitivity for Red Dot, Holographic, Aim Assist scopes, 2x scope, 3x scope, 4x scope, the VSS rifle, 6x scope, and the 8x scope. You also get different sensitivity no scope sensitivity settings for 3rd person and 1st person modes.
Related article: How to Play PUBG Mobile on Your PC
You can adjust these settings right after enabling the gyroscope but it's better to first experience the default settings in-game. This will give you a better idea on how much sensitivity you exactly prefer. At last, we'll leave you with this video from Reddit user whohasaname's impressive aiming using the gyroscope sensor.
Read next: Understanding Smartphone Specs: What do Smartphone Sensors do?