It was in June 2012 that I wrote an article on the best ROMs for the Galaxy S3. It has been a long time since then and though I updated that post every now and then with the newest ROMs, I began to feel that it was better to make a new post rather than updating the old one. The Galaxy S3 is an immensely popular Android phone and it is by far the most-selling phone from Samsung and therefore it has been a darling among Android developers. This has resulted in hundreds of custom ROMs and mods, so much that it might confuse a person who is planning to switch to a good ROM on his Galaxy S3.
As for myself, I have to flash a custom ROM frequently but I always prefer a custom ROM that keeps me near to the stock Jelly Bean 4.1.2 firmware of my Galaxy S3 (with all its bloatware) but gives me a better battery-life, smoother user UI and a few other tweaks and mods. Quite recently, o example, I had been using the ParanoidAndroid ROM 3.0 and I must admit it was a very lovely experience for a week. But amid all pleasures, I was badly missing the stock file manager, video player, and camera. People's preferences, however, differ and your opinion might be a bit or fully different from me.
As I said the variety and majority of custom ROMs for the Galaxy S3 leads us to a state where we are often stuck to confusion as to what ROM would be good enough to go with. The definition of good is again determined by the factor of what you like. I have been testing a bunch of ROMs for more than two weeks and found a few of them worth giving a try.
Disclaimer:
We would like to clarify we are not the developers of any of the ROMs listed here.  The credit goes to the respective developers for working hard for us. You must know that flashing a custom ROM is a risky thing and if you are not careful enough, it might brick your costly phone. Do not proceed unless you are not sure of what it is all about.
The ROMs listed below are in no particular order, so it should not be taken as a countdown. The reviews and selection are based on the author's experience and it may be that you have a different view. We have listed what we think is one of the best. What is really best is up to you to decide.
Before you really flash a custom ROM, get familiar with the things to do before and after flashing a custom ROM
Root Your Phone:
Most of you viewing this article, I believe, will have rooted their phone and installed CWM Recovery already. But if you have not yet a rooted Galaxy S3, please root it now: Galaxy S3 Rooting Tutorial.
How to Install Custom ROMs on Galaxy S3:
Download the preferred ROM and Google Apps (if applicable) from below and follow the instruction below carefully. But as I said above, your phone must be rooted and CWM Recovery installed on it.
Download the ROM and Google Apps (if applicable) files. Not that both files come in zip with md5 checksums so do not extract them and copy to your phone's internal or external (preferable) by connecting it to the computer using a USB cable.
Go to Settings> Developer Options and turn on USB  Debugging Mode.
Make sure your phone has a good battery level, if not charge it now. Also backup and sync your contacts, messages, apps, etc. Use these Android backup apps to backup data easily.
Turn off your phone and reboot your phone into ClockworkMod Recovery mode. If you do not know how to do it, here it is: press and hold the Volume Up+Home (center) keys simultaneously and then hold the Power key. Keep the three buttons pressed till the screen turns up, the Samsung logo blinks for two times. Release the power key now but keep the other two keys pressed till you see a list of options in blue text on black background with Android bot.
In the Recovery the touch mode does not work, so you will have to use the Volume up and down keys to scroll and highlight and the Power button to select an option. If you have installed CWM Touch Recovery. you can operate it by touch input.
The first and most important thing is to backup your current ROM. Scroll down to "backup and restore" option and select "backup". It might take a few minutes for the backup to complete and it is a kind of assurance that your phone will be safe in case anything wrong happens.
When it is done select go back option and choose "wipe data/factory reset" option and wipe it.
Then go to "wipe cache partition"  and wipe it.
Finally, go to "mounts and storage" option and format data, cache and system.
Return back to the main menu and select "install zip from sd card> choose zip from sd card" and select the ROM file that you copied to your phone in Step 1.
When the ROM is installed, go back and install the Google Apps zip package the same way you installed the ROM in Step 10.
Finally, go back to the main menu in Recovery and select "reboot system now".
Remember that the first boot after installing a new ROM takes much longer time than a usual boot. Sometimes it takes up to 10 minutes (maximum), so be patient. In case you phone does not boot properly and you are stuck on bootanimation even after 10 minutes, long press the power key. If it does not work for you, remove the back cover, pull out the battery, wait for a minute, reinsert the battery and try again. If you wish, you can go back to your previous ROM any time if you have made a back up as told in Step 6.
Phone Stuck at Samsung Logo?
In case your device is stuck on bootloop- that is, it does not boot normally, pull out the battery, boot your Galaxy S3 in CWM recovery, "wipe data/factory reset" and "wipe cache partition" and then reboot the device. You can also try reinstalling the ROM. Read our detailed guide on fixing Bootloop.
1. Android Revolution HD
Developer: MIKE1986
ROM Review:
I have been following mike1986 for quite a long time and let me tell you that this guy has multifarious talent. I have used the Android Revolution HD ROM on most my devices including Galaxy S3, Note 2, Note 10.1 and now HTC One too and each time I could not help captivated by the performance I got on all these devices.
As you can see in the screenshots, Android Revolution HD is a stock TouchWiz based custom ROM that takes away the terrible things like bloats and lag-delays from the stock TouchWiz UX and adds a number of modifications, not in the look, but it the system properties to make your device perform faster and with better stability. The ROM features CPU governors performance improvements and disabled kernel debugging for better performance, and RAM and speed optimizations. All such professional touches naturally promise a far better battery life.
Downloads:
Download Latest Android Revolution HD ROM
Installation Guide: At the beginning of the post.
2. ParanoidAndroid ROM 3+ (now with Halo)
Developer: gokussjx -PA Team
ROM Review:
The ParanoidAndroid ROM is one of the most popular custom ROMs for the Galaxy S3 but for almost all Android phones. Its hybrid look and feel, smooth and fast performance and decent battery backup, all make it a hotspot for those who love custom ROMs. I spent the whole last week with the latest version of the ParanoidAndroid 3 and it was a whole new experience due to its flexibility, capability of customization and, most of all, the extended desktop mode with that beautiful Pie thing (see the screenshot above).
The PA ROM now comes with another innovative feature called Halo Notifications. Below is a video overview:
I have written a detailed ParnoidAndroid ROM review that reveals all the aspect of this new avatar of the ParanoidAndroid ROM. It is based on AOSP 4.2.2 and also supports themes made for CyanogenMod 10.1. ROM is almost bugless but the PA Team will have to focus on improving the battery performance a little. If you want to have a fresh new experience with beautiful looks, the PA3 ROM is just for you.
3. UltimaROM
Developer: Kryten2k35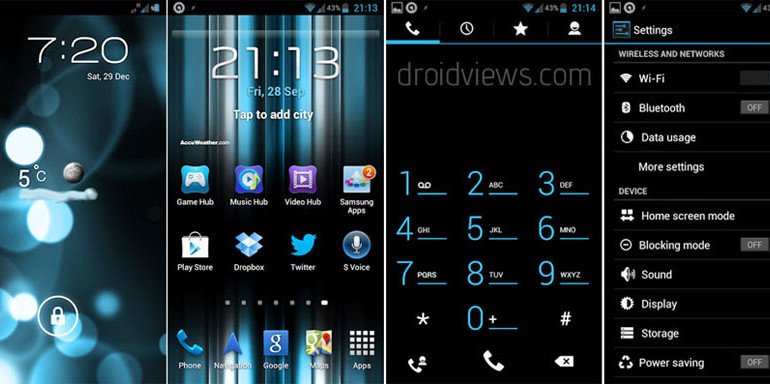 ROM Review:
While most ROM developers are prone to strip their ROMs to achieve speed, smoothness, and cleanliness, there are still few who prefer to be more and more inclusive. UltimaROM is one such ROM that attempts at being the ultimate choice for those whose hearts beat for the features of stock firmware and the look of AOSP.
So, what are the things that this giant ROM has, making is so heavy? It is a fully loaded ROM with 5 different kernels, all Samsung Apps/Bloats, stock TouchWiz launcher, crDroid TouchWiz 4 x 5 launcher, Motorola Atrix HD  launcher, Xperia Z, Nova, and Apex launchers and many others. Besides, the crDroid ROM also features 128 CSC's (country/region codes),  transparent widgets (such as AccuWeather, Fm Radio, Music Player), Multi-window with editable apps, Ink-effect lockscreen from Note 2, three pre-installed themes and option to choose from a host of other customization options. The best things is you can choose what, and what not to install. While installing the ROM via CWM, choose "Custom Installation" in Aroma installer.
Among the major features UltimaROM offers, including the following:
AOSP Themed
Choice of Kernels in AROMA
Option to remove bloat apps
Nexus 4 launcher
Galaxy Note II Keyboard
Galaxy Note II Camera (Jobnik)
Call Recording option
Long Press Volume to change tracks
MegaBassBeats Audio option
Inverted Play Store, YouTube, Gmail, Calendar, Dropbox, etc.
Tweaks to reduce lag.
AOSP Lockscreen Toggle
Advanced System Bar Clock Options
Extended power menu
Custom Boot Animations
Internal2External SD Script option
Transparent Accuweather Widget with Blue Date
As for the battery life, with the UltimaROM for the Galaxy S3,  it was good and lasted a whole day with average use. The ROM is based on stock Android 4.1.2 Jelly Bean firmware for the phone and feels smoother and faster than the original, thanks to the tweaks done by the developer! I have not seen any custom ROM with so many options in Aroma. I really like my Galaxy S3 with all stock options with AOSP style TouchWiz and amazing performance.
Before installing the ROM, make sure your phone has either CWM 6 or TWRP recovery on it.
 4. FoxHound ROM Galaxy S3
Developer: raffaele88
ROM Review:
The FoxHound ROM might prove an ultimate choice for you if you like a full-featured ROM with lots of settings options for customization. The ROM is more than 900MB in size and it is due to its inclusiveness. I have been using it for 4 days now and it has impressed me with its speed, smoothness, and stability. Since it is installed through the Aroma installer, you are more in control of things. You can decide what is good for you and installed the desired elements. You can choose from various custom recoveries like CWM, Siyah and Chainfire's recovery. Moreover, you can choose a suitable Kernel (I prefer Siyah). Then there are options for stock SGS3 and themed launchers like Nova, Apex, Nexus 4, etc. and the selection interface for apps you want to install.
The ROM features various performance tweaks and graphical changes and has a far better battery life compared to most ROMs. The best thing this ROM offers are found under device settings. Just explore the extensive settings and you will realize why I am talking about the FoxHound ROM in so hyped terms. The ROM also has OTA update feature and it notifies you whenever a new update is available.
5. Carbon ROM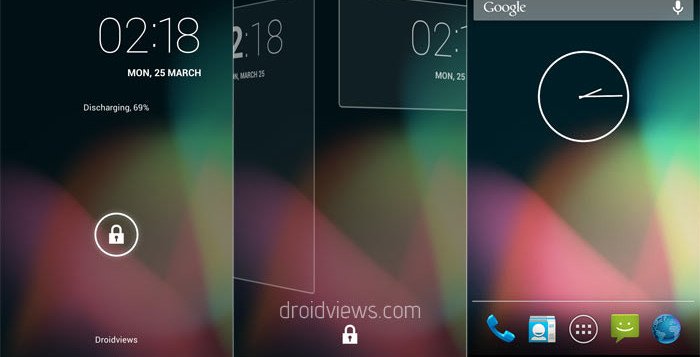 ROM Review:
I came to know about the Carbon ROM a few weeks ago but did not consider it for 2 reasons then-  first, I thought it was like any common AOSP based ROM and second, it was in an early stage with bugs and had issues. At the backend, however, I kept testing it. I would like to share one thing about this ROM. What I supposed was a commonplace ROM like any other, turned out to be a dark horse. I was surprised to see the potential and options for customization offered by the Carbon ROM.
A few days back I reviewed this ROM and I am sure that if you want an AOSP ROM for your Galaxy S3, this is an ultimate choice. Download the ROM and read the full Carbon ROM review here.
For good performance and stability, install the latest version from the "release" folder and to enjoy the latest features, go with "nightly" version.
6. Omega ROM
Developer: Indie (Donate)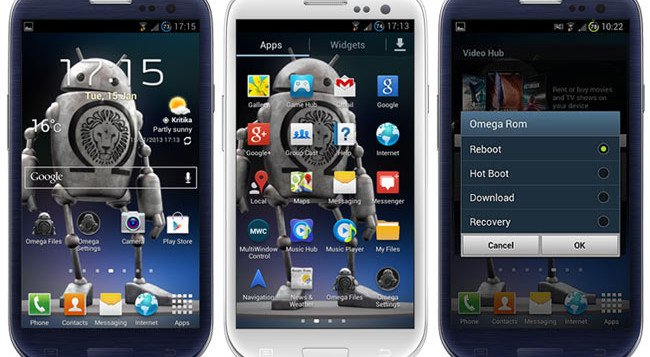 ROM Review:
The name of the 6th and last ROM in our list of some of the best ROMs for the Galaxy S3 GT-I9300 coincides deeply with the very meaning of "Omega" that is the 24th (2+4= 6th ROM) and last letter of the Greek alphabet and means "great". It is a great ROM indeed. The developer has optimized the stock Samsung ROM to perform fast and with great stability while taking away all unnecessary bloats and yet maintaining the true soul of the TouchWiz UX as we know it.
No theming, no extra bloats in the name of tweaking and performance boosting! If you want to use your Galaxy S3 with all those features you spent money for even better stability, speed and battery life, Omega is just your final destination. Another good thing about the ROM is that most mods for the device work superbly. Transparent AccuWeather widget, editable multi-window, ink effect, wallpaper scrolling are just some additional feature you can enjoy with Omega ROM installed on it.
The ROM is based on the latest Android 4.1.2 firmware for the Galaxy S3. Besides, there is another version of the ROM that lets you enjoy the optimized version of the leaked Android 4.2.1 JB firmware.
The hunt for the best still continues….. Do you have a nice ROM in mind? Please, let's know!
Some More Stuff for You: