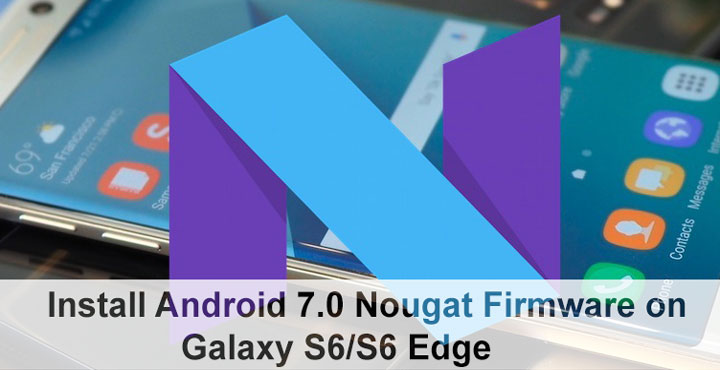 After announcing a delay, Samsung started rolling out the Android 7.0 Nougat update to the Galaxy S6 and S6 Edge in a strange turn of events. With the Nougat update, Samsung has introduced several UX changes including new Quick panel and notifications, multi-window support, performance mode, and Samsung Pass. The update, however, seems restricted to European countries for now. Usually, you can just go to Settings> About Phone> Software update and install the update. But it's understandable that you may have installed a custom ROM by now. In that case, here's how you can install Android 7.0 Nougat firmware on Galaxy S6 or S6 Edge (SM-G920F/925F).
First, off, download the respective firmware according to your device. These are all zip files.
Nougat Firmware for Galaxy S6 (SM-G920F)
France: G920FXXU5EQAC_G920FOXA5EQAC_XEF.zip
Russia: G920FXXU5EQAC_G920FOXE5EQA4.SER.zip
Indonesia: G920FXXU5EQCK_G920FOLB5EQC5_XID.zip
Malaysia: G920FXXU5EQCK_G920FOLB5EQC5_XME.zip
Vietnam: G920FXXU5EQCK_G920FOLB5EQC5_XXV.zip
Nougat Firmware for Galaxy S6 Edge (SM-G925F)
United Kingdom/Ireland: G925FXXU5EQAC_G925FOXA5EQB1_XEU.zip
Russia: G925FXXU5EQAC_G925FOXE5EQA4_SER.zip
United Arab Emirates: G925FXXU5EQBA_G925FOJV5EQBB_XSG.zip
Baltic: G925FXXU5EQBC_G925FOXX5EQC3_SEB.zip
Note: If you don't find the firmware for your device, you can download the latest Samsung firmware using Frija tool or SamFirm free at high speed.
While you're at the downloading part, you might as well download ODIN3_v3.12.3  (and extract the zip) as well as Samsung USB Drivers if you haven't already. Also, make sure that your device is charged and you have enabled USB debugging. It can be done by going to Settings>Developer options. The process will wipe your entire data so it's better if you take a backup.
Install Android 7.0 Nougat Firmware on Galaxy S6 /S6 Edge
Extract the firmware zip you have previously downloaded. You will get a few files named something like:
AP_XXXXXXXXXXXXXXXXX.tar.md5,
BL__XXXXXXXXXXXXXXXXX.tar.md5,
CP_XXXXXXXXXXXXXXXXX.tar.md5,
CSC_XXXXXXXXXXXXXXXXX.tar.md5
Now to reboot your Samsung Galaxy S6/S6 Edge into download mode, turn it off, press and hold Home + Power + Volume Down buttons until you see a blue screen with the exclamation sign. Press Volume Up.
Once your device is in download mode, double click the ODIN Exe file to launch ODIN.
Connect your phone to the PC with a USB cable.
The ID:COM port on ODIN will light up in blue if your device is detected. If it's not detected, make sure you installed the USB Drivers correctly. You will also see "Added" in the message box. Do NOT make any changes in the default options of ODIN but do make sure re-partition is NOT ticked
Click the BL button in ODIN and browse to where you extracted the firmware files. Select the file that has a name starting with BL, like BL_XXXXXXXXXXXXXX.tar.md5
Similarly, click on AP and add the file with the name starting with AP. Do the same with CP and CSC. 
When done with that, click the Start button and have some popcorn while the installation process completes. Or just wait like a normal person.
When the installation completes successfully, you will get a PASS! message on ODIN at which point your phone should reboot on its own.
The first boot can take a while and it's normal anytime a new firmware or ROM is installed on a device.
Galaxy S6/S6 Edge Screenshots