The sweetest part of Android is its customizability. Whether you are a veteran or a noob, it has something for everybody. With Android, you get the freedom to alter each and everything and make your device dance on your fingers. You can easily put together something that's unique and different than what everybody else is rocking.
I bet I can't be the only one who gets bored of their setup after a week, two weeks at max. Since I've not rooted my device yet, the only form of customization I can do is changing stuff like launchers, wallpapers, and icon packs. That's the basic level of customization anyone can do even if you are just a beginner.
We, at DroidViews, are suckers for customization and share some awesome customization tips to help you freshen up your device from time to time. In this series, we will be focusing on icon packs, which, I think, is one of the easiest ways of breathing a new life in your device. With that said, here are 4 awesome icon packs you'll love for sure.
Must read:
Pixelation Icon Pack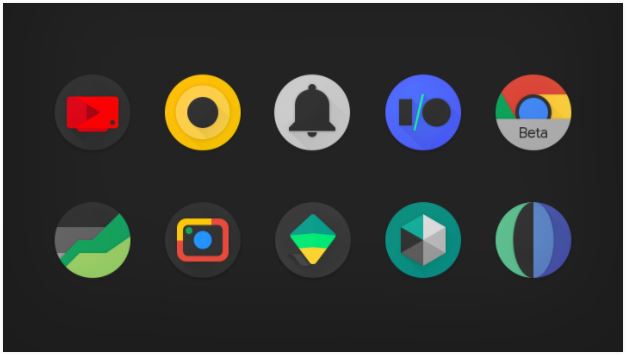 Another icon pack by DrumDestroyer Themes in this series. If you still haven't realized it, the dev behind DrumDestroyer Themes is amazing; certainly my favorite. Do check out his Google play page and buy a bunch of stuff if you like his work.
Pixelation is a Pixel inspired i.e. round icon pack. The twist? It's dark. Unlike the Pixel icons, which are very light in color, Pixelation is as dark as it could get without disturbing the Pixel feel. The icons are of really high quality, the kind I've come to expect from DrumDestroyer Themes. Now, I, at first, didn't really liked the icon pack but it really grew on me over time.
Pixelation has more than a thousand icons and more than 50 wallpapers that blend really well with these icons. The wallpapers can be used with Muzei live wallpapers. The pack also offers an HD clock widget as well as support for dynamic calendar icons.
Lens Icon Pack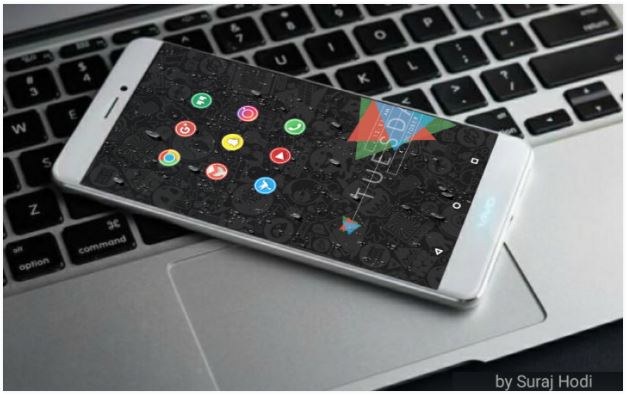 Lens is a round icon pack with 300+ high-quality icons at the moment. Although the quantity is less, the quality you get, that too, for a minimal amount is superb. It also has 50+ HD cloud-based wallpapers that you can save on your device and can be used with Muzei live wallpapers as well.
The icons are bright and have a slightly transparent white boundary. The icon pack comes with a premium icon request tool. By using this tool, you can get your icon requests fulfilled easily in exchange for some extra money.
Atomic Icon Pack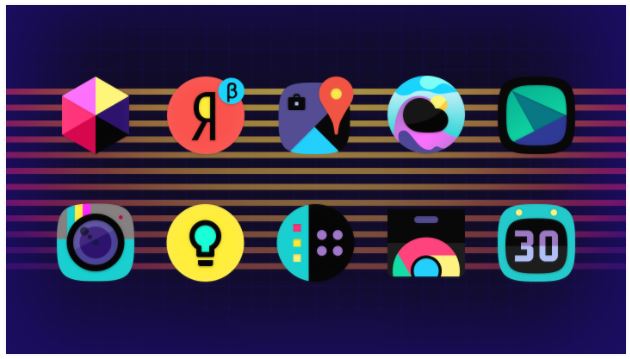 Atomic, by DrumDestroyer Themes, is an icon pack with bright and vibrant colors with a touch of dark color. Although the icons are not in a uniform shape, they do look very uniform and organized once applied with the help of a third-party launcher. Just like the devs other works, you can see the professionalism and quality in this icon pack.
Don't miss: My Top 5 Icon Packs of All Time
Atomic has over 200 HD wallpapers to match with the icons along with the support for dynamic calendar icons. It also has a bunch of alternative icons and also covers system icons for some popular OEMs like Nexus, Samsung, HTC, ASUS, LG, etc.
Delux UX – S8 Icon Pack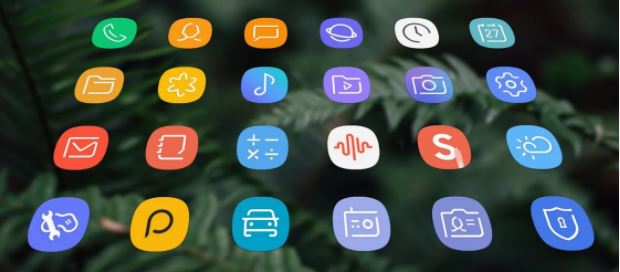 The Galaxy S8 UI has been making a buzz among the customizers ever since the device was launched. The S8 has the most minimal and simple UI TouchWiz has ever had. If you want the same look on your device than the best way is to apply an icon pack. Delux UX is one of the many icon packs that offer the S8 like icons. The cool thing about this icon pack is the icon quantity. While most of the S8 icon packs I have seen have less than 1500 icons, this one offers 2000+ icons along with 98 high-quality wallpapers.