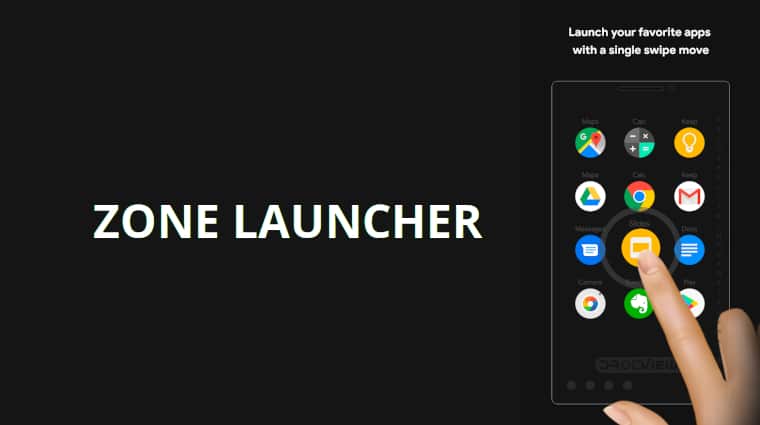 When you look at an operating system, Windows, macOS, iOS, etc. the term launcher is not quite as commonly used. Because these are closed source operating systems that don't offer much choice in that department. On Android though, like Linux, there are a lot of options to choose from. Most app launchers intend to replace the one you have. Some new app launchers are trying a new approach which is to complement your favorite launcher instead. Zone Launcher falls into the latter group and it's probably the best of its kind. It's one the best lightweight Android launcher that you must give a shot at least.
Typically, when you want to open another application, you have to go back to the home screen, i.e., your app launcher, and then launch another app. Even with the new gesture navigation on some Android devices, you have to get to the recents screen and then the app drawer from where you can launch new apps. There are launchers on the Play Store that can simply be brought on top of any app by swiping from the left or right edge of the screen. Something like the edge screen feature on Samsung devices.
Zone Launcher
Zone Launcher does something similar. So instead of having to close or minimize your app, you can directly access your other apps on top of it. Zone Launcher actually feels more convenient than going to the home screen. Unlike the other launchers of such kind that I have tried, the experience is also better. It all comes down to the simple fact that once your swipe in, you don't have to tap again or scroll through an endless list of apps and then tap.
No, Zone Launcher, once set up, works in a single gesture. You have to swipe in from the screen edge, and then without lifting your thumb you simply drag it to the app you want to launch and let go. The explanation is, in fact, longer than the actual gesture. The difference this one little detail makes is astonishing. Let's also touch upon why it's called Zone Launcher. The launcher has zones, which are very similar to app drawer tabs in Nova Launcher.
You can have different zones for different kinds of apps, and you can color-code them. This way, you know, for example, that blue is for google apps, red is for the main apps, yellow is for travel apps, etc. You can access these zones by simply moving your thumb over them. By default, zones have 4 columns and 5 rows but this can be increased or decreased in the Settings. In the free version, you can only add 11 apps, however.
Other than that, the app does almost everything you could wish for. It supports icon packs, you can change icon sizes, app label position, the background color, opacity, type, etc. There are plenty of other customization options included.
Features
These are all the zone launcher features in brief.
A single swipe technique guarantees the shortest time to find and launch any app.
Launch any app from anywhere through a customizable hidden spot.
Support for app shortcuts and activities such as WIFI, Torch, etc.
Arrange your favorite apps and shortcuts into different Zones (categories).
Color-code zones for convenience.
Launch any of the installed apps (not only favorites) using a custom alphabetical index with the same single swipe gesture.
Customize every single aspect of the app from colors, backgrounds & icons.
Blur background and change opacity.
Icons pack support.
Easy to learn and use.
Small memory usage.
As you can see, Zone Launcher has plenty of features and there are even more features planned in an update.
Caveats
The only caveat really is not even the launcher's fault. It's the new Android 10 gestures that directly conflict with the app's gesture. This means you can either use the app or Android 10 gesture navigation. It's probably a good thing for the app that not many people are fans of the new Android 10 gestures, and that Android gives the option to not use them.
[googleplay url="https://play.google.com/store/apps/details?id=com.bialy.zonelauncher"]
Read Next: How to Enable Dark Theme in WhatsApp Web