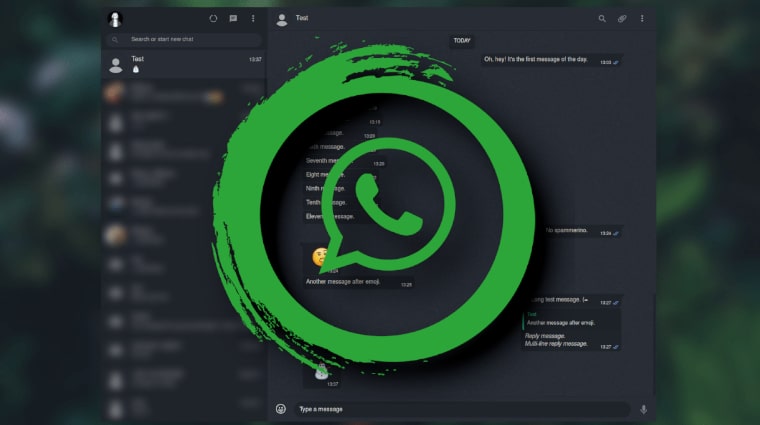 If you've been online this year and follow anything remotely related to software, you couldn't have missed the dark mode news. It's everywhere from iOS to Android to macOS and Windows and even apps. Linux users love to point out that they've been on this train for years now. But now that the rest of the world is catching up, it also means app developers are. WhatsApp, a popular messenger app has been testing dark mode on Android and iOS. But what if you use WhatsApp web? You can still enable WhatsApp dak theme on WhatsApp web, even if WhatsApp doesn't officially let you.
WhatsApp is one of those apps that has avoided dark mode for long while others like Skype, Telegram, etc. were quick to embrace it. That and the popularity of the app have made WhatsApp's dark mode big news. Almost every month I see somebody posting about the new dark mode in WhatsApp beta. And yet, the company is apparently still testing it. While you wait, at least you can get dark mode on WhatsApp web. This is done via a browser extension that injects its own code into the WhatsApp web app.
Stylus
Extensions like this are nothing new and we've had a few before to theme Facebook, for example. However, the extension we're going to use today is not limited to just one website. It's called Stylus and it can actually let you theme a number of different websites. Yes, the themes don't necessarily include only dark themes but any kinds of themes with different colors. For instance, don't like WhatsApp green? With Stylus, you can change it.
Features
Versatility of theme installation options.

Stylus supports installs from popular online repositories.
Additionally, styles can now also be installed from .user.css or .user.styl URLs

A backup feature for your entire database of installed styles which is compatible with other userstyles managers.
An intuitive and configurable automatic update function for installed styles.
A highly customizable UI, including theming, optional layouts, icon and badge color choices, along with many other tweaks.
Two different optional code validators with user-configurable rules.
Install Stylus
Stylus is available on the Chrome web store for Chrome and other Chromium-based browsers as well as on the Firefox browser via their Add-ons website.
Don't Miss: Do Dark Themes Save Battery?
Install WhatsApp Dark Theme on Web
With the Stylus extension installed on your browser, visit web.whatsapp.com.
Click on the Stylus extension then.
In the popup, click on the link that says Find more themes.
You will then see a number of themes for the WhatsApp web app, with the dark themes being near the top.
You can choose any theme but we recommend the first one.
Click on the theme you like and it will be installed.
Reload the page if the theme is not applied instantly.
The process can be repeated with a lot of different, popular websites and you can install all kinds of themes. If there are some things you want to change about the current theme, click on the extension again. Next, click on the icon next to the pencil icon, hovering above the tooltip should read "Configure on homepage".
On the new page that opens up, click on Customize settings and you can then change almost everything about the WhatsApp web dark theme.
Bonus –  Global Dark Theme On The Web Including WhatsApp Web
If all you care about is to have a dark theme but not necessarily the other colorful themes Stylus brings you, you can get that as well with an extension like Dark Mode. Dark Mode works not only with the WhatsApp web app but any other website that you may visit. Supported websites are obviously themed better than the rest and the dark themes seem natural. Fortunately, almost every popular website is themed pretty well and so far I've never seen a website be themed incorrectly. The extension works by inverting the background color though. That means if a website already offers a dark mode and it is on, it's best to keep the Dark mode extension off.
You can download and learn a lot more about Dark Mode by following the link above.
Read Next: 10 Best WhatsApp Sticker Packs for Android