Back in July last year, Chinese smartphone manufacturer Vivo introduced the iQOO Neo. The iQOO Neo was a watered-down version of its bigger brother iQOO with a Snapdragon 845 chipset. However, now the company has now introduced the iQOO Neo 855. With that said, we have 10 Vivo iQOO Neo 855 stock wallpapers for download. Out of the 10 wallpapers, 3 wallpapers are in HD+ 720 x 1560 pixels and 7 wallpapers are in Full HD+ 1080 x 2340 pixels resolution. The aspect ratio is the expected 19.5:9.
As the name implies, the iQOO Neo 855 is equipped with a Qualcomm SD 855 SoC and that's where it differs from the original Neo. Hang on, the Vivo iQOO Neo 855 also features updated 33W fast battery charging. Having said that you may also download Vivo iQOO Neo Wallpapers and Vivo iQOO stock wallpapers.
Fine, now let's get to the Vivo iQOO Neo 855 wallpapers and then check out of the specifications of the new iQOO Neo 855.
Vivo iQOO Neo 855 Stock Wallpapers
As is the case with numerous Vivo smartphones out there, the new iQOO Neo 855 brings with it a set of vivid, vibrant and colorful wallpapers. It seems like Vivo designers always have AMOLED displays in mind at the time of creating wallpapers. As in the wallpapers have that AMOLED friendly nature and eye-popping colors.
Again we have 10 wallpapers of which 7 wallpapers and 3 wallpapers are in 1080 x 2340 pixels and 720 x 1560 pixels resolution respectively. And again, the 19.5:9 is the aspect ratio of the wallpapers. You can download the Vivo iQOO Neo 855 wallpapers via the Google Drive (PNG) link below. Or check out our gallery (JPG) (click to enlarge a wallpaper and then save it to your phone or PC).
Please feel free to download stock wallpapers from other smartphone brands.
Download Vivo iQOO Neo 855 wallpapers
Vivo-iQOO-Neo-855-Wallpapers.zip
Vivo iQOO Neo 855 Specifications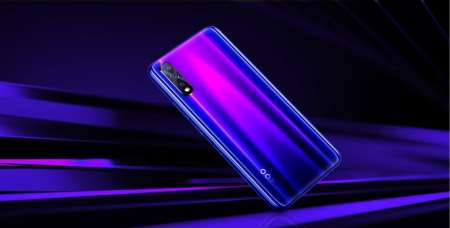 SD 855, Super AMOLED, faster 33W charging…
The iQOO Neo 855 is basically an iQOO Neo smartphone with a couple of key upgrades mentioned earlier. As in, the iQOO Neo 855 is powered by a Qualcomm Snapdragon 855 chipset. The chipset is coupled to an Adreno 640 GPU. The storage and RAM configurations start from 64GB to 256GB and 6GB to 8GB respectively. However, a MicroSD card slot for storage expansion is absent from the iQOO Neo 855.
Providing Visuals is a Full HD+ Super AMOLED display sporting a resolution of 1080 x 2340 pixels (7 out of total 10 Vivo iQOO Neo 855 wallpapers are of the same resolution) and 19.5:9 aspect ratio.
Biometrically, the Vivo iQOO Neo 855 embeds a fingerprint scanner under the beautiful Super AMOLED panel.
Tri-cam
A primary 12MP (f/1.8) followed by a wide-angle 8MP (f/2.2) and 2MP (f/2.4) depth sensor complete the camera setup on the Vivo iQOO Neo 855. A 12MP (F/2.0) is present upfront of the device. The rear and front cameras are able to record videos at a resolution of up to 2160p @ 30fps and 1080p @ 30fps respectively.
Battery, connectivity, and Android OS Version
The Vivo iQOO Neo 855 is equipped with a 4500mAh battery. Vivo has built-in its 33W FlashCharge technology. As expected a USB-C port manages charging and data transfers.
Connectivity-wise, the Vivo iQOO Neo 855, there is Wi-Fi 802.11 a/b/g/n/ac, Bluetooth 5.0 LE with A2DP, GPS for navigation and location-based services and more. A 3.5mm audio jack is here to stay. Android 9 Pie is pre-installed in the Vivo iQOO Neo 855.
You should also download: