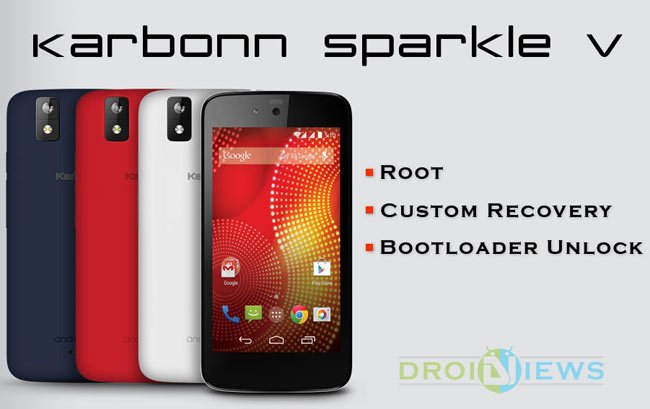 Karbonn is one of the lesser known manufacturers when it comes to the international Android OEM scene. But that may well change soon as it is one of the three manufacturers chosen by Google for the Android One program's initial rollout in India. Karbonn has a strong foothold in the Indian budget smartphone market, and we believe that it was exactly the trait on its resume that impressed Google.
The Karbonn Sparkle V did have to share the spotlight with a couple other Android One handsets from competing Indian OEMs. But that totally doesn't take away any credit from the manufacturer for coming up with a device which has the sound hardware to support the euphoria around its software platform. And even though we've been promised that the Android One devices will get timely Android updates, the developmental potential of these devices should be no less exciting, to say the least. It's not been long enough since it launched, and you can already root Karbonn Sparkle V, unlock its bootloader, and get a working recovery on it.
So, no points for guessing what we are concentrating on today. Okay okay! You guessed it right nevertheless– here we will be taking you through a step-by-step guide to root this device and make it friendlier by unlocking its bootloader and installing CWM/TWRP recovery on it.
Warning!
Do not forget that rooting your device, unlocking your bootloader and any other similar customizations thereof shall render your warranty dead. Also, these processes are not for the faint-hearted since none of these are full-proof. But we do assure you that they have been tried on numerous devices with success and do work in most normal scenarios if you correctly follow the guide.
Requirements and Precursors
You need to have ADB drivers up and running on your Computer. Take a look at these guides if you don't have them already set up.
You also need to download Minimal FastBoot tool from here and extract the contents to a folder. This will help in setting-up fastboot quickly and kill the need for installing the full Android SDK to your system.
Once ADB and Fastboot are set up, you have to install your device-specific drivers by connecting it to your PC via a USB cable. The drivers specific to your device will be automatically installed to your PC if you have a working Internet connection. If a problem arises in driver installation, just download these drivers and manually install them by pointing your PC's Device Manager to them.
Enable USB debugging on your device in the 'Developer Options' system Settings menu by referring to this post.
Download SuperSU installable zip from here.
Remember to backup your data and charge your Sparkle V to a reasonable level (at least 60%, just in case).
 Unlock Bootloader
Connect your device to your Computer after you have enabled USB debugging from the above steps.
Now, open the FastBoot folder and right-click on an empty space while holding down the SHIFT key, and click 'Open Command Window here' from the pop-up menu.
Next, type  the following code in the CMD command prompt:
adb reboot bootloader
Your device will now reboot into fastboot mode.
The bootloader can now be unlocked by entering the following commands. Better copy-paste these from here to avoid any erroneous typing:
fastboot oem unlock
fastboot format userdata
You have now unlocked your bootloader!
 Install CWM/TWRP recovery
First and foremost, download the recovery you want to install from one of the below links:
Now extract recovery image from the zip file to the fastboot folder.
Open a cmd command prompt (the usual shift + right click) and enter the following command:
fastboot flash recovery recovery.img
fastboot reboot
That's it! You now have a working recovery to flash any zip or perform various actions!
Root Karbonn Sparkle V
Firstly, copy the SuperSU installable update.zip to your device.
Now, to boot into recovery, just open the command prompt and type:
adb reboot bootloader
The penultimate step requires flashing SuperSU via recovery by browsing to its zip file. For this, go to 'choose zip -> /external_sd' and install .
Once you reach the completion of the above steps, you shall be having a rooted device!
So, now you have a pretty capable handset of the Android One program all armed-up and ready! Just go ahead and explore those uncharted territories!