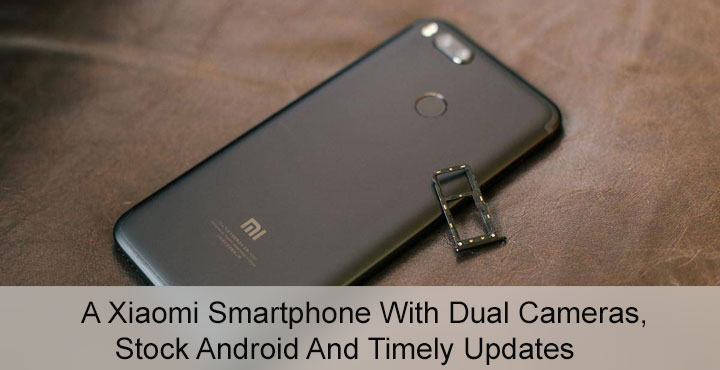 Xiaomi has a reputation for selling well-built smartphones with great specs at prices lower than the competition. Several companies have tried the formula such as Lenovo, LeEco and the now Lenovo owned Motorola. But none of them have been able to really compete with Xiaomi. The reason being Xiaomi's reliable line up of smartphones. The only gripe with Xiaomi's smartphones (for some) would be that they ship with heavily skinned versions of Android. MIUI, as it is called is quite well optimized but it still uses a lot more resources than stock Android would. If rumors are to be believed, the Chinese smartphone maker is looking to address this issue by launching an entirely new series of smartphones (Xiaomi A1) under Google's Android One program.
To recall, Google's Android One program was started to provide affordable, certified, stock Android smartphones to users in emerging markets like India. These smartphones promise smooth performance and quick updates. That's because Google is responsible for handling timely software updates, whereas an OEM is responsible for simply building the phone.
Xiaomi's teaser
The company is rumored to announce its new smartphone, the first of a new series, called Xiaomi A1. The device will be covered under the Android One program as already mentioned, meaning stock Android, timely updates and possibly your best bet to getting Android 8.0 Oreo on a budget. The Chinese manufacturer shared a new teaser on twitter for its 'global launch' on Tuesday. The tweet contains the hashtags 'flagship dual camera' and 'A new series by Xiaomi' is the caption.
The possibilities are endless and it begins with #FlagshipDualCamera! What could it potentially be? pic.twitter.com/KJklWHzut2

— Xiaomi #48MPforEveryone (@xiaomi) August 31, 2017
Rumours
These rumors arrived onto the scene last week via a reliable Indonesian website Krispitech. The website claimed Xiaomi was working with Google to develop an Android One smartphone. The rumored device was also spotted last week at POSTEL which is an Indonesian version of the FCC as a device running software from Google. This could only mean one thing, an Android One device by Google.
The theory gets more believable when you consider that the rumored Xiaomi A1 is based on the Xiaomi Mi 5X with dual cameras at the back. It is important to remember that these are all just rumors at this point, except the teaser by the company which only fuels the rumors.
A more recent rumor claims that the new smartphone will carry the 'Mi A1' moniker instead. The information was shared via a weibo user who also shared the images shown below. The images suggest a Galaxy S8-esque near bezel less design for the Xiaomi Mi A1. But it is quite possible that the smartphone in the pictures below could be the Xiaomi Mi Mix 2. The sequel to Xiaomi's bezel less experiment has also been doing rounds in the rumor mills. Cautious readers will notice MIUI on the device's display.
Specs
Google has previously partnered with local players in India but the initiative has completely failed in the country. Siding with a more established player like Xiaomi is sure to give the Android One program a boost. The smartphone is rumored to have a 5.5-inch Full HD display, Snapdragon 625, 4GB of RAM, 64GB storage, 5MP front shooter, Wi-Fi ac, Bluetooth 4.2, and a 3080mAh battery. The highlight would be the dual camera setup at the back of the device, same as the Mi 6: a primary 12MP shooter augmented by a telephoto secondary lens.
Such enticing hardware, stock Android and timely updates under a $250 price tag. That suspiciously sounds like a deal too good to be true. But that could turn out to be true very soon. With the launch set on Tuesday, we won't have to wait for long to find out. Nevertheless, it will be an interesting Tuesday for fans of Xiaomi.
Xiaomi's hardware and Google's software sounds like an amazing combination. If you remember, the same was said about Samsung and the Galaxy Nexus which … well, tanked. Would you buy a Xiaomi device without MIUI considering it offers timely updates?