Understanding Smartphone Specs
Today, we'll be discussing all the aspects of display and touchscreen. The mobile phone display has evolved much over the years.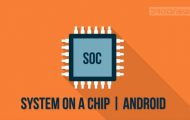 Let's face it, choosing a new smartphone can be a nightmare. So many brands to choose from, so many models with lots of proprietary
Some people buy new smartphones as a luxury because they want to own the latest phone in the market. There are others who like to keep
What is the Li-ion battery? Is this battery technology becoming obsolete or will it roll onto the future with new developments? Here we
You must have heard about ARM, ARM64, and x86 processors that power most modern smartphones. Which of these processors your Android
Ingress Protection rating IP Certification explained in detail to give you an understanding of how dust and waterproof your phone is.
Everyone loves the feeling of unboxing a brand new smartphone and removing the factory plastics from it. However, you always lose a lot
Smartphone battery life is one of the biggest gripes that the current gen of uber-social users have. Although there are certain