Samsung Galaxy S6 Edge
Samsung has spiced the flagship smartphones war this year with its beautifully crafted premium Galaxy S6 and Galaxy S6 Edge
All smartphones come preloaded with a plethora of features accompanied by loads of bloatware. The term bloatware is generally used for
Galaxy S6 & S6 Edge users are in for another treat with the new Volume mod that will significantly increase the volume levels of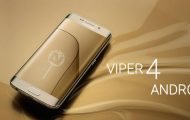 Music is one of the things that soothe the mood of any person at all times and I wonder if there is any person who never enjoys music.
What's the first thing any Android enthusiast thinks of after getting a new device? I am sure you know the answer. Many people
I had preordered the Galaxy S6 Edge SM-G925I about a week ago and received it just a few days ago. It's a really damn good phone,
Starting on Friday 27th of March, Samsung has begun accepting pre-orders for its next series of smartphones, the Galaxy S6 and S6 Edge.
There's no denying to the fact that Android is an awesome platform but root access open a world of possibilities for getting