Samsung Galaxy S3
What makes Android so distinct among all existing operating system for mobile devices is its immense flexibility and capability of
It has now been a couple of weeks since Verizon rolled out the long-awaited Android 4.4 Jelly Bean firmware to the Samsung Galaxy S3.
Nestle would never have even imagined that some day billions of Android users would start chanting the name of one of its confectionery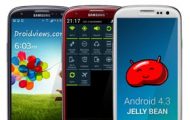 It's true that Samsung sends the latest Android updates to most of its deserving devices but but considered from the angle of
When it comes to prompt firmware updates, the boss of Android (Google) always wins the race. And that is why if you happen to one who
We all know that Samsung cancelled the Android 4.2.2 update for a number of its devices like the Galaxy S3, Note 2 and Note 10.1
Most Android users refrain from getting involved with stuff like rooting and flashing ROMs simply because they are afraid of getting
There is no native support for third party themes or icons on Android but it does not mean that you cannot theme your phone at all.