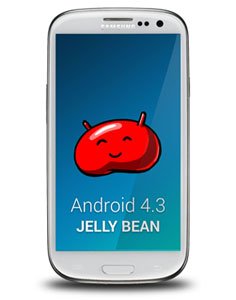 It has now been a couple of weeks since Verizon rolled out the long-awaited Android 4.4 Jelly Bean firmware to the Samsung Galaxy S3. Though it appears awkward that at a time when the air so filled with the aroma of KitKat, the owners of S3 have just been compensated with a lesser version of the OS. Saferoot can root Verizon Galaxy S3 on Android 4. stock firmware.
As we all know, rooting a Samsung Galaxy device is easier than devices from other OEMs, but when it comes to rooting a Galaxy phone from one a US carrier, especially Verizon and AT&t, things become a little complicated. However, the good thing is that Android has a very elite and striving community that keeps trying to overcome all obstacles put by manufacturers to discourage custom development.
The Verizon Galaxy S3 has recently received the Android 4.3 firmware update with build version I535VRUCML1. Many people shrink from taking new OTAs just because of losing root and the fear that they might be able to root their device again! As expected, the new firmware comes with a locked bootloader that is accompanied with Samsung KNOX too. It simply means that devising a new way to root and unlock the bootloader on this old phone will pose a new challenge to our devs.
Well, if you have already accepted the latest OTA from Verizon on your Galaxy S3 and are now looking for a method to root it, we have discovered an old one-click root tool that was originally developed to root the US variants of the Galaxy S4. The exploit has been made by XDA member k1mu and it is found to be working well on Verizon Galaxy S3 with the latest VRUCML1 firmware.
Warning!
Because our developers have not yet discovered a way to unlock the bootloader of the Verizon Galaxy S3, you will not be able to flash a custom recovery like CWM or TWRP on it. Trying to do so on the secure boot bootloader will brick your phone.
Disclaimer:
The rooting method described below is considered risky so not proceed unless you are ready for any consequences. The procedure has been tested successfully but we cannot claim that it will yield the same results to you too. In many cases, failure occurs due to some mistake. Just be careful while you do the steps.
Preparations:
Root Verizon Galaxy S3:
Extract the saferoot.zip file and open the folder. You will find 2 files and a folder inside it.
Now connect your Verizon S3 to your computer and wait for a few seconds till it is recognized by the computer.
Then double-click the "install.bat" file if you use a Windows PC, or run "install.sh" in case you are a Mac user.
Doing this will trigger the root script which will install SuperUser on your device.
You Verizon Galaxy S3 with Android 4.3 VRUCML1 Firmware will be rooted in a matter of seconds. After the device has rebooted, open the app drawer and look for the presence of SuperSU app there. To verify the root, you can download the following app from the Play Store and run it.
[googleplay url="https://play.google.com/store/apps/details?id=com.joeykrim.rootcheck"]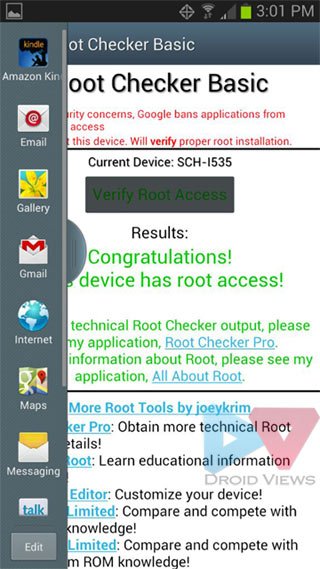 Do Not Miss!
After successful root verification, you will be able to enjoy root apps on your phone. Do not forget to read our list of the best apps for rooted Android devices:
Best Apps for Rooted Android Devices
Unable to Get Root Access While Being Rooted?