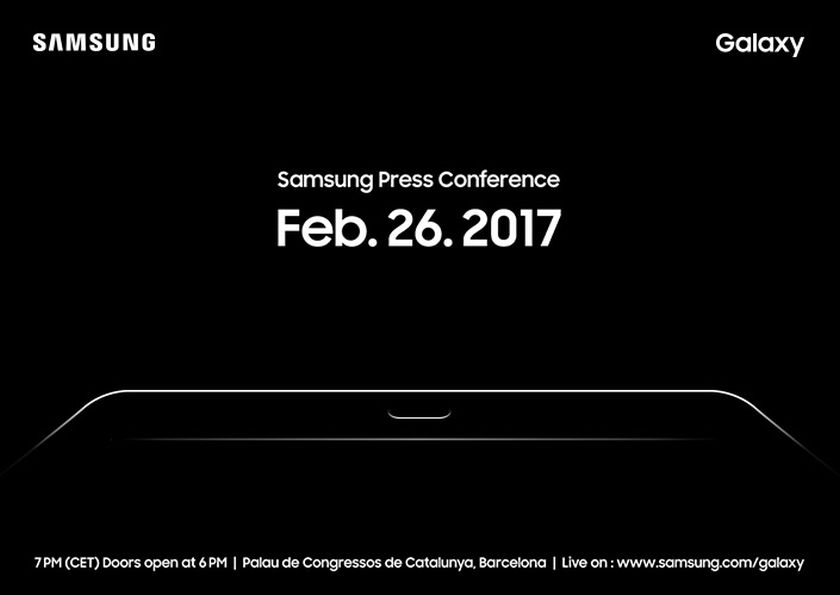 Everyone is getting ready for the 2017 edition of the MWC event which will take place in Barcelona, Spain. Samsung is one of the biggest manufacturers on the planet in terms of tech devices, and the news that its highly anticipated Galaxy S8 flagship wouldn't be making an appearance at the show left people a little shook.
It seems however that the company will be attending the event anyway. This has been recently confirmed by Samsung as it posted a teaser image that promoted the Korean manufacturer's presence at MWC. The minimalistic black and white image bore the Samsung and Galaxy trademark brands, as well as the silhouette of a device many believe is a tablet.
Recent rumors pointed towards the impending announcement of a new Galaxy tablet, most likely Galaxy Tab S3. If we are to believe the rumors that have been forming around this potential release, we can expect a significant upgrade from Tab S2 to Tab S3 in terms of hardware and performance. Let's take a look at what kind of specs we might see featured on the new tablet device.
The device will feature a large display that will measure 9.6 inches and provide a max resolution of 2048 x 1536;
In terms of processing power, we will be enjoying the services of a Snapdragon 820 processing unit courtesy of Qualcomm, which is still a great solution;
There will apparently be a total of 4 GB of RAM, which is very good considering most top tier devices are going for 6 GB;
The camera capabilities will be handled by the 12 MP rear shooter and the supporting 5 MP front facing lens;
To round up the hardware specification, this device will feature Android 7.0 Nougat on the software side, giving it a very powerful advantage.
No, there won't be a Galaxy S8 reveal, but with the new tablet device on the way as well as other potential announcement, MWC attendees should keep an eye on Samsung during the event. Samsung's presentation will also be livestreamed by the Korean giant so you don't have to miss anything if you can't physically attend MWC.