Smartphone manufacturers treat rooting as the forbidden apple in the Bible and warn users as if rooting is as a crime as breaking into a military facility. Whatever security measures may the manufacturers and carriers pull together, developers always daunt them back with a rat hole in the Android system. Recently, we have seen a great root tool called the Ping Pong tool for Galaxy S6/S6 Edge which roots the device without tripping the Knox counter. We've already covered how to root your Galaxy S6 with the Ping Pong tool recently, you can find it from below:
As stated by many proud Galaxy S6/S6 Edge users, this method is pretty easy and efficient. All you need to do is to install the root app and press the Root it button and the rest is to sit and relax while the tool waves its magic. The PingPongRoot team has now added support to Verizon Galaxy S6 and S6 Edge with the build numbers G920VVRU1AOC3 & G925VVRU1AOC3 respectively. So, anyone who is curious to root their Verizon Galaxy S6/S6 Edge can follow the below procedure to root their device.
Warning!
Rooting can sometimes prove harmful, if done wrong and may soft-brick your Samsung Galaxy S6. Not to worry, you can still bring it back by flashing the stock firmware. We shall not be held liable for any damage to your device, kindly proceed at your own risk and understanding.
Prepare Yourself
Charge your phone to sufficient battery level so that it doesn't shut down during the process.
Backup everything, so in case anything goes wrong, you can restore back your data.
Download the PingPong Root tool: pingpongroot_beta6.apk
How To Root Verizon Galaxy S6 and S6 Edge
Download and install the pingpongroot_beta5.1.apk on your device.
Open the app, it will automatically install the SuperSU app for you. Tap on Open once the SuperSU is installed, this will activate it.
The SuperSU app will open, then show an error message and exit back to PingPong Root. This is expected, so don't panic.
Now the most important and critical (Just kidding) part, hit the Get root! button. If any app permissions are prompted, grant them.Note: If the device reboots by itself, try the process once again.
Reboot the device once the process is completed and you have successfully rooted. You can uninstall the PingPong Root app after the reboot.
That's it peeps, you've successfully rooted your Galaxy S6/S6 Edge with this awesome tool. You can verify the root by running the Root Checker app.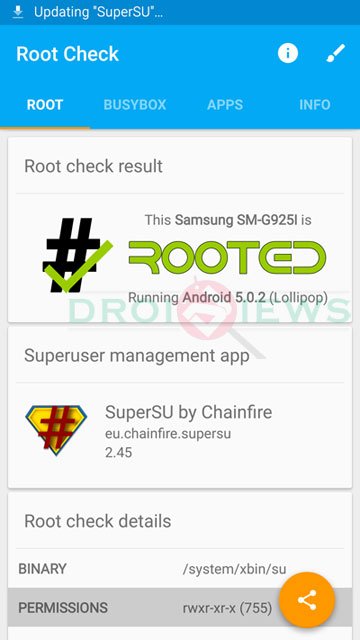 [googleplay url="https://play.google.com/store/apps/details?id=com.joeykrim.rootcheck"]
Let us know of any issues in the comments section below.